Pedro Pascal Barely Got Through The "Lisa From Temecula" SNL Sketch
"Lisa from Temecula" was too much for everyone.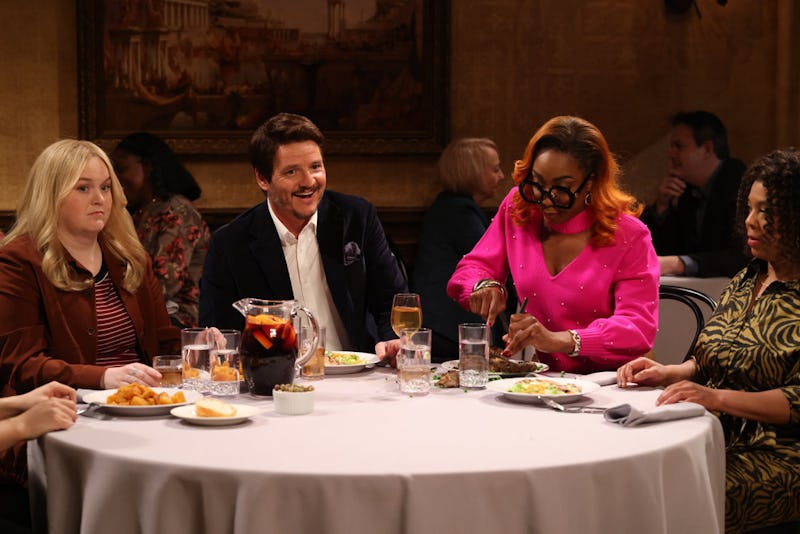 Will Heath/NBC
Studio 8H welcomed the internet's favorite zaddy on Saturday, Feb. 4. Pedro Pascal made his Saturday Night Live debut, hosting an episode that also featured musical guest Coldplay. The "Last of Us" star was "so excited" to be there, he shared during his monologue, and he looked like he enjoyed every minute of the experience. In fact, he broke multiple times as the night progressed, especially during the hilarious "Lisa from Temecula" sketch.
A favorite for many people on YouTube and Twitter, the sketch brought together Pascal, Ego Nwodim, Punkie Johnson, Bowen Yang, and Molly Kearney as a group of friends having a birthday dinner for Johnson's character, Shayna. The titular "Lisa from Temecula" was her sister, hilariously played by Nwodim, whose absurd antics ultimately made them all lose it. As a commenter on YouTube put it, "There were NO survivors. This sketch broke everyone!"
Lisa, "who flew all the way from Temecula" to support her sister, immediately established herself as an unorthodox character. When Pascal's character, Paul, tried to welcome her and let her know how nice it was to meet her, she was unimpressed. "Don't think I'm giving up the butt tonight," she told him. Even though Shayna said she was joking, Lisa later claimed he was "doing the most trying to get some butt tonight." What ultimately got everyone to break, though, was Lisa's battle with her "extra, extra well done" steak.
As a lead litigator on a class-action lawsuit, Lisa wanted her meat thoroughly cooked so nothing would keep her from court the next morning. She seemed unfazed by the amount of work she had to put into cutting the steak, but when she got the entire table rocking and pills spilled off her plate, Pascal started to struggle to keep a straight face. He tried to deliver his lines about a dog that followed him home, and it was too much. By the time wine started splashing out of glasses, he was outright laughing. Impressively, Nwodim managed to stay in character as Lisa and complained about how the waiter didn't bring her any ketchup.
Yang was the next to break, prompted by Pascal failing to fight back another laugh, and then Johnson could be seen with her hand over her mouth, trying to suppress a smile. After a brief crack from Nwodin, she was up on her feet, one leg braced so she could better saw at her steak. Eventually, the commotion brought over a waiter, who noted they'd been getting some complaints.
"Oh, because we Black?" Lisa asked the waiter, making Yang absolutely lose it. The waiter couldn't keep a straight face either, and then Nwodim and Pascal each broke again. Of everyone, Kearney was able to remain the most straight-faced, but they had moments of weakness, too.
Viewers on YouTube noted how funny it was to see so many of the actors totally unable to keep it together. "I'm not sure I've ever seen an SNL skit where everyone broke character this bad. It's amazing," one commented. Another added that they were "rolling" because "Bowen and Pedro couldn't contain themselves." Someone else even described it as a "character breaking free for all" that they loved.
Lisa from Temecula might not be the best dinner companion, but it seems fans would welcome her back to SNL anytime.