Who Is Pedro Pascal Dating? The Last Of Us Star Knows People Are Thirsting Over Him
Pascal was romantically linked to Lena Headey in 2014.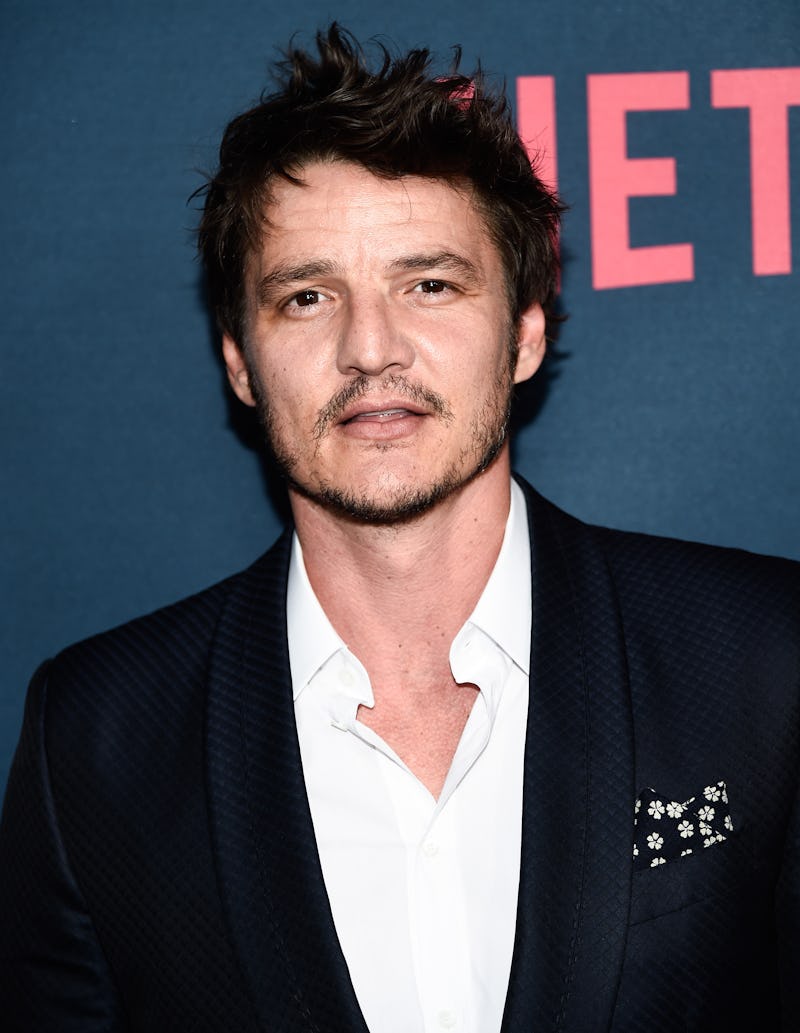 Variety/Penske Media/Getty Images
Whether he's playing a bounty hunter (The Mandalorian), chasing cartel kingpin Pablo Escobar (Narcos), or jousting to the death (Game of Thrones), Pedro Pascal is a total zaddy. And he knows it, too. He once claimed on the red carpet: "I am your cool slutty daddy." In The Last Of Us, the HBO Max adaptation of the 2013 video game, he plays an actual daddy, Joel, who loses his daughter immediately after the world is overrun by mushroom zombies. He is understandably brooding, angsty, and dour ever since.
Though it's hinted that his character has a partner in the series, Tess (Anna Torv), a fellow smuggler, it's unclear if they were ever official or to what extent their relationship was. In real life, Pascal's romantic life is equally difficult to decipher. The 47-year-old has been linked with a few women in the past, but he's extremely private about his dating life, which remains a mystery. Here's what to know about Pascal's dating history and who he was rumored to date.
The Chile native was rumored to date Orange is the New Black star Maria Dizzia. The timeline for the rumors pegs their relationship in the '90s. But the two starred in a Season 18 episode of Law & Order together in 2008.
He was briefly linked to another one of his co-stars in 2014, GOT alum Lena Headey. The two fueled the rumor mill after Headey posted a photo in April of the two of them together and captioned it, "Sunshine love." Rumors continued when they were spotted shopping at The Grove in December of that year. A few months later, in February 2015, Headey announced she was pregnant. She didn't immediately disclose the father's identity, leading some to think it could be Pascal. However, Headey later shut down those rumors and confirmed that her now-husband producer Dan Cadan is the father of their daughter, Teddy.
In 2015, the Wonder Woman 1984 star was linked to another co-star, The Mentalist's Robin Tunney after they were spotted in July getting cozy during a Hollywood stroll. In September, the two attended HBO's After Party together following the 2015 Emmys. Years later, in 2017, the pair was spotted out again, this time with Tunney's son. But much like the women before her, no confirmation from either party was ever given. In 2014, Pascal did an "Ask Me Anything" live on Reddit. One user asked what it was like working on The Mentalist and Pascal replied, "I had an amazing time with Robin Tunney, she is a new friend, and it was a really friendly set."
He was later linked to his best friend, American Horror Story star Sarah Paulson, but the two are likely just very close, having been friends for three decades. For a 2014 Interview Magazine story, Paulson interviewed Pascal, and he recalled the first time they met. "I met you, Sarah Paulson, in September of 1993, my first month in New York City." He then detailed that the then-18-year-olds bumped into Woody Harrelson and bonded over their celebrity sighting. Pascal even shared how it was Paulson who got him his GOT gig after she got the right eyes to watch his audition video.
The public may never know Pascal's dating history or relationship status, but at least he knows he's the internet's boyfriend. For Vanity Fair, Pascal took a lie detector test and was asked if he thinks he's a heartthrob. After initially denying it, he finally caved, "Yes, I'm a heartthrob."
When asked if he looks "at Instagram accounts about you being a heartthrob when you're feeling down," he admitted, "Yes, I do." His favorite? "It's called Pedro Pascal fan account."