Peter From Too Hot To Handle Has An OnlyFans Account
Plus everything else to know about the 21-year-old TikTok star.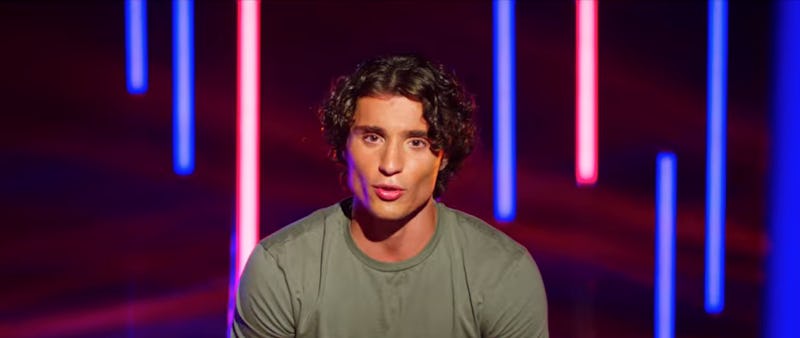 Netflix/screenshot
Too Hot to Handle star Peter Vigilante may be 5'8", but according to him, his confidence makes him "about 6'2"." The Staten Island native said on the show that the moment he talks to a girl, "they just fall in love with me." But that might not necessarily work to his advantage on Too Hot to Handle, where contestants must abstain from any sexual activity in order to win the $100,000 grand prize.
As Peter, 21, explained to SILive.com, he thought he'd joined a show called Parties in Paradise where contestants would "just have fun, party, and meet beautiful people." Finding out he was on Too Hot to Handle instead was "one of the most shocking times" of his life. "In my head, I told myself to just do my best to learn and grow and learn how to be in a fruitful relationship without having any physical contact and the things that come with it," he told the outlet. "That was my real goal. But at the same time, I am a 21-year-old man with a bunch of beautiful females in their 20s."
How he fares remains to be seen, but here's everything else to know about Peter in the meantime.
Peter's Job
After attending Seton Hall University, Peter has focused on being a TikTok influencer and personal trainer. He prioritizes working out daily, and often shares his client success stories on Instagram, where he notes that he's a certified personal trainer through the National Academy of Sports Medicine.
Peter's Family
Coming from a large Italian American family — he's one of 10 kids — Peter calls his mom the "number one woman" in his life. In addition to a fraternal twin brother, Joseph, and younger brother Gianni, he also has six older siblings as well as a little sister, Angelina. "They are so excited for me," he told SILive.com.
Peter's TikTok & Instagram
As Peter noted on Too Hot to Handle, he posts "a lot of different kinds of videos on TikTok," though he specializes in "thirst-trapping" and dancing. "I think people just love seeing a dude with abs hop on a [stripper] pole and spin, I guess," he said. "Once you get the following I've got, 100, 200 girls DMing you a day, and it's really just like, 'Oh my god, there's so many.' You don't know what to do." When Peter reached 2 million TikTok followers in May, he posted that he's "planning so much insane stuff for the rest of 2021."
Though Peter has less followers on Instagram (more than 107,000, as of publication), he stills shares plenty of thirst traps there as well. In addition to showcasing his shirtless workouts, he posts photos of him snowboarding and with friends and family, particularly his twin Joseph and younger brother Gianni. He also links to his OnlyFans account, where subscribers can see exclusive content for $30 per month, as well as his Cameo page, where he charges $30 for a personalized video message.
Peter's Relationship Status
Fans will have to wait to watch the second half of Too Hot to Handle Season 2 to find out if Peter ends up with anyone, but he teased to SILive.com that he might not be single. "There's some beautiful people in my life right now and maybe something happens,'' he hinted. "Who knows? You have to watch the show and see if I end up in a relationship with one of my beautiful cast members."
Either way, his time on the series was a learning experience. "It sounds corny, but I came home after filming the show and have been in more meaningful relationships with people, rather than just trying to be with as many people as I can," he added. "My former egotistical mindset of relationships and just trying to get with as many people as I can is gone."