Where To Watch Your Favorite Pose Stars After The Show Ends
The category is: goodbye.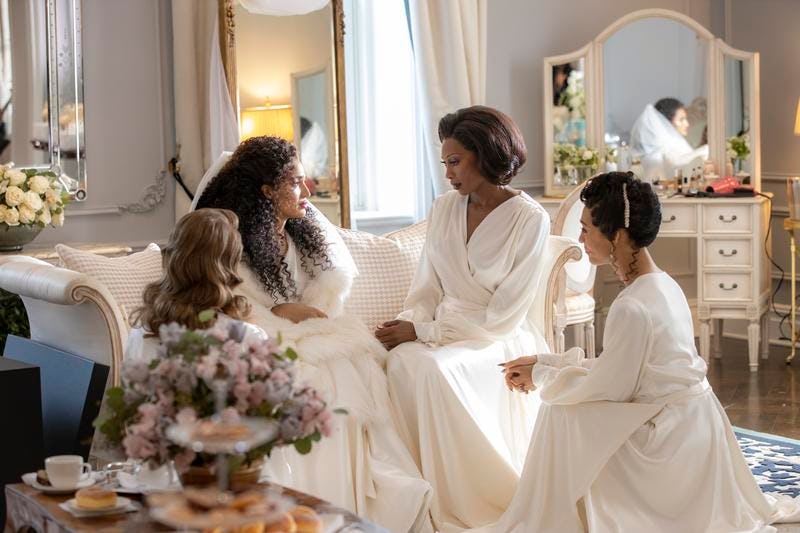 Eric Liebowitz/FX
Spoilers ahead for the Pose series finale. After three seasons of family and snatched ballroom looks, Pose has walked its final category. The mood is hard to miss if you watched Sunday's finale; everyone's storyline is wrapped up in a way that pays tribute to all they've been through. Blanca becomes a nurse and continues caring for up-and-comers in the ball scene; Pray Tell dies after secretly giving his AIDS medication trial pills to Ricky; Angel and Papi are still successfully working in modeling; and Elektra is making a ton of money working for the mob.
It's an ending full of bittersweet closure, but one that co-creators Ryan Murphy and Steven Canals envisioned from the start. "From the moment that Ryan Murphy and I first met to talk about what Pose could be, we had a very specific ending in mind. If you watch this season, and more specifically the finale, that was what it was always intended to be," Canals said during a press conference attended by Bustle ahead of the final season.
"While we certainly could have continued to create narrative around these characters and in this world, and we certainly had a conversation in the writers' room about it, I think that, for me, as a true lover of television, one of the things that has always frustrated me is when I am tuning into a season of television and I can tell that this season just feels like filler. And I think that the last thing that I wanted to do to our audience was to create narrative simply for the sake of creating narrative with no real intention."
That doesn't mean the cast and crew were any less heartbroken about the show ending, though. When filming for Pose wrapped in March 2020, many of the stars took to Instagram to share their fond memories of a series that changed their life. "The long hours, emotional pull, the early calls were all worth it in the end.," MJ Rodriguez, who plays Blanca, said in her post. "This show has changed my life, and I wouldn't have it any other way. So thank you Pose fam, we did it! We changed the world, and we showed them how to love a bit harder again!"
Dominique Jackson (Elektra) also shared some words. "[Pose] has changed lives especially mine!" she wrote alongside a video of her hair and makeup routine. "I have been taught, loved, validated, acknowledged, tried, proven and once more loved."
The good news is that fans of Pose won't have to wait too long to see their favorites back on TV; many cast members have already been cast in their next projects. Rodriguez will be working with Maya Rudolph on an Apple TV+ comedy. Angelica Ross is staying in the Ryan Murphy universe for the upcoming 10th season of American Horror Story coming later this year. Billy Porter will be Fab G, the fairy godparent in the new Cinderella remake, as well as a voice in the Proud Family reboot. And Indya Moore will pop up in the upcoming film, Escape Room: Tournament of Champions.