Angelica Ross On Candy's "Bittersweet" Return To Pose
"It's a moment where Candy gets to remind her sisters, remind the audience that while they have the life that they have they need to live it to the fullest."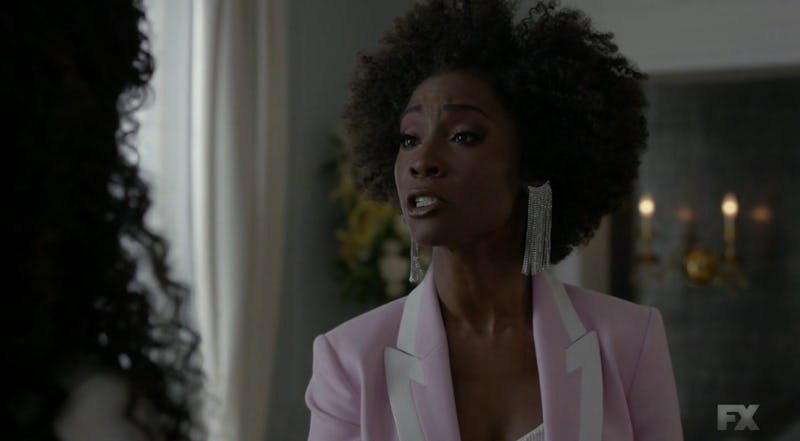 FX/screenshot
The final season of Pose has brought on a lot of tears: some because the show is ending, others from the emotional connections between the characters, and many because of the way Papi sang to Angel at their wedding ceremony in the May 30 episode. But another scene that drummed up the waterworks came slightly earlier in the wedding day, when Angel's sisters presented her with something old, something new, something borrowed, and something blue. The latter was a hammer, wrapped in blue ribbon, that once belonged to Candy, who died in Season 2. As the wedding march started playing from the other room, Angel found Candy — or at least the ghost of Candy — there to give her some encouraging words.
This marked the second time Angelica Ross returned for the final season as Candy — something that didn't always seem probable. Ross has been busy since leaving Pose, between founding a company to help people who are transgender get tech jobs, recording an electro-pop anthem, and acting in two seasons of American Horror Story. But the stars aligned and Ross appeared in Episode 2 of the season for a flashback to the early days of Elektra's House of Abundance. While Ross herself is 40, she tells Bustle that she worked hard to tap into the youthfulness that Candy would have had during her first few years in New York.
"I wanted to show what it looks like, what she started out as, which was a more hopeful space," Ross says, talking about Candy's idea to open up a burger place abroad. "Just having these ideas before she's experienced having them knocked down all the time and had her confidence knocked down in the ballroom."
But though Ross jumped at the chance to bring Candy back for the fans, her appearance in "Something Old, Something New," the penultimate episode of the series, is what she's most grateful for. "I just remember crying as we were filming the scene, because I just kept thinking to myself, 'Candy should be [alive],'" Ross says. "It was such a reminder of not only being able to cherish and support your sisters while you have them, but also a reminder of ways we should try to keep their memories alive."
It was a bittersweet moment for Ross, even now. Candy's fate was controversial: though it captured the very real violence trans women — and particularly Black trans women — face, some viewers questioned the purpose of her murder in a pop culture landscape that already frequently embeds trans people in traumatic narratives. Ross felt the storyline was important, but two years later, Candy's death still hurts for her and fans alike. She sees the character's angelic appearance on Angel and Papi's wedding day as another way to give Candy more breadth and continue to see her in a different light.
"It's a moment where Candy gets to remind her sisters, remind the audience that while they have the life that they have they need to live it to the fullest. And if the world was kinder I should be here right with you," Ross says. "I think it was important to show the audience that our identities shouldn't determine whether we get to have our dreams come true. That should be the least of it."