Prince William & His Kids Are Adorable In A New Photo For Father's Day
Once again, George, Charlotte, and Louis are scene-stealers.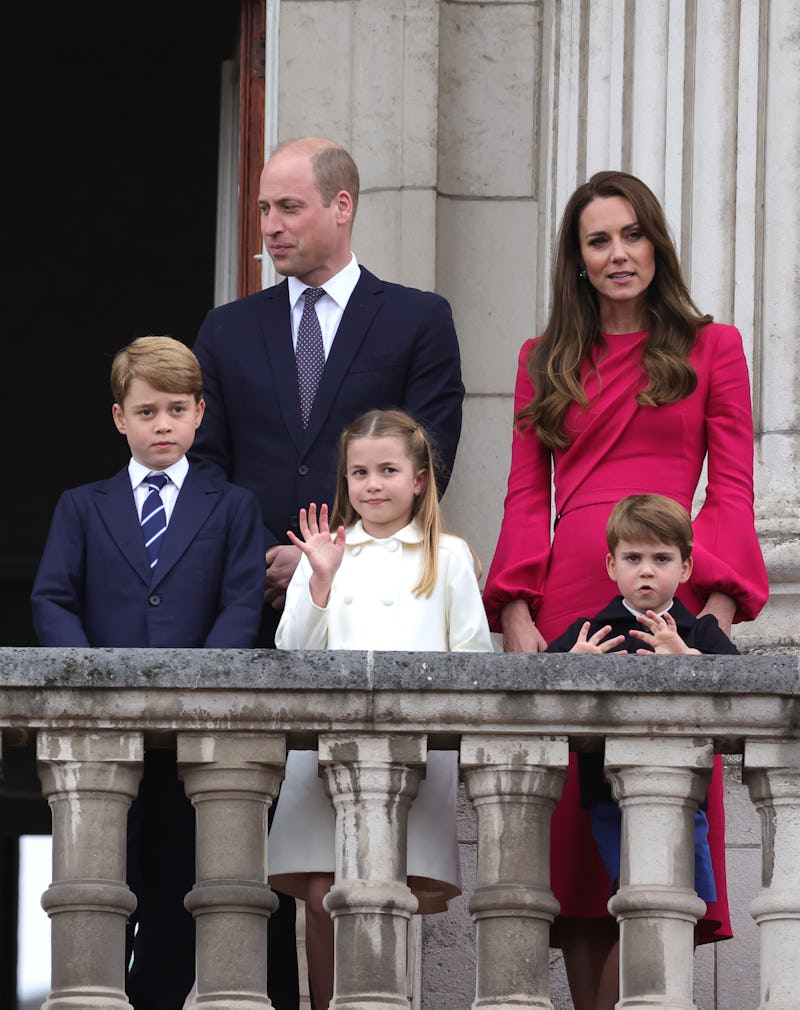 Chris Jackson/Chris Jackson Collection/Getty Images
The Cambridge kids continue to make the best faces. In honor of Father's Day, Prince William and Kate released a new photo of the future king with their children, Prince George, Princess Charlotte, and Prince Louis, and they all look like they're having the time of their lives. The young royals, in particular, look like they were caught in a moment of pure screaming-with-laughter joy.
"Wishing a Happy Father's Day to fathers and grandfathers across the world today!" the Cambridges' Instagram caption read.
The photo of the foursome was taken during a family trip to Jordan, according to CNN. If it looks somewhat familiar, that's because the Cambridges used another photo from the shoot for their 2021 Christmas card. William, George, and Louis are all wearing the same collared shirts as they were in the previously released photo, and Charlotte has on the same flutter-sleeve dress. Apparently, it was a productive photo session.
The Duke and Duchess of Cambridges' followers adored the latest image and its sweet family moment, of course. "This is such a lovely photo! Happy Father's Day," one wrote in the Instagram post's comments. Another called it a "gorgeous photo" and noted that "Louis is just adorable." Meanwhile, still another replied, in part, "Thanks for sharing this beautiful photo."
The Cambridges, along with the royal family as a whole, were recently in the spotlight together during Queen Elizabeth II's platinum jubilee celebration. The kids stole the show at multiple events, including the annual Trooping the Colour, where they joined senior royals on the Buckingham Palace balcony and created some truly meme-worthy moments. In a Twitter thread afterward, the Cambridges called it "a fantastic weekend of celebrations" and shared how special it was to see "people across the nation coming together with family, friends and loved ones." They thanked everyone who showed up to celebrate the queen and noted that they — and especially Louis — had "an incredible time."
Since the queen's jubilee, the royal kids have had a chance to take a break from the spotlight, but William and Kate have been busy as usual. The Duke of Cambridge recently visited a training session for England's national women's soccer team, and even though his little ones weren't there, the team had them in mind when they presented him with a personalized jersey for each child. It gave him the perfect opportunity to share Charlotte's message for the players and brag a little about her. He told them, "Charlotte wants me to tell you that she's really good in goal. She said, 'Please tell them that.' … [She's] a budding star for the future."
A family soccer game may be in order this Father's Day. However the Cambridges celebrate, though, let's hope they have as much fun as they appeared to have had in Jordan.