Prince Harry Remembers Prince Philip As A "Master Of The Barbecue" In Heartfelt Tribute
Prince William also honored his grandfather's life in a separate statement.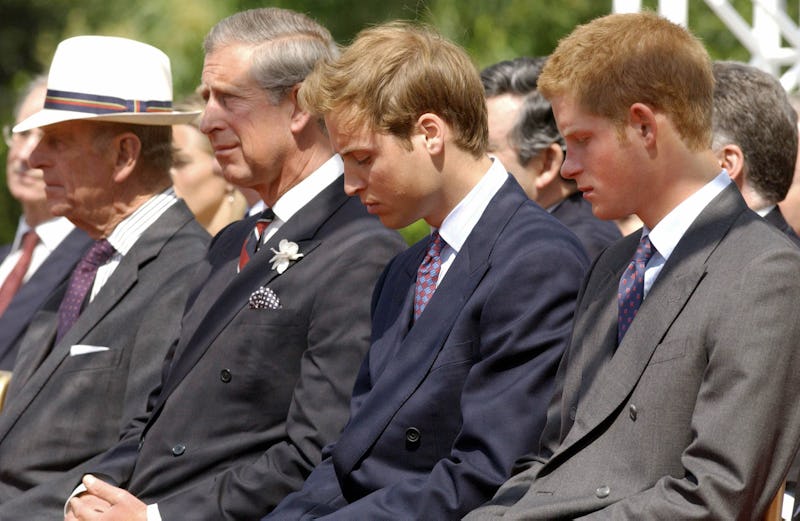 FIONA HANSON/AFP/Getty Images
The world may have lost a long-reigning prince, but his famous grandsons have lost someone even more significant. Prince Harry and Prince William remembered their grandfather Prince Philip in separate statements on Monday, April 12. The Duke of Edinburgh died peacefully on Friday, April 9, at the age of 99. In a statement obtained by Bustle, Harry remembered his grandfather as "a man of service, honour and great humour."
"He was authentically himself, with a seriously sharp wit, and could hold the attention of any room due to his charm—and also because you never knew what he might say next," Harry, 36, wrote. While he praised Philip's service, he chose to remember him for his most important position as grandpa. "Like many of you who have lost a loved one or grandparent over the pain of this past year, he was my grandpa: master of the barbecue, legend of banter, and cheeky right 'til the end," he wrote.
The Duke of Sussex also acknowledged Philip's 73-year-long marriage to Queen Elizabeth, noting how he is the "longest reigning consort" to the Monarch, and led his final dedication with a classic grandpa joke. "While I could go on, I know that right now he would say to all of us, beer in hand, 'Oh do get on with it!'," he wrote. "So, on that note, Grandpa, thank you for your service, your dedication to Granny, and for always being yourself. You will be sorely missed, but always remembered—by the nation and the world. Meghan, Archie, and I (as well as your future great-granddaughter) will always hold a special place for you in our hearts."
Harry concluded his statement by writing "Per Mare, Per Terram." As reported by The Independent, the Latin phrase translates to "By Sea, By Land," and is used as a slogan by the Royal Marines. The Duke is referencing his grandfather's deep history with the British Navy, having served as the Captain General of the Royal Marines in 1953 after 14 years of service.
On Monday, Prince William also issued a statement, honoring his grandfather's service to the UK and sharing gratitude for his mentorship "both through good times and the hardest days." He also paid tribute on behalf of his wife Kate Middleton and their three children, Prince George, Princess Charlotte, and Prince Louis. "I will always be grateful that my wife had so many years to get to know my grandfather and for the kindness he showed her," he wrote. "I will never take for granted the special memories my children will always have of their great-grandpa coming to collect them in his carriage and seeing for themselves his infectious sense of adventure as well as his mischievous sense of humour!"
Much like his brother, William ended his statement by honoring Philip's wishes to keep things moving. "Catherine and I will continue to do what he would have wanted and will support The Queen in the years ahead," the 38-year-old wrote. "I will miss my Grandpa, but I know he would want us to get on with the job."