The Royal Family Reacts To Prince Philip's Death
The Duke of Edinburgh passed away on April 9.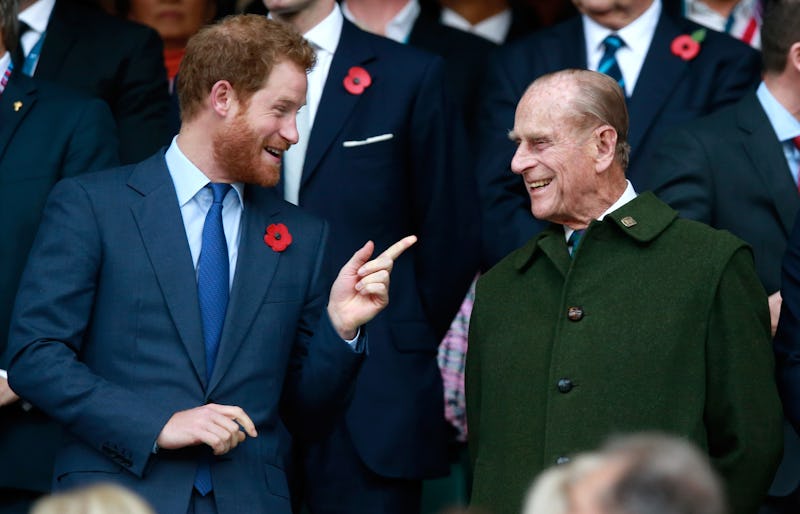 Phil Walter/Getty Images
In an announcement made on April 9, Buckingham Palace confirmed that The Duke Of Edinburgh had passed away aged 99. In the days since, members of the royal family have been paying tribute to Prince Philip.
"His Royal Highness passed away peacefully this morning at Windsor Castle," the official statement read. The statement was shared on the official Royal Family Twitter alongside a black and white image of the prince in his naval uniform.
It continued: "It is with deep sorrow that Her Majesty The Queen has announced the death of her beloved husband, His Royal Highness The Prince Philip, Duke of Edinburgh. The Royal Family join with people around the world in mourning his loss."
Prince William and Kate, The Duchess of Cambridge, shared the same photograph on their official Instagram page, as did the Duke and Duchess of Cornwall. Following the news, the Cambridges also changed their Twitter cover photo to a black and white portrait of Prince Philip and their cheerful avatar to a monogram.
Prince Charles and Camilla, Duchess of Cornwall, who marked their 16th wedding anniversary the day Philip passed, changed their social media profile pictures as well. Prince Charles later honoured his "dear papa" in a touching video tribute on April 10. In the pre-recorded clip taken outside his Highgrove House country home in Tetbury, Gloucestershire, the Prince of Wales and heir to the throne noted that the Duke of Edinburgh had "given the most remarkable, devoted service to The Queen, to my family, and to the country, but also to the whole of the Commonwealth" over the past 70 years.
"As you can imagine, my family and I miss my father enormously," he added.
Not long after the news ushered the UK into a period of mourning, Prince Harry and Meghan Markle paid tribute to the late duke with a post on their Archewell website. Royal reporter Omid Scobie shared a photo of their new homepage, which read, "In loving memory of His Royal Highness The Duke of Edinburgh. Thank you for your service... You will be greatly missed."
In the touching statement released April 12, Prince Harry described his grandfather as "a man of service, honour and great humour".
"He was authentically himself," he wrote, via the Archewell website, "with a seriously sharp wit, and could hold the attention of any room due to his charm – and also because you never knew what he might say next.
"He will be remembered as the longest reigning consort to the Monarch, a decorated serviceman, a Prince and a Duke. But to me, like many of you who have lost a loved one or grandparent over the pain of this past year, he was my grandpa: master of the barbecue, legend of banter, and cheeky right 'til the end."
Harry also went on to describe the Duke as the "rock for Her Majesty The Queen with unparalleled devotion" before thanking him for his service. The Duke has travelled to the UK in order to attend the funeral on on April 17.
Meanwhile, Prince William shared an adorable photograph, taken by Catherine, The Duchess of Cambridge, of their son, Prince George, with the late Duke alongside a statement, which read:
"My grandfather's century of life was defined by service – to his country and Commonwealth, to his wife and Queen, and to our family.
I feel lucky to have not just had his example to guide me, but his enduring presence well into my own adult life – both through good times and the hardest days. I will always be grateful that my wife had so many years to get to know my grandfather and for the kindness he showed her. I will never take for granted the special memories my children will always have of their great-grandpa coming to collect them in his carriage and seeing for themselves his infectious sense of adventure as well as his mischievous sense of humour!
My grandfather was an extraordinary man and part of an extraordinary generation. Catherine and I will continue to do what he would have wanted and will support The Queen in the years ahead. I will miss my Grandpa, but I know he would want us to get on with the job."
Prince Andrew joined a special service at the Royal Chapel in Windsor Great Park on April 11 and spoke publicly for the first time since stepping away from his royal duties in the wake of his friendship with Jeffrey Epstein. "I loved him as a father," he told reporters. "He was so calm … He was always someone you could go to and he would always listen. We've lost almost the grandfather of the nation."
In a pre-recorded ITV interview that was set to be released when Philip died, Princess Anne and Prince Edward remembered their father. Anne shared, "Without him, life will be completely different," as Edward reflected on Philip's marriage to the queen. "My parents have been such a fantastic support to each other during all those years and all those events and all those tours and events overseas," he expressed. "To have someone that you confide in and smile about things that you perhaps could not in public. To be able to share that is immensely important."
On April 15, Princess Eugenie shared a post on her Instagram in memory of her grandfather. "I remember learning how to cook, how to paint, what to read. I remember laughing at your jokes and asking about your spectacular life and service in the navy," she wrote on Instagram.
Eugenie added: "I will remember you in your children, your grandchildren, and great-grandchildren. Thank you for your dedication and love for us all and especially Granny, who we will look after for you."
This article was originally published on