For Quinn Christopherson, Songwriting & Karaoke Serve Similar Purposes
The indie musician's debut album, Write Your Name in Pink, is a reference to the vulnerability and catharsis that comes with signing up to sing.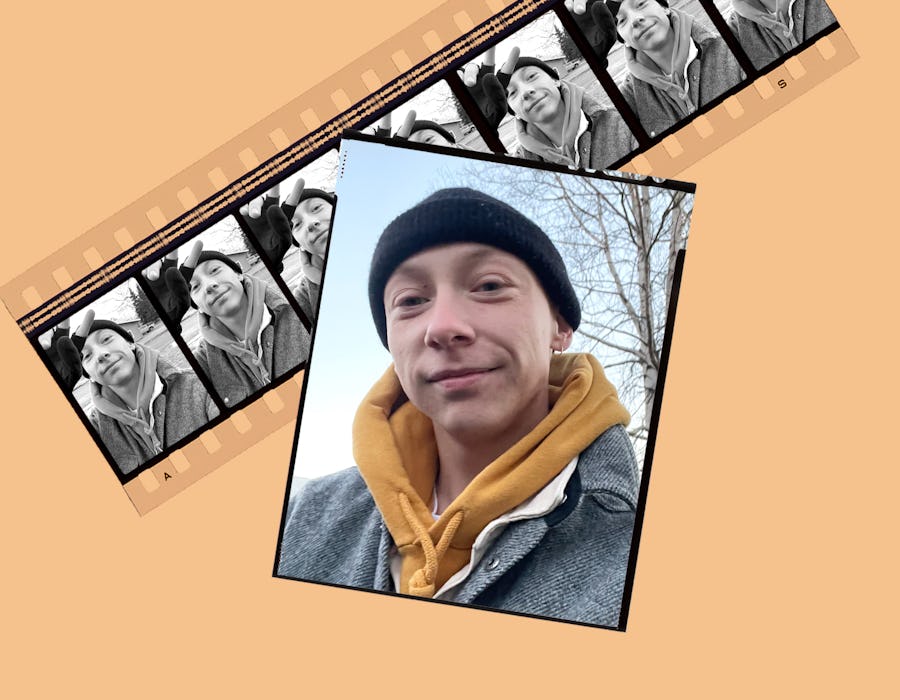 Before he found his way to indie rock, Quinn Christopherson was helping his dad DJ weddings all over Alaska. He'd set up the speakers and watch as his dad got hundreds of people to their feet, armed only with a mic and an onslaught of Top 40 hits. "It's definitely what inspired me to be a performer," Christopherson tells Bustle. It feels only right that his debut album, Write Your Name In Pink, is filled with all the hallmarks of big celebrations: tender romance, complicated family dynamics, and acceptance.
Christopherson got his start in music gigging around his native Anchorage, Alaska. The scene there was close knit enough that Christopherson didn't even own his own guitar until 2019, when he got the call telling him he won NPR's Tiny Desk Contest for his song "Erase Me," about his gender transition. "I got off the phone and I thought, dang, I should buy a guitar. Legit did not have one," Christopherson recalled during his 2019 performance. "But that's Anchorage, that's the music community there. Everyone just borrowed me their stuff long-term."
Born into a family of Native Alaskans — his mother is Ahtna Athabascan and his father is Iñupiaq — Christopherson has an innate gift for storytelling. "We tell stories, that's how we pass down our culture and our history, it's how we pass time," Christopherson says. "We all loved my grandma's stories because she was so good at saying a lot without saying anything at all. In my writing today, I try to remember that."
Christopherson's sonic and songwriting sensibilities on his debut album fit right in with that of his tour mates on the Wild Hearts Tour this summer, Sharon Van Etten, Angel Olsen, and Julien Baker. His gift for specificity shines through in his lyrics, which read like poems. In the confessional love letter to his partner, "Thanks," he expresses his gratitude to them "for crushing the spiders," a gesture that feels small yet tender. In "Kids," he daydreams about the future possibilities of starting a family and all the rollerblades and adventures that would come along with it.
Though Write Your Name in Pink also covers heavier themes surrounding identity and painful memories, Christopherson set out to infuse his confessions with excitement and joy, "like writing your name on the karaoke sign-up sheet," he says. "That is so vulnerable to me, just putting it all out there. It feels good to do that sometimes. It's a celebration."
Get to know more about Quinn Christopherson in his Bustle Booth below.
In The Bustle Booth
What's your coffee order?
Cold brew at home or iced Americano out & about
What are the saved weather locations on your phone?
Anchorage & Seattle
What's your sign?
Cancer
Favorite overused movie quote?
Not sure I have one?
What was your favorite cartoon as a kid?
Hey Arnold!
What's one movie or TV show you're currently obsessed with?
Severance
Who is your celeb idol?
Mariska Hargitay
If you had to be on a reality TV show, what would it be?
Survivor
Go-to karaoke song?
City High - "What Would You Do"
What's something that's inspiring you lately?
Movies & TV shows
What is something you would want people to say about you?
That I'm nice to be around? Haha