Rachel Bilson Has Responded To Mischa Barton's The O.C. Bullying Allegations
Bilson & her former co-star Melinda Clarke discussed the comments on their podcast, Welcome To The O.C., Bitches!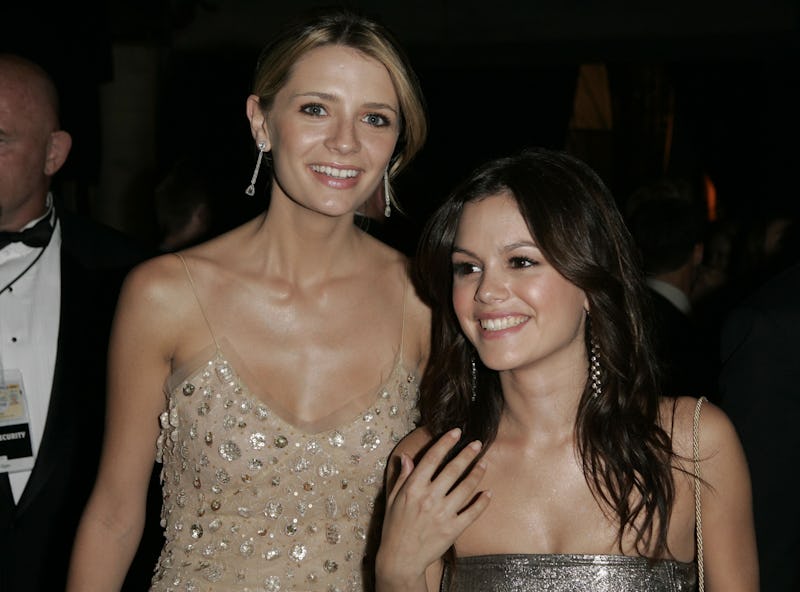 Donato Sardella/WireImage/Getty Images
Former O.C star Mischa Barton shocked fans when she recently claimed that on-set "bullying" led to her dramatic (and heartbreaking) exit from the iconic teen drama 15 years ago. Barton shared her experiences in a tell-all interview with E! last month, sparking responses from her ex-cast mates including Rachel Bilson who says she's "pretty confused" by what was said.
Barton, who portrayed troubled rich teen Marissa Cooper in the popular drama, claimed that things began to change after Bilson signed on as a series regular.
"It's a bit complicated," shared Barton to E! Online. "It started pretty early on because it had a lot to do with them adding Rachel [Bilson] in last minute as, after the first season, a series regular and evening out everybody's pay — and sort of general bullying from some of the men on set that kind of felt really sh*tty.
"There were people on that set that was very mean to me," she added. "It wasn't, like, the most ideal environment for a young, sensitive girl who's also been thrust into stardom to have to put up with."
Now Bilson, who played Summer Roberts, and Melinda Clarke, aka Julie Cooper, have shared their thoughts during an episode of their podcast Welcome To The O.C., Bitches!
"You know, Melinda and I were talking immediately after [the interview] came out," Bilson said. "And we were just like, 'Wait, what?'"
Both Bilson and Clarke acknowledged the "hours of work" and "pressure" that Barton faced while filming The O.C. at such a young age. "At best, you're exhausted," Clarke said, "and at worst, it's overwhelming and chaotic. So it kind of breaks your heart a little to know... I mean, we knew it was a lot of pressure on her. But if it was really that bad of an experience, that's not right for any young person."
She continued: "But some of the comments were very perplexing to me, so I don't know. I don't know what the truth is about that. But I do know that, yes, this was an enormous amount of pressure."
Bilson spoke about Barton's comment that Summer was added last minute as a series regular. "[That's] actually completely false and not what happened," she said.
Bilson added: "So, [the interview] is starting out that way and it's like, well, that's misinformation. Where are we going with this and what is she trying to say? Which, I would actually like to talk to her and find out what her experience was from her perspective because I saw things a little differently."
Clarke agreed, but went on to say the there was a lot of "scrutiny" for the young women on the show from the media and the outside world, which "could get turned against them" and turn into "quite a toxic environment."
On Barton's bullying claims, Bilson said she was "pretty confused by most of it" adding "I don't know who she's referring to because I didn't personally witness any of that."
In their concluding thought, both Bilson and Clarke said they were eager for their former co-star to join them on the podcast so they could talk to her about her comments and "hear her entire perspective."