Welcome Back To The O.C., Bitches
For their new podcast, former The O.C. stars Rachel Bilson and Melinda Clarke are rewatching — and re-litigating — the whole series, with some help from the show's cast and crew.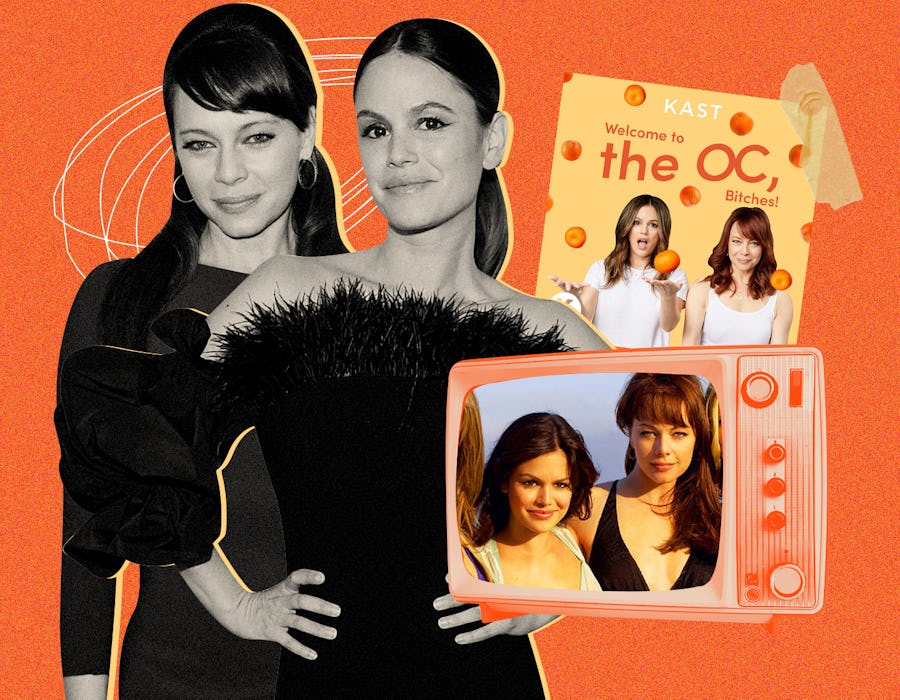 Alberto E. Rodriguez, Jamie McCarthy/Getty Images
Rachel Bilson and Melinda Clarke's characters Summer and Julie on The O.C. had a lot in common. They were both initially conceived as bit players, who grew into the show's most beloved bitches — before their respective redemptive arcs exposed their softer underbellies. But upon rewatching the show — as the two actors are now doing for their new podcast, Welcome To The O.C., Bitches! — what's most striking about these characters is their strength.
The show's central storyline follows Ryan's (Ben McKenzie) attempts to save his on-again-off-again girlfriend, the ill-fated Marissa (Mischa Barton). But Bilson's Summer and Clarke's Julie never needed any rescuing — from a man, or anyone else. "I've always said just how strong Julie and Summer [are]," Bilson tells Bustle. "Summer is always being who she is and is strong in her choices and how she carries herself. Yeah, she can be a little bitchy, but whatever."
Summer and Julie's latent feminism is just one of the many themes the actors will explore on the podcast, which premieres April 27. Throughout the run they'll reunite with cast members, speak with former producers, and interview self-professed scholars of the series. Clarke, who considers herself "kind of a nerd," has thoroughly enjoyed delving into the more academic takes. "What's really interesting for me going back and really studying this show is exploring the feminism, gender, identity, and class systems [at play]," she says, citing The O.C.: A Critical Understanding and Stop Being a Hater and Learn to Love the O.C. as her bibles. "We're trying to go for some deeper things like the sociological aspects of all of this." But it wouldn't be The O.C. without some gossip, too: the duo promise to deliver no holds barred commentary on the show's behind the scenes drama, spilling enough tea to make Summer and Julie proud.
Below, Bilson and Clarke reflect on the media frenzy surrounding the show, the storyline that wouldn't hold up in 2021, and the rumors that the young stars of the show had a "bad attitude."
Something you two have in common is that you both started off on The O.C. as guest stars. Rachel, Josh Schwartz has said that your line reading of, "I have to pee. Do you have to pee," is what made him realize you needed to become a regular. What was it about that line?
Rachel Bilson: I grew up in LA, in the Valley specifically, and I definitely channeled some girls I went to high school with that were kind of that cliché "best friend." Or whatever you want to call Summer [in the pilot]. But for me, I just wanted it to be funny. Like Josh said, I made him laugh and I don't think that's how he had seen Summer originally. So I took that and ran with it.
Josh cites My So-Called Life and Freaks and Geeks as influences for the show. Whenever those series focused on the parents, I'd lose interest — but Melinda, your take on playing a mom was among the most compelling elements of The O.C.
Melinda Clarke: Julie really is one of the original Housewives. She's a villain but you never play a villain as a villain. You believe your character's truth — and her truth was maintaining this beautiful façade. Physically and monetarily. But ultimately she is an outsider, and that's what Josh has explained is the biggest theme of this show: everyone is really an outsider. They were one, or they become an outsider, or they feel like an outsider.
An early concern was that you were too young to play a mom, so they made you look older. How did it feel being a young, hot actress going into hair and makeup and coming out looking more "matronly?"
Clarke: Because I grew up in Orange County I remember having conversations with the costume designer and saying, "Why are you dressing me so old?" If you go to Newport Beach, the moms are actually sharing clothes with their teenage daughters.
There's no mom jeans.
Clarke: Julie [started] wearing expensive designer jeans and cute little tops because it felt more realistic to me.
The show changed all of your lives, but particularly for the young stars of the series, who became tabloid fodder. Rachel, you've said that being in a relationship with your co-star Adam Brody saved you from the media frenzy in a sense, because you two were such homebodies.
Bilson: I think it's a combination for me. Because I grew up in LA, I went out before I was supposed to and I kind of had my fix. Then [combined with] being in a relationship, we were pretty domesticated for our age. [We were] kind of like old people at heart, which just speaks to Adam's character Seth even. I know I'm still a Golden Girls [fan] till I die.
Framing Britney Spears has prompted many people to reassess how the early aughts media treated its young stars. Rachel, I went back and reread old coverage of The O.C., and a lot of it discussed how "voluptuous" Summer was. Were you ever bothered by the hyper-sexualization of the character?
Bilson: I don't think I was aware of it then by any means, you know what I mean? But I definitely have curves, and I'm proud of that.
Clarke: You were number 6 on Maxim's Hot 100 List. [Those magazines] were really, really prevalent. Sometimes if you wanted some publicity, you had to do FHM or Maxim.
Bilson: Oh, yeah, I remember my first photo shoot was one of those magazines. Looking back, I'm like, "Oh, lord." [Ed note: Bilson appeared on the cover of Maxim in 2005.]
What was your experience like posing for those types of magazines?
Clarke: I always felt like it was a little bit of an effort, to be honest, because I'm kind of a nerd.
Bilson: You're the hottest ever, Mindy. She was like the definition of MILF.
Clarke: Josh tried to get that word by the Fox censors, but it didn't play.
Marissa could overdose in Tijuana but you couldn't say MILF?
Clarke: Luke says it to Julie and it got by [the censors] in the script. Then when they finally saw the edited cut, they were like, "Wait, what does that mean?" Josh said that they called him and he was like, "[it means] mother I'd like to fondle." And they were like, "No, we found out what it really means."
I will say for all the sexiness of The O.C., there were some pretty unsexy moments. Like when Seth and Summer lose their virginity to each other, they really fumble it. Which is something we hadn't really seen on TV before.
Bilson: I can't wait to get to that episode and watch it again. I remember [shooting it] because it's shot from above and we're on the bed. We're both so awkward, because that is what it's like. I'm sorry, your first time is not going to be this crazy, monumental sexual experience. It's going to be awkward, it's going to be painful, and it's going to be embarrassing.
You're not both going to orgasm at the same time.
Bilson: You don't learn how to do that till you're much older, let me tell you.
Melinda, your character had a lot of relationships throughout the show. But the one that feels the most icky to look back on is when she has an affair with her daughter Marissa's ex, Luke, who's still in high school. How have you felt revisiting that arc?
Clarke: You know, it's so funny. There definitely were a few moments that made me kind of personally go, "Ooh." But I do know that they had to make sure that they added a line of dialogue where Luke's like, "I got to go. I got to get to homeroom." And Julie says, "Right, you've got to get to homeroom because you're in high school. You're 18." So she made a point of saying he's 18.
I do want to talk about some of the behind the scenes drama. Tate Donovan did an interview once where he said "the kids on the show had developed a really bad attitude," which I'm sure stung. Now that you're reconnecting with former cast members for the podcast, have you been able to heal some of those wounds?
Bilson: I remember hearing that and being bummed about it. Maybe there was an element of truth to some of it, but it kind of wasn't [true] as a whole. But we've kind of addressed it and I think we've cleared it up a bit.
Clarke: We get to talk to Tate [on the podcast] and he admitted that he said a few things. He regrets it. I will absolutely go on record here and say that I heard things [like that], but I personally never experienced anything other than professionalism. I don't think it's fair for us to really discuss other people's experiences but I can tell my experience. And if I were 20 years old or 21, I would definitely be thinking about my future. Personally, I was a young mom and I was 38 by the time the show ended, and I was like, "Ooh, I got to get another job to pay my mortgage." But I don't fault any of the kids for wanting to stray.
Bilson: It was an interesting time towards the end. I never strayed from being grateful for the show, but I was working on something else while working on The O.C. simultaneously at the end. So my attention was kind of all over the place. But I never strayed away from the gratitude.
I imagine it's impossible not to think the grass is greener on the other side and want to try something new at a certain point.
Bilson: I think it's a natural thing to be like, "Oh, what's it like doing movies? Let's try to experience that." I feel like everyone goes through that, but again, it's all about not forgetting where you come from.
Clarke: Think about being 17 years old and Mischa is the "it girl." All of a sudden it wasn't just coming to work. Everybody now wants a piece of you: it's campaigns, advertising, and all of this stuff. But I loved working with Mischa. She's brave. She's fearless. She plays this heartbreaking [character] and she did such a wonderful portrayal.
Bilson: She had so much to do. Rewatching it I'm like, "Geez." She was a teenager carrying this thing.
Clarke: I'm just moved and heartbroken watching these scenes about how Julie is so oblivious to the pain that she's caused [Marissa]. And I, of course, come from my own experience. I have a daughter who's 21 now and we have difficult times in our life. It just resonates with me so much more watching the show now. I mean, I really hope we get to reconnect and I hope [Mischa] stops by the podcast.
This interview has been edited and condensed for clarity.