Living & Loving In The Age Of AIDS By Derek Frost Is A Tale Of Triumph — EXCERPT
With his touching memoir, Frost puts a human face on the 1980s HIV and AIDS epidemic.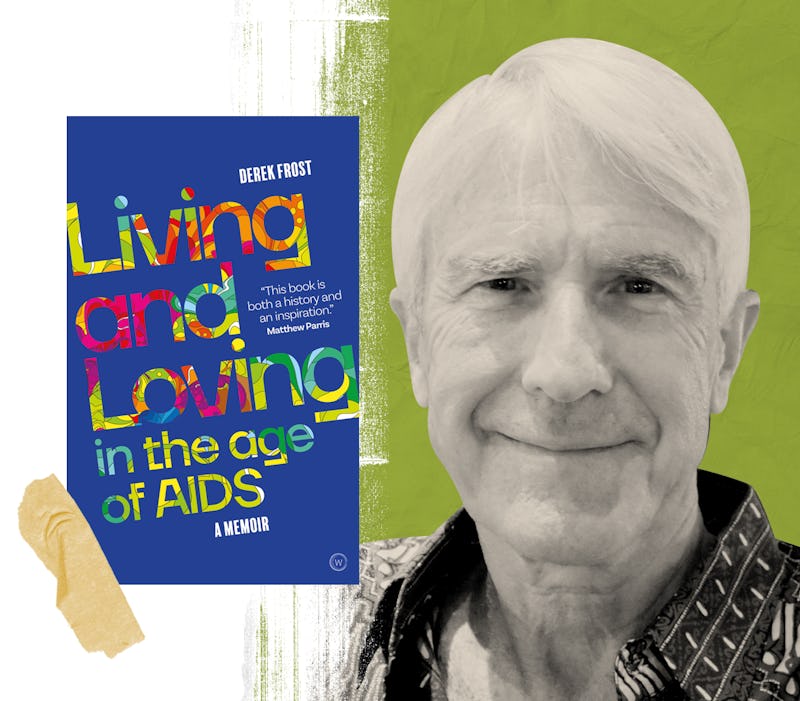 Derek Frost's Living and Loving in the Age of AIDS arrives during a period of renewed discussion around the 1980s HIV and AIDS epidemic. This resurgence can likely be attributed to Russel T Davies' record-breaking It's a Sin and, much like the Channel 4 drama, Frost's story is as joyous and inspirational as it is heartbreaking.
The memoir recounts the experiences Frost, a distinguished designer, and his entrepreneur husband, J, the founder of both London's The Embassy Club and Europe's largest gay discotheque Heaven, had together. The pair's love story began more than 40 years ago, at a time when life for the couple was one of fearless adventure and creativity. Amid the bliss, however, Derek and J were confronted with the harrowing reality of HIV and AIDS as their close friends began to die of the once-mysterious illness. After being tested themselves, J discovered he was HIV Positive and handed what was then considered a death sentence.
"We hurried from that doctor trying to get away from him and his ghastly news as quickly as possible," Derek told Boyz magazine last month, recalling the moment J had tested Positive. "We rushed home barely breathing; went wordlessly and immediately to our bedroom, where we drew the curtains and hid in the dark."
In the face of increasing stigma and a widely ignored public health crisis, the pair navigated their situation with humour and courage, transforming their initial dread into a tale of triumph. This strength led to the couple's founding of Aids Ark, a charity that has saved more than 1,000 HIV Positive lives in some of the world's most marginalised communities.
With Living and Loving in the Age of AIDS, Derek puts a human face on the 1980s HIV and AIDS epidemic. Revealing some of his intentions behind the memoir to Boyz magazine, Frost said it was down to the fact that the younger generation appeared to have a willingness to learn more about the history of their own queer community. "Young queer people need and, I believe, want to know more about what older members of their community experienced during the days of 'gay liberation' and the AIDS pandemic," the author explained.
In an excerpt from the memoir below Derek recounts a time in his life spent in Miami's South Beach, a paradise where many Positive gay men would come to love and live out their final years.
Readers are advised that the excerpt contains a term that some may find offensive.
Excerpt from Living & Loving In The Age Of AIDS
By the late 1980s, fancy f*gs, mostly from NYC and famously Gianni Versace, come to South Beach looking for a winter beachside hangout that is more urban than Key West.
Out go the old people and the low-rent occupants and in come the gays with their paint pots of candy colours and stylish ways. The Deco buildings become hip hotels that look better and more polished than ever before. Where once there were broken rockers looking over a silent beachside road, now there are smart cafés, margaritas, fancy cars and loud dance music. Every day becomes a beachfront fashion parade. The perfect sand fills with bronzing buffed bodies and camp chatter. Even the lifeguards up their game and appear to have stepped off the cover of GQ magazine.
We watch this change of fortune from our still more southerly island home in Key West. Then, when the moment seems right, J, together with his principal business partner Richard Taylor and his American lover and husband-to-be Rick Englert, decide to get in on the action. They find a good-looking 1940s building, comprising 12 custom-built apartments on Collins and Ninth. It's one street back from the beach and encircled by a garden filled with tropical plants and flowers. They like it, and The Nines on Collins becomes ours. Like the fancy beach f*gs we paint it in our own candy palette: primrose and prawn pink.
Our apartments at The Nines quickly fill with a colourful collection of young gay men. All dear boys. One is Jeff Cochran, our model friend. Another is Tosh Fitzgerald; sweet, good-looking, an accomplished artist. J and I imagine a happy dotage as Florida landladies. The South Beach equivalent of Armistead's Mrs Madrigal perhaps?
South Beach and Key West draw young Positive men from across the US. They come to warm in the sunshine, swim in the ocean, cool under the shade of palm trees and find comfort in the sea breeze. Mostly they seek the support and company of others who are Positive and those who they believe will be sympathetic to their plight. Mostly they wait to get sick and to die.
When talk on the beach turns serious, you can be sure "safe sex" is discussed. There is no effective medication and prevention is the only advice we receive. Happily, we learn from the doctors that sucking without a condom seems safe. No one's quite sure, but most take the risk. Even flavoured condoms don't taste that great.
As everyone now knows, "safe sex" means wearing a condom when having penetrative sex. Easy in the cold light of day but harder to action when you're excited, hot, want to do a good job, in a rush, don't want to mess up or go soft, drunk, high and having a lot of fun. Pulling on a condom is frankly a bit of a bore and not something you really want to pause to do. We all try to make putting one on part of the fun and we're all getting better at it. For many of us it becomes a bit like wearing a seatbelt in the car. You just don't feel safe driving unless its "Clunk Click Every Trip", as the advertisement used to go. "Pull it on Before you Slip it In" becomes our equivalent mantra.
Shockingly, the US Federal Drug Administration do not allow manufacturers to publicly advertise condoms as a preventative against HIV/AIDS until 1987.
As HIV infection at this time means death, safe sex becomes widely practised among gay men. However, the new rule remains largely ignored by the straight community. The general thinking is that vaginal penetrative sex is gentler and less likely to cause an exchange of body fluids, blood, and therefore infection. Data supports this. The heterosexual community in the West is mostly untouched by the infection.
At that time, many people see little point in taking an HIV test. What's the point of knowing, many think. Why know that you're going to die when medical science has nothing to offer you to prevent it. Most people then preferred to just carry on without knowing, to protect themselves and others as best as possible and to hope for good luck.