What To Know About Real Housewives Of Dubai Star Caroline Stanbury
She's a Ladies of London alum with lots of famous friends.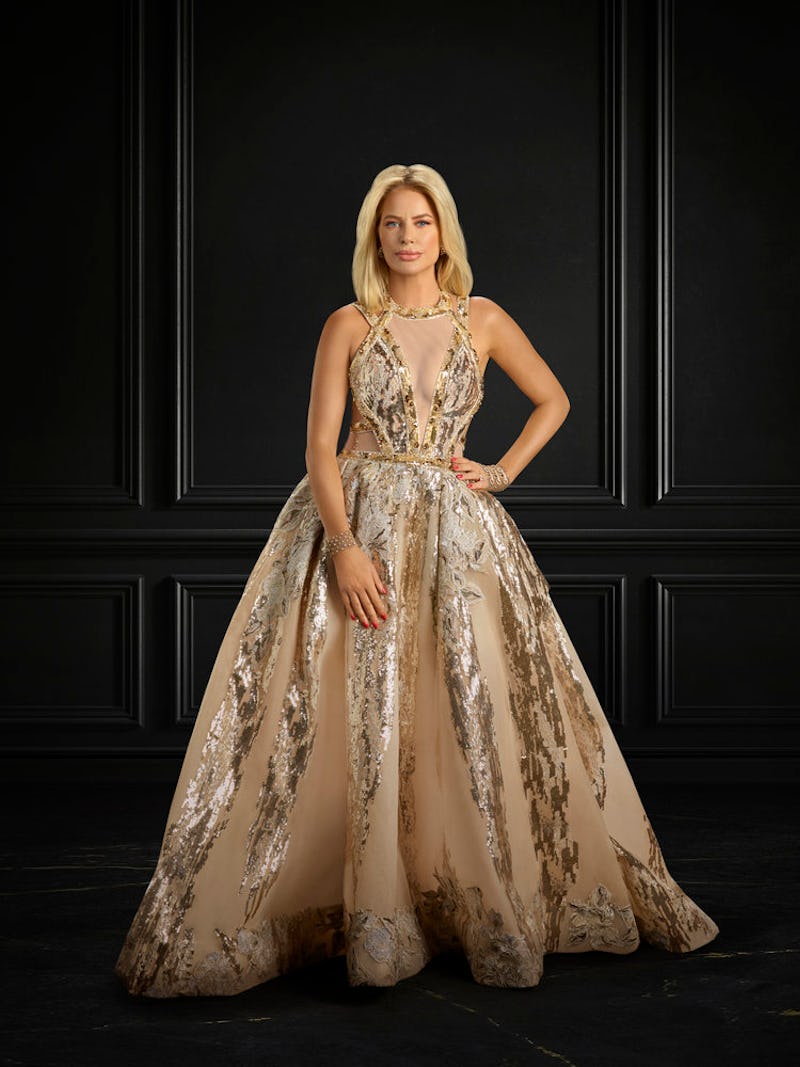 Chris Haston/Bravo
A three-season alum of Bravo's Ladies of London, Caroline Stanbury is already a reality star in her own right. Now she's returning to the network for the inaugural Real Housewives of Dubai season "with expanded horizons." Much has changed since Ladies of London wrapped in 2017, however, including her career, divorce, new marriage, and, of course, a move from London to Dubai. "I always wanted to come back to Bravo, I didn't think I would be making such a leap. I didn't know until now that I'm the first person to ever do the leap from a different franchise, which is amazing," she recently told Today.
RHODubai also offered a more relaxed filming experience. Noting that Ladies of London featured her family and childhood friends who knew "which buttons to push" to get her fired up, her new castmates — Nina Ali, Chanel Ayan, Caroline Brooks, Sara Al Madani, and Lesa Milan — don't know her well enough for that yet. "Or the ones that do here, I don't really care about, so it just doesn't have the same effect on me," the 46-year-old London native added.
The self-described entrepreneur, wife, mother of three, and philanthropist might have said it best in her RHODubai Season 1 tagline, though: "In the city of gold, nothing shines brighter than me." Here's everything else to know about Stanbury and her return to Bravo.
Caroline Stanbury's Husband And Kids
As teased in the RHODubai Season 1 trailer, Stanbury got married while Bravo's cameras were rolling. Though she was married to financier Cem Habib — with whom she shares 16-year-old daughter Yasmine and 12-year-old twin sons Zac and Aaron — on Ladies of London, the pair divorced in 2019. Stanbury's new husband is 27-year-old former New York Cosmos and Real Madrid professional soccer player Sergio Carallo. They went public with their relationship in July 2020, before announcing their engagement in early 2021. On the Bravo series, Stanbury pointed to their nearly 20-year age difference as driving headlines at the time.
Stanbury and Carallo were married on Dec. 18, 2021 at the Raffles the Palm Resort in Dubai. "I feel very happy that we are finally married in front of all our friends and family," she told E! News at the time. "We had the most amazing day and at the most special location and I feel like we went through so much [to get here] so now I can't wait to start living our normal life together, whatever that looks like!"
More recently, Stanbury shared with Women's Health that they also just bought their first home together and she used the word "amazing" to describe their married life. "It's kind of like a do-over. I'm getting to, like, relive my youth again with him," she told the magazine, noting that there "aren't many women in the Middle East married to a man that's 20 years younger," and so she's "definitely breaking a social norm."
Stanbury's previously reported exes also include Prince Andrew and Sylvester Stallone.
Caroline Stanbury's Instagram
Frequently featuring couple's photos and loving captions, Stanbury's Instagram is plenty proof that she and Carallo are still very much in the honeymoon phase with her "partner in crime." In the past year alone, she's shared photos from their vacations to Madrid, Mykonos, Seychelles, Mauritius, Paris, Maldives, and St. Barts. In a September 2021 birthday tribute, she wrote to her now-husband: "you light up everyone's world who knows you! your smile is contagious even in my grumpiest times you can make me laugh … i cannot wait to call myself your wife ... can't wait to grow young with you."
One person who's not among Stanbury's 570,000 (and counting) Instagram followers, though, is her RHODubai co-star Chanel Ayan. Confirming she unfollowed Stanbury and Ali on social media, Ayan told Today, "I would rather have one good friend that I trust and love over having five friends that sometimes you don't feel comfortable with."
Caroline Stanbury's Job
Reportedly worth $30 million, Stanbury started her career as a fashion stylist. Now, she works as a luxury brand ambassador, launched a shoe collection with Black Suede Studio, and hosts the Divorced Not Dead relationship podcast. Among the guests she's featured are Susan Sarandon, Molly Sims, Selling Sunset's Amanza Smith, as well as fellow Bravolebrities Dorinda Medley, Larsa Pippen, Adrienne Maloof, Meredith Marks, and Patti Stanger. Stanbury also previously ran a luxury goods company called Gift Library, which shut down in 2015 after seven years in business.
Caroline Stanbury's Famous Friends
It's no coincidence that Dorinda, Larsa, and Meredith were Stanbury's podcast guests, as she counts them among her close friends, along with RHOBH's Lisa Rinna. In fact, Stanbury is the one who encouraged Marks to join RHOSLC. "She was in London, and I was in Ladies of London. I was like, you've got to do it," Stanbury also revealed to Today. "I equate it to giving birth because it's so difficult being pregnant when you're doing it, but after you've given birth, you're like, 'Oh, I want to do that again.'"
Along with celebrity pals Paris Hilton and Nicole Scherzinger, among others, she has also known Lindsay Lohan for years. "She's an actress. She'd be a great Housewife!" Stanbury told Page Six of her fellow United Arab Emirates resident. However, she doesn't think "she'd want to do it," citing acting as Lohan's "first love." That's not to say the invitation isn't open, though. Added Stanbury, "I can't imagine she'd be joining us but happy to have her if she wants to."