Everything To Know About The Real Housewives Of Potomac Season 8
Robyn's fate could hang in the balance for "withholding information."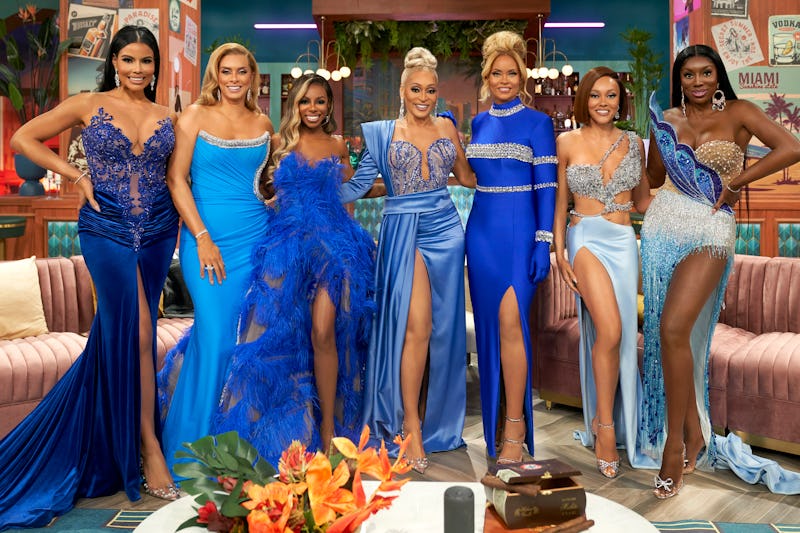 Bravo/NBCUniversal/Getty Images
First Lady Michelle Obama once named The Real Housewives of Potomac as one of her favorite reality shows — but with an asterisk. "I just don't like it when sisters are arguing with each other," she told Gayle King in November 2022. "I just don't like to see that on TV." So when Andy Cohen reminded the cast that "Michelle Obama's watching" during a RHOP Season 7 reunion argument that involved someone allegedly "f*cking for lobster," Candiace Dillard Bassett was probably right when she joked back, "She's turned the channel." The Watch What Happens Live with Andy Cohen host agreed: "Forever FLOTUS has turned the channel."
The three-part reunion, which concludes on March 5, had plenty of hot topics to cover. The first look previews heated discussions, including Candiace accusing Gizelle Bryant of using the show "to lie on people," i.e. her husband, Chris Bassett, because she has "nothing else going on." In a happier topic for Gizelle, Andy brings up the fact that she was dating Jason Cameron, referring to him only as "hot stuff from Winter House." Ashley Darby, for her part, briefly dated Winter House's Luke Gulbranson, leading Andy to suggest the women thank the Bravo series for sparking their love lives.
Meanwhile, Karen Huger and Charrisse Jackson-Jordan spar over the "Blue Eyes" affair accusations, while Robyn is also put in the hot seat to address husband Juan Dixon's alleged infidelity. Finally, Dr. Wendy Osefo was the one who accused Mia Thornton was "f*cking for lobster" when the latter claimed to have proof she had sex with The Real Housewives of Atlanta alum Cynthia Bailey's ex-husband, Peter Thomas.
Though Bravo rarely announces series renewals until after the seasons are filmed, the reality series is all but certain to return for another outing. After all, Mrs. Obama is (maybe) watching. Here's everything to know about RHOP Season 8, so far.
The RHOP Season 8 Cast
The network similarly doesn't announce official cast members until shortly before a new season premieres, though exiting 'Wives often make departure announcements themselves much earlier. To date, Gizelle, Robyn, Candiace, Karen, Ashley, Wendy, and Mia, have yet to reveal they're leaving RHOP ahead of Season 8.
Will Robyn Return For RHOP Season 8?
Should any of the cast members not return, some viewers seem to think that Robyn is the most likely candidate. Fans on Twitter called for her firing when she failed to disclose Juan's alleged affair with a woman who had hotel receipts with his name on it — but then spilled the tea on her and Gizelle's Reasonably Shady podcast after filming wrapped. Adding to the controversy: Robyn also made money on the post-show revelations because she promised to divulge more information behind a paywall on the Patreon subscription service.
Robyn's fellow RHOP cast members weren't pleased either. "Our boss's favorite clap back when we're playing coy about certain aspects of our lives is: 'you're on a reality show about your life.' There is an expectation that - doing no harm - we show up to this platform as our authentic selves," Candiace wrote in a six-part Twitter thread on Jan. 31, without mentioning Robyn by name. "And while we 'reserve the right to be judicious about what we share,' there is a special brand of audacity attached to individuals who will knowingly bury the lede in exchange for damning and salacious lies that stand to cause irreparable harm to innocent people."
Amid the backlash, Andy grilled Robyn about "withholding information" on the Feb. 5 WWHL episode. Her explanation? "It was so in the back of my mind. We dealt with it, we moved on from it," she said. "I don't know why I would say, 'Hey guys, pick me. Let's talk about my issues!' . . . But it wasn't an issue at that moment while we were filming." Robyn also went on to claim that she wasn't "withholding information," adding that she addressed it when she did because she "needed to correct the lies" when the allegations became public.
She'll have a chance potentially to make up for it though: She and Andy sat down again for a "post-reunion conversation" during which she "dives into her bombshell admission that Juan Dixon was inappropriately communicating with another woman prior to their wedding," per Bravo. That segment will air as part of the special supersized 90-minute episode on March 5.
The RHOP Potential Premiere Date
RHOP Seasons 5-7 have premiered in August, July, and October, respectively. A return date will depend on when filming officially gets underway, but late summer or early fall 2023 is a safe assumption.
This post will be updated as more RHOP Season 8 details become available.