At 28, Regina Hall Was Making Her First Movie & Drinking Boxed Wine
"I'd never been on a big set before, so it was a lot of learning on the spot."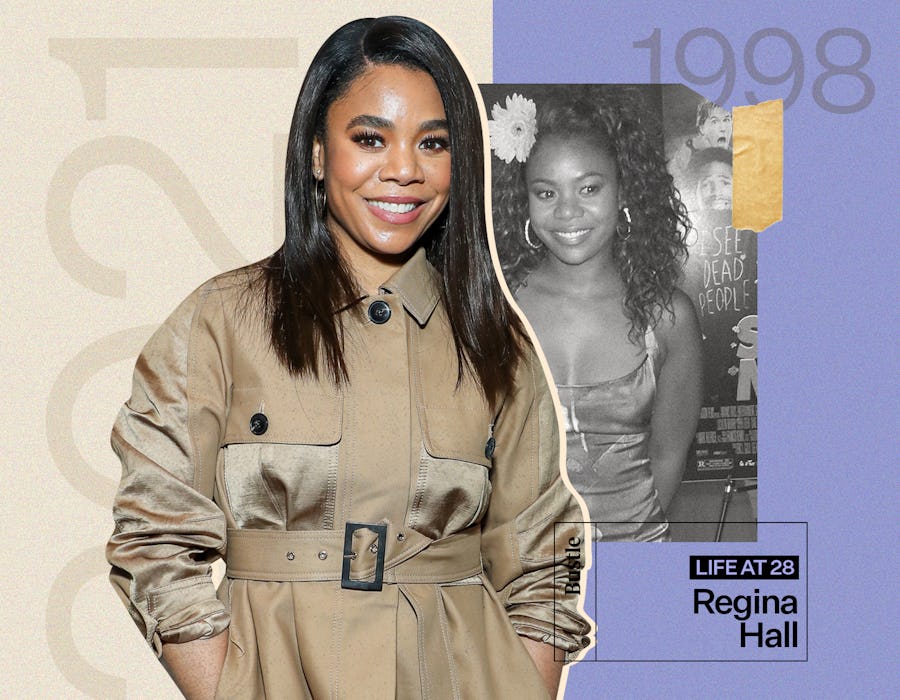 Arturo Holmes, Scott Gries/Getty Images
In Bustle's Q&A series 28, successful women describe exactly what their lives looked like when they were 28 — what they wore, where they worked, what stressed them out most, and what, if anything, they would do differently. This time, Regina Hall talks her latest show, Black Monday, making her film debut in The Best Man, and why she doesn't have any regrets.
Stealing the show as the exotic dancer Candy Sparks in 1999's The Best Man was the highlight of Regina Hall's 28th year. Only a few years prior, she was working a series of odd jobs to pay the bills, from bartender and dental assistant to adjunct professor in the Communications department at the College of New Rochelle. The Washington, D.C., native's unexpected segue into acting stemmed from tremendous loss. "I was working toward my master's degree [in journalism at NYU] when my father passed away suddenly from a massive stroke," Hall tells Bustle. "A friend suggested, 'Maybe you could [try out] acting for extra money,' and I enjoyed it... Acting gave me a reprieve from grief, which was nice."
In the decades since, Hall has gone on to dazzle in more than 50 productions and counting — including her latest turn on Showtime's Black Monday, in which she plays ambitious stock trader Dawn Darcy, who's trying to climb the corporate ladder of Wall Street's all-white boys club. But at age 28, Hall was, as she likes to call it, a "professional auditioner" who was eager to get her foot in the acting door.
Below, Hall, now 50, looks back on shooting The Best Man, drinking boxed wine on Friday nights, and the advice she'd give her younger self.
How did you feel about your life and career at 28, in 1998?
At 28, I was feeling great because I booked The Best Man a few months left into 1998. Then, I found out that the project involved a lot of people who I love, more specifically Nia Long, Harold Perrineau, and Spike Lee, who produced the film, so I was really excited. My friends were like, "We're coming to set!" and "Is Taye Diggs and Morris Chestnut cute in person?" I was definitely enjoying the moment, and I met a lot of great people who became lifelong friends from that movie.
After the success of the film [in 1999], my agent said, "I want you to come to L.A." I was against relocating [from New York City] to L.A., but I went there in January or February [2000] during pilot season and just ended up staying longer and longer. In my mind, 28 was a very promising year.
Were you nervous to make your film debut in The Best Man?
I'm not a dancer, so having to do a lap dance scene on my first day of work was nerve-wracking for sure. I had normal insecurities like, "What if I look horrible or dumb?" All the normal human feelings were there, but they were also mixed with excitement and wonder. I'd never been on a big set before, so it was a lot of learning on the spot.
What did a typical Friday night look like when you were 28?
Hanging out with girlfriends, drinking lots of white zinfandel, and figuring out the cheapest meal to buy. Sometimes they would come over [to my place] and play music. That's back when you'd buy a new album and listening to the album was an actual event. Lauryn Hill's The Miseducation of Lauryn Hill and Jay-Z's Vol. 2... Hard Knock Life were our favorites from that year. I was also a cocktail waitress at this place called Lemon, so I worked a lot on weekends because Friday and Saturday nights were really good money.
What stressed you out the most at that age, and how did you handle it?
I don't remember feelings of deep stress. I remember deep disappointment whenever I'd get close to landing a role but ultimately wasn't chosen. I'm not saying I didn't have stress, but I'm just saying it doesn't resonate, so it must not have been long lasting. I prayed a lot, so that probably helped me stay sane. I hadn't thought out my plan B, but I have my master's [degree] in journalism, and I had great references from my professors, so I knew I'd be fine. I never felt like if acting didn't work, that was it for me. It was more like, "We'll try it and see what happens."
Was there a moment in your career where you feel like you made it?
I don't know that there's a final destination. You just keep on working. There are moments that culturally resonate with people, like Brenda [from the Scary Movie franchise] and Girls Trip was a special moment. But there's always more to do and even more to learn. It doesn't feel like you've hit a landing, but I'm happy where I am now. I'm happy with how life is evolving.
What advice would you give to your 28-year-old self?
To enjoy whatever place you're at in life. We spend a lot of time thinking about what's next, but I would go back and tell her to be really present, trust in the unknown, and be good to people.
Do you feel like you weren't as present in your 20s?
I was present for a 28-year-old, but you gain perspective as you grow older. When you're younger, you're just trying to make it. You're constantly moving and thinking, "Oh, should I do this, should I do that?" If I could do it over again, I'd be going back with way more wisdom. And it's not that what I did was wrong, it's just a different mindset. So far, I have thoroughly enjoyed all the stages of my life. In retrospect, I've had stages that were challenging, but that's part of being human and being alive; 28 was the beginning of an entirely new life.
Is there anything you would have done differently?
Life is to be lived and experienced. Some of your dark stuff has to happen in order to shape your evolution — my father's death set forth a lot of changes in motion. I probably know less than I thought I did at 28, which is also a part of the growth. You realize you don't know everything, and you're more open to what life has to teach you as opposed to your own agenda. So, no, I don't have any regrets.
What would your 28-year-old self think of Regina now?
She'd definitely look at me and say, "Well, you could've done worse." [Laughs] No, I think she'd be happy with the way things are moving. She'd probably tell me it's going to be OK, but she would think I'm still crazy.
This interview has been edited and condensed for clarity.