RHONJ Season 14 Is At A "Crossroads" Amid A Possible Cast Shakeup
Andy Cohen is weighing a "couple options" about Teresa & Melissa's futures on the show.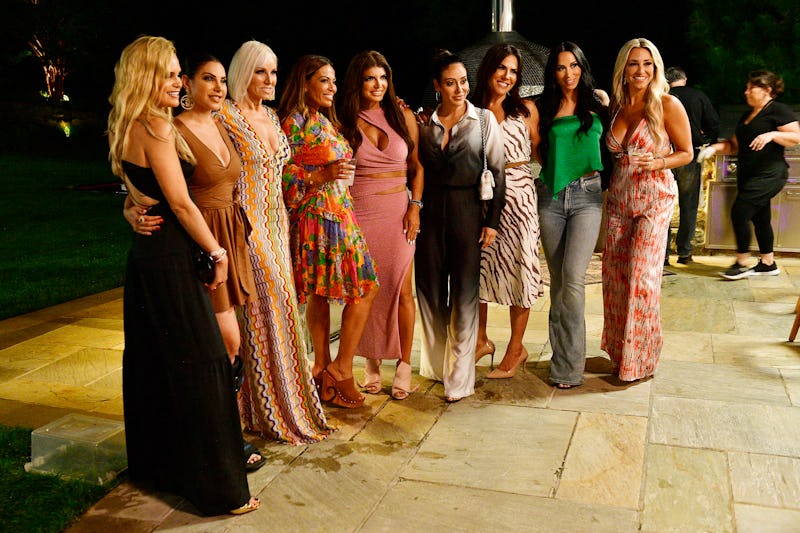 Bravo/NBCUniversal/Getty Images
The seemingly never-ending Giudice-Gorga family feud reached a new boiling point in The Real Housewives of New Jersey's Season 13 finale. Following a heated confrontation between the four, Joe and Melissa Gorga decided to skip Teresa Giudice's August 2022 wedding to Luis "Louie" Ruelas. Despite more than a decade of family discord, Bravo viewers still couldn't get enough, with a season-high rating of nearly 1.2 million fans tuning in to the first part of the RHONJ reunion.
Tensions were still running high when the annual cast sitdown was taped in April 2023. "I can't wait to never have to look at your face again after today," Teresa snapped at her sister-in-law in one clip. When Melissa asked where she was going, she fired back, "You're leaving."
The following month, Entertainment Tonight reported that RHONJ Season 14 filming had been "halted" due to "cast conflicts" and production "needs to assess and figure it all out." However, executive producer Andy Cohen later denied reports that the franchise was "on pause until 2024." "We always take a break between seasons, so I don't know why that [is out there]," he explained to E! in late May, admitting he didn't know yet if the pair could co-exist for another round of filming. "We haven't even sent out contracts yet. We're waiting for the season to end. It hasn't ended yet. We like to do a little deep dive on the season, see where we land, see where the viewers are, and then we can determine where we're at."
Though Bravo has yet to announce RHONJ Season 14, here's everything to know so far, including how Teresa and Melissa's feud might affect the series' future.
The RHONJ Season 14 Cast
Appearing on Kelly Ripa's Let's Talk Off-Camera podcast on May 31, Andy acknowledged that his team still had "to figure out" if one or both women could return to the cast in Season 14. "We're at a crossroads with Jersey, and there are several options because they're both wildly popular," the Watch What Happens Live with Andy Cohen host revealed. "I know that there's some fatigue about their dispute, but I think what's interesting about it is they're both a little right. I think they both have really good points and I think that's why it's not so clearly cut about whose side to be on."
Also co-starring alongside Teresa and Melissa in Season 13 were: Margaret Josephs, Dolores Catania, Jennifer Aydin, and newcomers Danielle Cabral and Rachel Fuda, with Jackie Goldschneider returning in a reduced "friend" role.
Though the other women have kept their futures on the show largely under wraps, Teresa and Melissa have both made clear they have no plans to quit RHONJ. Noting on her "Namaste B$tches" podcast that she "started the show," Teresa said she "won't leave until Bravo wants me to leave." Meanwhile, on a May episode of On Display with Melissa Gorga podcast, Melissa similarly remarked that she doesn't "run away when the going gets tough." She added, "Our family has been through ups and downs for so many years on this show. I have never left before and I have no intentions on leaving now."
The RHONJ Season 14 Potential Premiere Date
Last season begun filming in late May and continued throughout summer 2022. (The season-ending Teresa Gets Married wedding special was filmed on Aug. 6, 2022.) The past three seasons have premiered in February, so it seems Season 14 could release in early 2024. That timeline could change, of course, depending on when cameras officially begin rolling.
This post will be updated as more RHONJ Season 14 details become available.