RHOSLC Star Heather Gay Paved The Way For Her Brother To Leave The Mormon Church
After meeting her estranged sister Nancy, fans will see Heather's brother later in RHOSLC Season 2.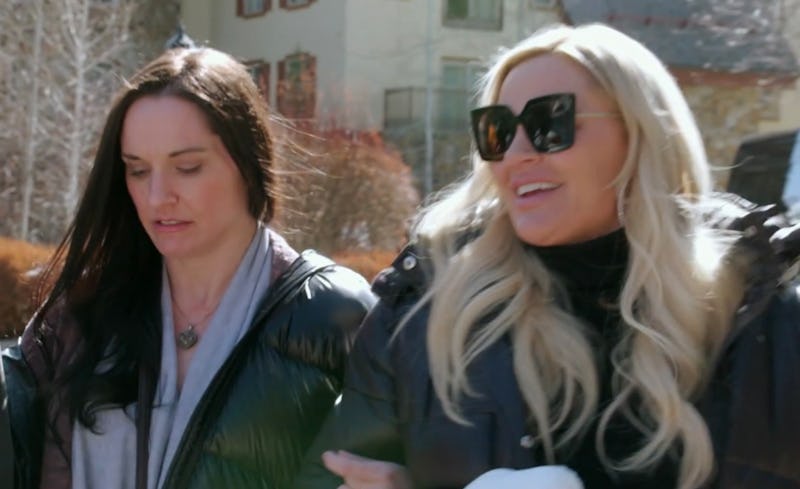 Bravo/screenshot
When The Real Housewives of Salt Lake City premiered in 2020, star Heather Gay told Bustle that fans shouldn't expect to see her family on the show. "They're cool, wonderful people, but to endorse this type of adventure is to kind of pat me on the back and say, 'Good luck on your way to hell,'" she said. In Season 2, however, that changed.
While visiting Vail, Colorado on a cast trip, Heather reconnected with her youngest sister Nancy, who she'd only spoken to "maybe a handful of times over the last 20 years." As the RHOSLC star explained, Nancy "broke away from the Mormon Church about 30 years ago," which caused a "huge fracture" in their relationship and their family as a whole.
"I was mad at her for leaving the faith, and part of that punishment is you don't get to have your eternal family anymore. You choose differently, you live alone," Heather said on the show, admitting she had "horrible guilt" about not having her sister in her life for so long — especially since Nancy had been "very sick" with multiple sclerosis for the first 10 years of their estrangement. Now, Heather said, it was time for her to "face all of the judgements" she had about Nancy in the past.
The sisters' reunion was spurred by their father's passing in April. Though Heather said she had a "wonderful relationship" with their dad, she admitted that was because she did everything he asked of her: attending BYU, getting married young, and having kids right away. After his passing, the family decided it might finally be time to reunite with Nancy for a celebration of his life.
Earlier in the season, Heather also met with her niece Caroline, who she described as "the golden middle daughter" of her "perfect Mormon" older sister, Jenny. Like Heather and Nancy, Caroline decided to leave the Mormon church.
After the scene of their lunch together aired, a fan asked Heather on Watch What Happens Live how Jenny reacted to seeing her daughter on TV. "We are handling it the way we do best, which is we don't say anything at all," Heather, who has four siblings in total, explained. "We just don't mention it. It's the elephant in the room."
Host Andy Cohen also teased during the episode that viewers will meet Heather's brother, who was in the audience during her WWHL appearance, "in a very moving scene" later in the season. It appears that he's followed suit with his sisters and defected from the Mormon church. "I don't think they're happy about the fact that I've led the charge for my niece and now for my brother," Heather said. "And I think if I had never broken the seal on the tent, the water never would've gotten in. ... I think the show and me going on the show and being public about it started the unraveling."