At 28, Rita Moreno Was Frustrated With Her Acting Career
"I remember asking my agents to submit me for a role in something and [the casting directors] wouldn't even see me."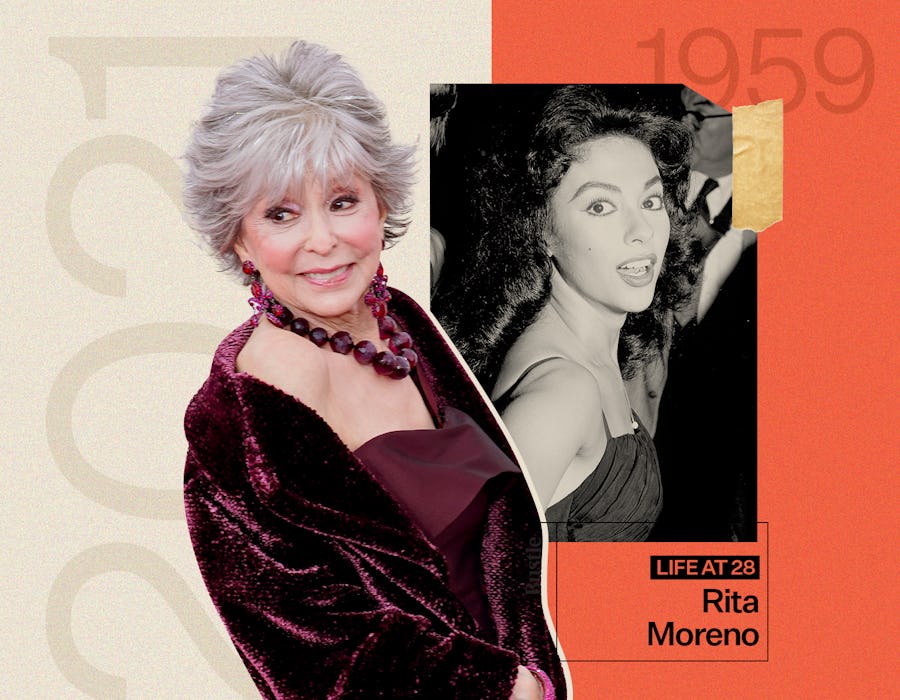 Pool, Michael Ochs Archives / Getty
In Bustle's Q&A series 28, successful women describe exactly what their lives looked like when they were 28 — what they wore, where they worked, what stressed them out most, and what, if anything, they would do differently. This time, Rita Moreno talks her documentary Just a Girl Who Decided to Go for It, her iconic role in West Side Story, and why she was heartbroken after her Oscar win.
At 28, Rita Moreno hadn't yet cemented her status as an EGOT-winning, trailblazing icon. (That would happen in 1977, when she became only the third person and first Latina woman to win an Emmy, a Grammy, an Oscar, and a Tony.) Instead, she felt stuck portraying stereotypical ethnic and sexualized roles that she felt diminished her talents.
"I remember asking my agents to submit me for a role in something and [the casting directors] wouldn't even see me. Now, how frustrated can you get?" Moreno tells Bustle. "I don't even know why I hung on for so long. I just thought, 'I know I have talent, I know it needs to be seen, and I'm just going to keep trying until somebody says, 'Oh, I like what you did [in this movie].' That's what you hope for."
Her new documentary, Just A Girl Who Decided To Go For It, chronicles more than seven decades of Moreno's career ups and downs, including making history as the first Latina woman to win an Oscar for Best Supporting Actress for her breakout role as Anita in 1961's West Side Story.
"[What] people seem to have gotten from [the documentary] and appreciated from it is that it was so truthful," she says. "That's a promise I made to myself when I decided to go ahead with the project. I knew that if I was going to do this, I have to answer everything as truthfully as I possibly can."
Below, Moreno, now 89, discusses longevity, the honest advice Marlon Brando gave her, and why she didn't make another movie for seven years after winning her Oscar.
How were you feeling about your life and career at 28, in 1959 and 1960?
Oh, it was terrible! I was still playing the [native] girls, and being what I didn't know then was called disrespectful. Then along came the screen test for West Side Story [in 1960]. It became very important to me that I get the role [of Anita], and I screen tested several times. They screen tested everyone who had dark hair and brown eyes at that time, so that was half of Hollywood.
What did a typical weekend look like when you were 28?
A good part of that time in my life was spent with Marlon Brando — either being madly in love with him, or hating him because he cheated on me yet again. It was a very tempestuous relationship. He used women for his own desires, and he was incapable of showing love to anybody. According to him, anyway — he'd been betrayed too many times. He was looking for a mother like I was looking for a father.
I don't think he recognized it, but I realized much later that I'm probably one of the few people he really loved. I'm told that when he died [in 2004], there was only one picture of a woman in his house, and it was me.
Was there ever a moment in your career where you felt like you made it?
When I won the Golden Globe and the Oscar for West Side Story [in 1962], I thought, "All that trouble and strife is over, I can now do wonderful films." And then, to my absolute shock, I couldn't get a job. I was offered a few movies — some about gangs on a much lesser scale, and that was it.
I didn't even get to celebrate my Oscar win because I came into town for a couple nights from Manila, the Philippines, where I was playing yet another one of those Pacific Island girls in a World War II movie. They asked, "Do you want to get your Oscar [engraved with your name]?" I said, "No, I have to go back to [the Philippines] to finish this movie." So I carried [the Oscar] around with me all over Asia.
How did you get through that difficult period?
After [winning the Oscar in 1962], I didn't do another movie for seven years because I thought, "Oh, I'll show them!" I started doing summer theater because I needed some affirmation. I played actual characters, and they didn't call for accents. The roles were very disparate. They had nothing to do with being a spitfire, or my breasts, or my hips, or anything else — they had to do solely with talent, acting, and sheer storytelling. That kept me alive.
What advice would you give to your 28-year-old self?
I'd tell her, "Stick to the therapy, because it's the only thing that's going to save you." But what's so hilarious to me is that it was Marlon who said, "Rita, you really need to see a therapist, you need help." He recognized a neurotic when he saw one.
What did you need help with specifically?
Self-esteem, because I was raised to believe that I was nothing. It's the people and gangs that used to call me "spic" and "garlic mouth" on my way to school. Children are tender, and they believe what they're told. What I was trying to do in therapy was undo something that had been with me forever. It's hard, because you've accommodated that [way of thinking from a young age], so it's part of your DNA almost.
I was a person who could not say good things about myself. The day my therapist got me to say, "I am a worthy person," I cried and cried and cried. Why did I cry? Because I needed to hear that so much, from the source, which was me.
What do you think is the biggest contributing factor to your staying power?
I don't understand it! What's happened in some respects is that I've been here all the time, but it's as though people in my profession suddenly say, "Oh my god, she's still here, look at her!" I've received more acknowledgements and plaques for what I think, really, is just having resilience.
Do you have any regrets?
Regrets are a huge waste of valuable time, and I feel that way more and more as I get older. I'm going to be 90 years old on December 11. On December 10, the West Side Story remake comes out. It's going to be one hell of a year, and I've never had such a good time in my life.
This interview has been edited and condensed for clarity.