What To Remember Before Riverdale Season 7
Season 6 included a parallel universe and a deadly comet.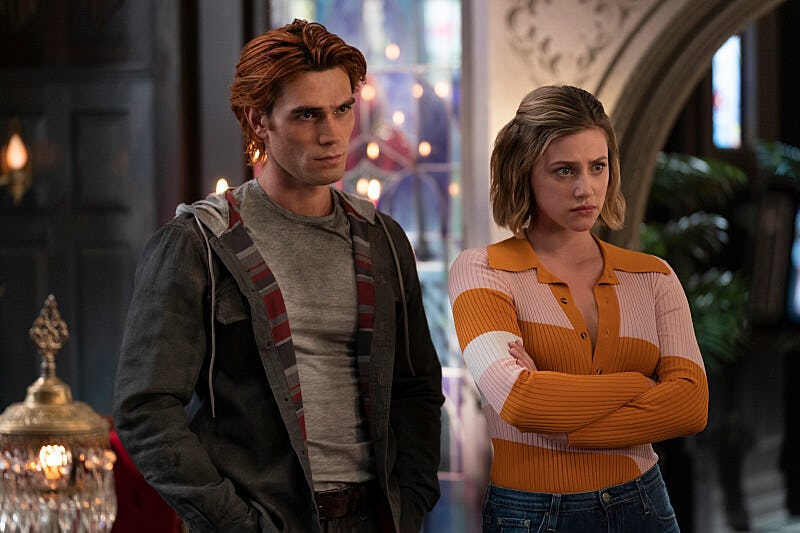 Michael Courtney/The CW
The seventh and final installment of The CW's Riverdale picks up with the Season 6 finale cliffhanger. "The last we saw them, Percival Pickens had called Bailey's Comet on its way to obliterate Riverdale," showrunner Roberto Aguirre-Sacasa reminded viewers in a Comic Book Resources interview. "When we go into Season 7, we actually don't know what happened with the comet. We end up learning the true fate of what happened in the course of the episode. When we go in there, Jughead is in the 50s. He remembers his previous life, [doesn't] know exactly what happened with the comet, or why he and his friends are teenagers. So, it does come directly off of Season 6."
Because the series last aired in July 2022, there are plenty of storylines to recall. Here's a refresher on the major Riverdale Season 6 plot points to remember when the series returns on March 29.
The Crew Went To Rivervale
After the pipe bomb that Hiram Lodge (Mark Consuelos) planted under Archie's (KJ Apa) bed at the end of Season 5 exploded, the friends found themselves transported to a parallel universe called Rivervale. The first five episodes took place in this alternate reality, where Hiram died some time in Veronica's (Camila Mendes) early teens, Jason (Trevor Stines) was never killed — but Cheryl (Madelaine Petsch) was still as diabolical as ever.
Cheryl Sacrificed Archie
In Rivervale, Cheryl convinced the entire town — including Betty (Lili Reinhart) and Jughead (Cole Sprouse) — that they must perform a ritual human sacrifice on Archie to save the town. With an assist from Betty, Jughead, and Veronica, Cheryl cut out Archie's heart while he was tied to a triangular crucifix. Not to worry, though: Archie was later resurrected and didn't really die.
Veronica & Reggie Battled For Their Souls
When the Devil visited Rivervale, Reggie tricked Veronica into signing away her soul, in order to guarantee the success of their jointly owned casino, Babylonium. However, Veronica used the same trick to get Reggie to sign a contract with Satan, and he was subsequently dragged to hell.
The Gang Developed Supernatural Powers
Following the explosion of Hiram's bomb, Jughead was left almost completely deaf, though he could still hear people's thoughts. Meanwhile, Archie developed super strength, Betty could see auras, and Veronica could kill people with her venomous kiss.
Cheryl Was Possessed By An Ancestor
Cheryl's grandmother, Nana Rose (Barbara Wallace), performed a spell to put the soul of her ancestor, Abigail, who was burned at the stake by Archie, Betty, and Jughead's ancestors in a witch hunt. Using Cheryl's body, Abigail tried to kill the trio, but they caught onto the possession and performed a banishment. Afterward, Cheryl discovered that she had pyrokinetic abilities that she struggled to harness, accidentally reducing her nurse to ash.
Veronica Had Her Father Killed
After Veronica discovered that Hiram was responsible for planting the pipe bomb that almost killed her friends, she put a bounty on her father's head. Though she later changed her mind, it was too late, and an assassin informed her that Hiram was dead.
Cheryl Saved Riverdale From Percival's Comet
A descendant of one of Riverdale's founding fathers, Percival Pickens (Chris O'Shea), had mind-control powers, which he used in an attempt to take over Riverdale. After adding a forcefield to prevent anyone from escaping, he sent a comet to the town. Abigail explained that Cheryl could use her fiery phoenix powers to melt the icy comet. She also gave Cheryl a tangled knotted rope that could break Percival's force field once it was untied. In the Season 6 finale, she absorbed the Riverdale crew's powers and melted the comet.
Archie Proposed To Betty
Prior to the comet's destruction, Archie asked Veronica to help him pick out an engagement ring for Betty. After he asked her to marry him, Betty reminded him that the world was about to end. Instead of saying yes, she told him to ask her again if Cheryl was able to melt the comet and everything returned to normal.
The Story Jumped Back In Time
Though Riverdale was saved, the finale cliffhanger showed Archie and the crew transported back to the 1950s where they were high school juniors again. Jughead is the only one who remembered life before the comet, thus setting up Season 7.