Riz Ahmed Revealed His "C-O-R-N-Y" Marriage Proposal — But It's So Sweet
"She looked up and was like, 'You're joking.'"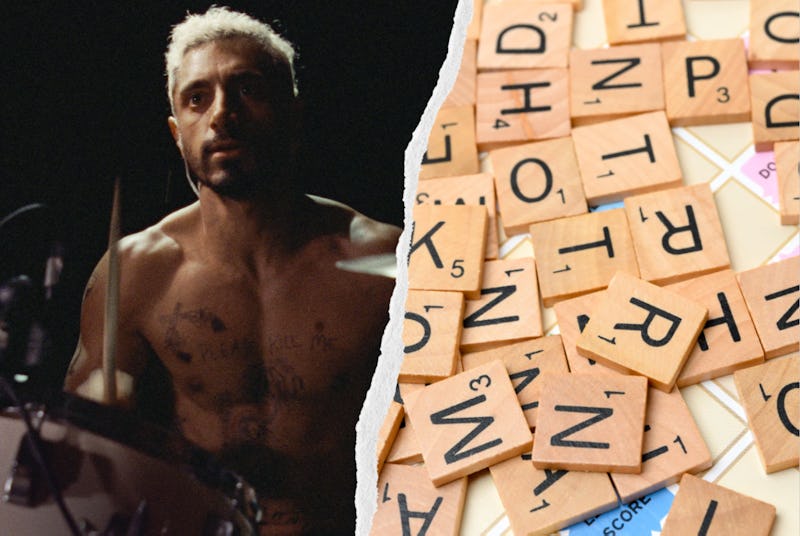 Amazon Studios/Sound Of Metal/Juanmonino/iStock Unreleased/Getty Images
Most people would immediately say "yes" if Riz Ahmed asked them to marry him, no matter how he proposed — but his wife was hesitant at first after the method he used. Ahmed recently revealed the "corny" way that he proposed to his now-wife Fatima Farheen Mirza, and it's actually super S-W-E-E-T, especially for people who love Scrabble.
During a April 19 appearance on Jimmy Kimmel Live, Ahmed shared his excitement about being married and explained how his proposal went down. "We went out to the park, one of the few things we could do at that point in lockdown," he said. "We kind of had a little picnic and you know, I popped the question. And she looked up and was like, 'You're joking.'" It may sound harsh, but Mirza's reaction was totally justified, considering her job as a best-selling author and the fact that it was a surprise. "Maybe the way I proposed didn't help because she's a novelist, she's amazing with words," he explained.
Ahmed proposed using the classic board game, which the two played often together, meaning he definitely caught her off guard. "She loves a bit of Scrabble," he said. "I did that corny thing where I stole all the correct letters up and spelled out 'Will you marry me?'" Ahmed went on to call his method "nice and corny." Evidently, it still worked.
In January, Ahmed revealed that he secretly got married by casually saying his "wife's family" lives in the Bay Area on Louis Theroux's Grounded podcast. In a later interview on The Tonight Show Starring Jimmy Fallon, he revealed that his wife was Mirza and explained how they met in New York while he was preparing for his role in Sound of Metal. "We both sat down at the same table in the cafe where we both turned up to write," he said. "We were both jostling over the same laptop plug points, like a very modern way of meeting."
Speaking to Kimmel, Ahmed shared details about their wedding, which took place in 2020 during the COVID-19 pandemic. "I guess one good thing about getting married in lockdown is it gives you a really good excuse for not having a really big wedding," he said. The ceremony was held in a backyard, with only immediate family in attendance. "To be honest, it was kind of beautiful for that reason," he said. "It was just very relaxed. And you didn't have to worry about making sure hundreds of guests are OK and loads of randoms just knocking about. And you're like, 'Did we invite that person? Who's that? I thought that was your cousin, is that my cousin?'"
Now, he's nominated for an Oscar for his performance in Sound of Metal, meaning Mirza was defintely his good luck charm. "It's weirdly like one of the many things about preparing for this role that was so special," he told Fallon. "It just brought a lot of goodness into my life."