Rutherford Falls Is Already Being Hailed For Its Indigenous Representation
Both in front of the camera and behind the scenes.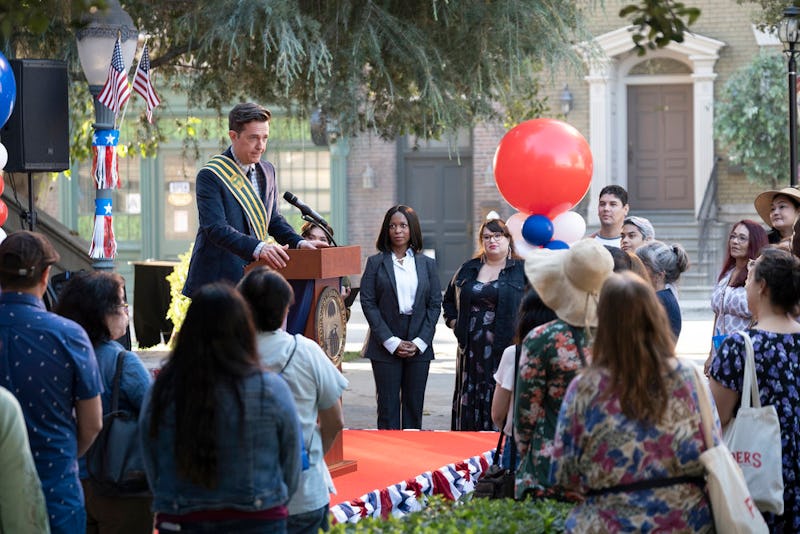 Colleen Hayes/Peacock
When Mike Schur and Ed Helms came to their fellow Rutherford Falls co-creator Sierra Teller Ornelas with the idea for a show about a town reconciling the white and Indigenous narratives of its history, she knew she had to push for more representation not just among the cast, but behind the scenes as well.
"They had one or two Native characters, and I said, 'What if there were 10?'" Teller Ornelas told The New York Times. "I took my museum background and then pitched a bunch of different characters, and we were off to the races."
While the show is still centered around Helms' Nathan Rutherford, Peacock is underscoring how important representation is to the show in front and behind the camera, touting one of the largest Indigenous-staffed writers' rooms on television. For some, like Michael Greyeyes, it's an opportunity he's been waiting decades for.
"I think it's important for an actor in my position to ensure that the people I play match up to the people that raised me and the people in our communities that raised us," Greyeyes told RogerEbert.com "When our youth watch these shows, they can be inspired by seeing their true selves and not ghosts of themselves."
As the town's struggles move forward, Teller Ornelas, Schur, and Helms hope to balance a light comedic approach with weightier themes. Here's your guide to the cast and comedians they brought on to help.
Ed Helms as Nathan Rutherford
Nathan runs the Rutherford Falls Heritage Museum and takes pride in his knowledge of the town's history — as well as his ties to it, as the descendent of white settler Lawrence Rutherford. Once the statue of his ancestor is set to be moved, Rutherford has to confront all the lies he's been fed about the historical record. Helms also starred in The Office, which was where he met then-Office writer Mike Schur.
Jana Schmieding as Reagan Wells
Reagan is member of the fictional Minishonka Nation and Nathan's best friend, who's in the process of figuring out her own place in the community. Schmieding, a Cheyenne River Lakota Sioux comedian who also writes for the show, says she hopes the show helps people reckon with oppression, which "happens with a smile more often than it does with violence."
"We have systems in place that work to disempower entire groups of people," Schmieding told the New York Daily News. "I think Nathan is just, while he is a dear friend and compassionate to Reagan, he has an entire education system at his back. He has the lived experience of having his history honored and celebrated and regarded globally."
Michael Greyeyes as Terry Thomas
As Reagan's boss at the casino, Terry has very different aims for the Minishonka Nation than she does. He's played by Michael Greyeyes, who you may know from Fear the Walking Dead, I Know This Much Is True, or Wild Indian, which premiered at Sundance this year.
Jesse Leigh as Bobbie Yang
Jesse Leigh plays Bobbie, Nathan's personal assistant who has almost as much drive and verve as he does. You might recognize him from the 2018 Heathers TV series, or Foursome, which aired on YouTube Premium.
Dustin Milligan as Josh Carter
Another Schitt's Creek alumni has found a home: Dustin Milligan, who you might know as Ted from Schitt's, plays National Public Radio reporter Josh Carter, who's hot on bringing the story of Rutherford's culture clash to the national scene.