Yup, Dustin Milligan From Schitt's Creek Is Back On TV In Rutherford Falls
Say goodbye to Dr. Ted and hello to journalist Josh — the actor's latest role in Peacock's new comedy series.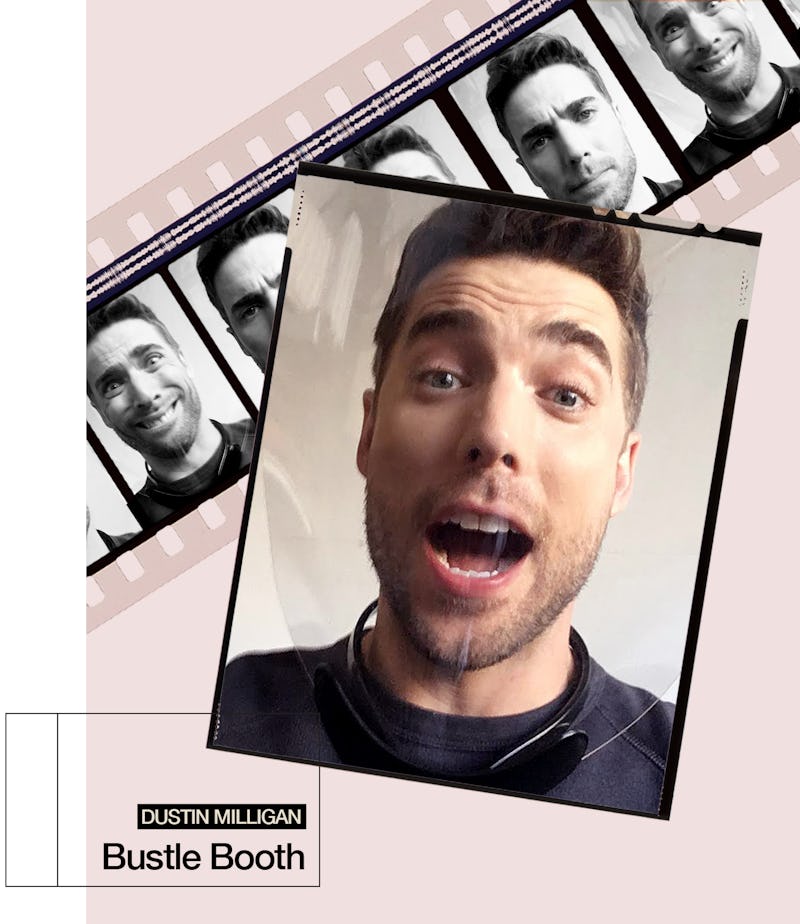 Schitt's Creek lovebirds Ted and Alexis called it quits during an amicable breakup onscreen in 2020, but offscreen in 2021, the actors who played those beloved characters are still going strong as real-world pals. Just like Ted and Alexis unselfishly supported one another's careers on the Emmy-winning show, Dustin Milligan and Annie Murphy are supporting each other's next TV gigs IRL. Milligan has traded in Dr. Ted's stethoscope for journalist Josh's notebook to star in Peacock's Rutherford Falls, which premieres on April 22, while Murphy will star as a housewife hellbent on killing her husband in AMC's dark comedy Kevin Can F*** Himself later this year.
"We text each other every now and again, like when her trailer came out," Milligan, 35, tells Bustle over Zoom from his Los Angeles home. "I'm so stoked for Annie; she was a relatively unknown talent before Schitt's Creek and then all of sudden she's getting the spotlight she deserves. We're definitely supporting each other, shooting texts, and sending random GIFs [with the latest GIF being] probably something not appropriate for your readers."
In Rutherford Falls, Milligan plays big city NPR reporter Josh Carter, who travels to the titular town to get the scoop on the tensions brewing between Nathan Rutherford (Ed Helms), a braggadocious descendant of the town's founder, and its Indigenous population, represented by the fictional Minishonka Nation. There, he meets Reagan Wells (Jana Schmieding), a self-described "city Indian" who left town to earn a degree at Northwestern but is back with the hope of upgrading her tribe's one-room cultural center. The show is already being hailed as a breakthrough in Native representation in TV, with Natives in key roles both in front of and behind the camera.
"I grew up in a small town in northern Canada, and of the many privileges I experienced growing up was that there was a lot of exposure to Indigenous cultures," says Milligan, who was born in Yellowknife. "I realize how lucky I was to have any kind of exposure to Indigenous communities, so it's special to have a show that is not just including Indigenous voices and having representation here and there, but rather having them be an integral part of the show. Serendipitously, this role landed in my lap, I didn't blow the audition, and it just worked out. It's so rare to have an opportunity like this, and I still can't believe that I got it."
While Rutherford Falls is just beginning, one of Milligan's favorite shows, RuPaul's Drag Race, marks its Season 13 finale on April 23. Though Milligan is a superfan who has watched every season and even once transformed into a drag queen as a contestant on RuPaul's Secret Celebrity Drag Race in 2020, he's having a hard time predicting who from the Season 13 finalists will snatch the crown. "Gottmik is pretty incredible, so it's kind of tough to compete with her, but Symone is also unbelievable, and this is the first time I've ever seen a stacked final four where I actually truly don't know who is going to win," he says. "If I had to pick a top two, I would say it's Gottmik and Symone, but you never know, because Rosé is so polished and so talented — get her on Broadway now — and Kandy has that je ne sais quoi grit, which is something we know Ru and the judges love. Gottmik and Symone's runways were f*cking nuts this year."
Get to know more about the other reality TV show Milligan loves — and how he'd like to be featured on it — in his Bustle Booth questionnaire below.
In The Bustle Booth
What's your coffee order?
Double espresso with one pump of chocolate sauce in it, because it is delicious.
What special skill did you hone during quarantine?
Projecting insecurities onto my dogs.
What's your favorite thing you purchased during quarantine?
Just like, dozens and dozens of ham, pineapple and salami pizzas.
What's your sign? And what does it mean to you?
I am a Leo/Sagittarius rising, which to me means I get to read two horoscopes in the morning instead of just one?
What's your favorite overused movie quote?
"I love you."
"I know."
What was your favorite cartoon as a kid?
Harvey Birdman: Attorney At Law. Does 19 count as a kid?
What's one movie or TV show you're currently obsessed with?
Star Trek: The Next Generation. I've seen every episode hundreds of times, and for the last eight or nine years I've listened to it as I fall asleep each night as like a white-noise, machine-type thing. The show imagines the people of Earth as utopian society that has overcome things like war and prejudice and capitalism in order to explore the mysteries of the galaxy, all while rocking hardcore early '90s haircuts. What's not to obsess over?
Who is your celebrity idol?
The Weeknd. Or Carly Rae Jepsen. The Carly Week Jepsnd.
If you had to be on a reality TV show, what would it be?
The Real Housewives of Atlanta but as the person who was hired before Bolo [Michael Bolwaire], and whom was subsequently laughed out of the house for being the opposite of Bolo in every way.
What's your go-to karaoke song?
"It's All Coming Back To Me Now" by Celine Dion.
What's something that's inspiring you lately?
The generation of activist-youth that is rising up in the streets and online in order to fight for a better world.
What is something you would want people to say about you?
"He's no Bolo, but sure. Whatever."