Sasha Velour Is "So Happy" With Her Drag Legacy So Far
"Take dance lessons," Velour would tell her 16-year-old self. "A stage gay not knowing how to dance was a choice."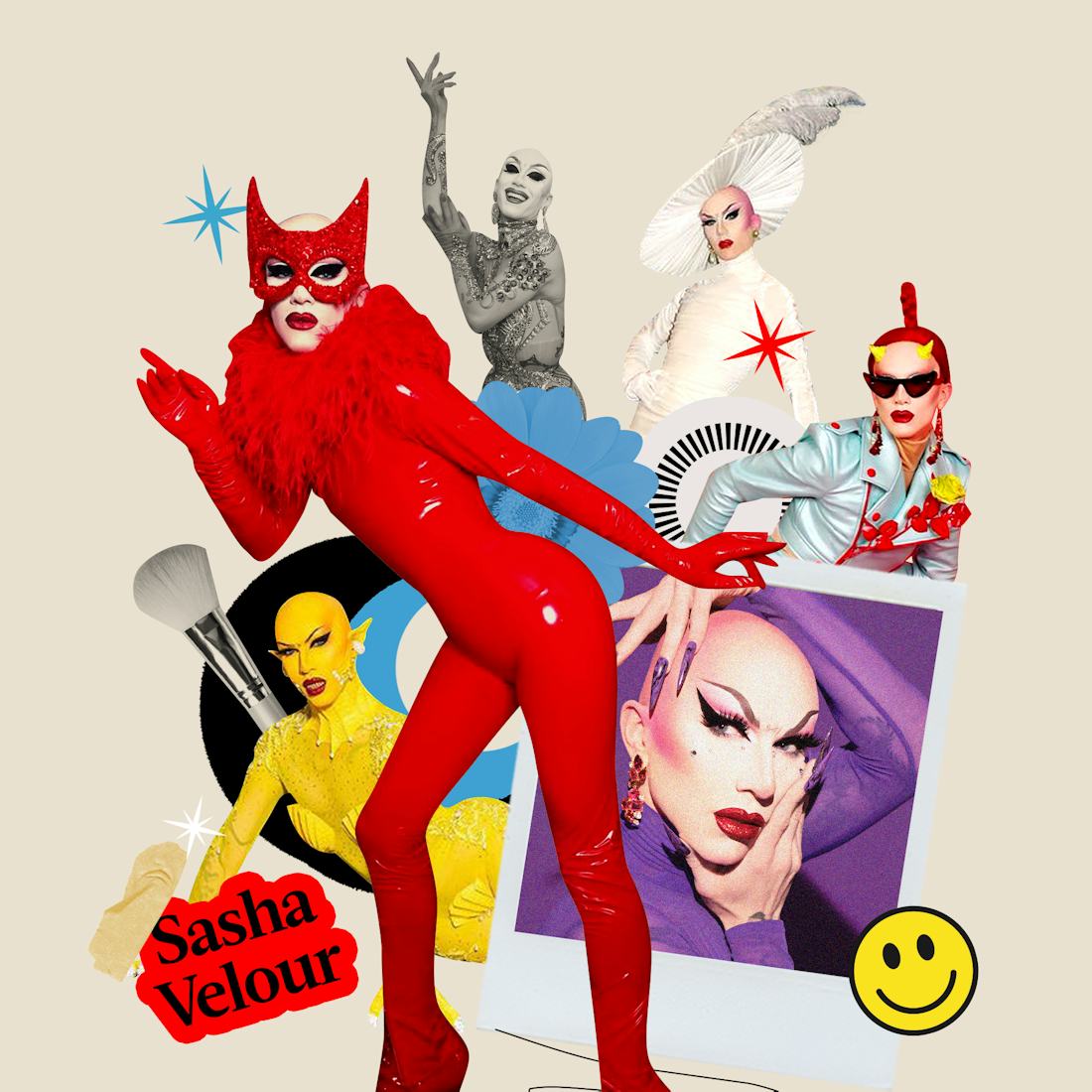 Sasha Velour unknowingly started a revolution when she unleashed a cascade of red rose petals from beneath her scarlet wig. This moment, which happened on the Season 9 finale of RuPaul's Drag Race four years ago, didn't just guarantee her the crown. It became one of the most iconic and talked-about stunts in Drag Race herstory, with TIME magazine naming it among the top five TV episodes of 2017. It's something no drag queen has since been able to one-up, no matter how hard they've tried to reinvent the reveal. No queen — except Velour herself.
"You'd think that you wouldn't want your legacy, or the way people remember you, reduced to a single moment on TV. But I am so happy to have it boiled down to that," Velour tells Bustle from her home in Brooklyn, New York. "I feel like after a full season of trying to survive this reality television show, I finally did something that felt like me, and that's what's lasted for four years."
Velour, 33, is an interdisciplinary drag performer, pulling inspiration from her bottomless bag of tricks. Queer theory, gender politics, cartoon art, cabaret theater, Russian history, and pop culture are tied with a string made of 100% Velour to create a persona that is as glamorous as it is thought-provoking. This attention to detail has propelled the success of Nightgowns, a revue of solo and group performances that has highlighted drag's radical side since Velour conceived it in 2015. Six years since its debut at Bizzare Bushwick, Nightgowns has become one of the hottest ticket in queer nightlife — so hot that it became the subject of an eight-episode documentary series in 2020, showing fans just how dedicated Velour is to envisaging her artistic vision.
Literally every single queer person inspires me. Can I just say everyone? I don't like to choose.
Nightgowns has been on hiatus because of the COVID-19 pandemic, but with venues finally re-opening, Velour will spend the final weeks of Pride Month with the Nightgowns cast performing Nightgowns: The Musical, a new Velour production premiering June 19 at the Connelly Theater in Manhattan. This isn't the first time the Nightgowns cast has tried their hand at a musical. In the revue's early days, Velour produced a '60s-themed musical inspired by Crybaby and Grease to perform at Nightgowns. Apparently, almost no one showed up, nor is there any surviving footage of the production, which Velour finds to be an apt metaphor for "all that's lost somehow in local drag scenes." During her pandemic-induced break from the stage, Velour revisited the idea of a musical. This one, however, is based on real obstacles the cast has faced, but with a campy touch.
"Instead of being honest and earnest about these challenges, we set the musical within a campy comedy, using exaggerations and over-the-top storylines to tell a new story," Velour says. "It doesn't fall into any clichés. It's all based on the truth."
Though Nightgowns performers and performances are interchangeable, one aspect that's perennial is its focus on inclusivity and rebellion. Velour is a former Fulbright scholar, and her academic background in philosophy and theory has not only imbued her drag, but it has also helped her make sense of her own gender and queerness. Velour, who identifies as gender queer, believes drag imparts a similar, more colloquial language to this logic. This has helped her navigate a world that isn't always accepting of queer bodies.
"It takes a critical theory approach to deconstruct the world around us," Velour explains. "But, if anything, I feel like drag can inform queer theory about how to make those ideas tangible, and how real people are experiencing them. Drag draws these connections and makes theoretical observations, even if it's unconscious."
These days, when not ruminating on queer existential discourse, Velour can be found penning a book on drag history or watching The View at home. Get to know more about Velour and her inspirations with her Pride questionnaire below.
Sasha Velour Q&A
What are your pronouns?
She/they/he, typically in that order. In drag, it's "she." My body out of drag is usually 'they.' But I still let my dad call me "he" if he wants to, but he prefers 'she' these days. Lately his favorite thing to say is: "She's my son."
What advice would you give to your 16-year-old self?
Take dance lessons. A stage gay not knowing how to dance was a choice.
Where do you see yourself 16 years from now?
I plan to still be doing drag, and still living in an overfilled house in New York City. I was looking at pictures of the legendary Flawless Sabrina in her townhouse toward the end of her life, looking like the most fabulous hoarder in all of New York City. That's on my mood board for what I want my life to look like.
Where and how are you celebrating Pride in 2021?
We are going to be in the Connelly Theater doing Nightgowns: The Musical for the entire week. We call it "Drag Summer Camp," because this is basically the second time this group has done it. I think that's the best way to celebrate: just with a bunch of drag performers, sleep deprived, putting on shows, and then on July 1, we'll do our laundry and get back to being human beings.
What else are you promoting in your career?
We have the second round of our Smoke & Mirrors European tour in 2022. I'm also writing a book about drag history and how it connects to my own experience.
What songs will you be jamming out to this Pride?
I've been on a disco kick recently. A lot of Sister Sledge, Pointer Sisters, and a little Kylie Minogue. So let's go with disco.
Which queer theorist or text do you return to the most?
I return to José Esteban Muñoz's Cruising Utopia pretty often, mostly the introduction and conclusion. I re-read the chapters as well, but I feel like the way Muñoz sketched out what queer spaces are meant to accomplish and provide for the community is like an instruction manual for what a drag show is meant to be.
What are you watching these days?
I've always liked highbrow and lowbrow. I adore the Great Pottery Throwdown, or any kind of crafty reality television. My mind was blown from shows like Watchmen. I've been getting into the news recently, and I've started watching The View every morning now. I'm finding that quite interesting. I've never been one to watch The View in all these years.
Who inspires you in the LGBTQ+ community?
Literally every single queer person inspires me. Can I just say everyone? I don't like to choose.