Netflix Just Dropped Schitt's Creek's Final Season Early
Daniel Levy announced the "surprise" on Twitter.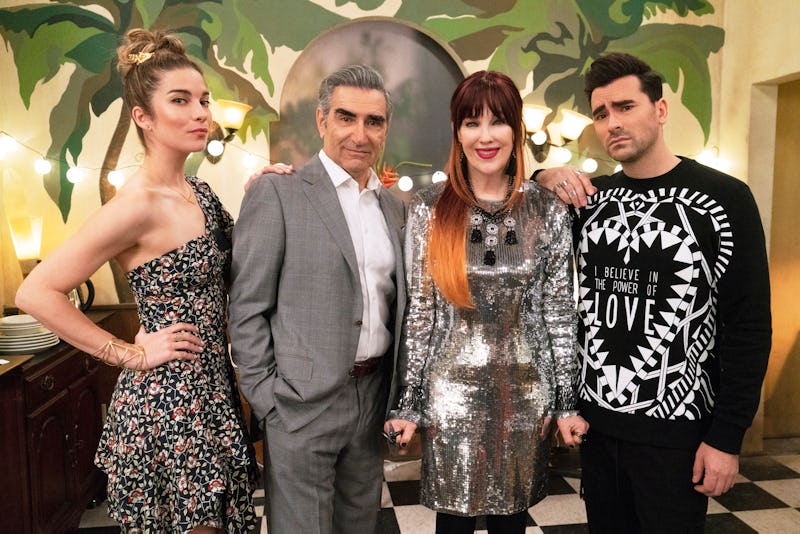 Pop TV
Pop a bottle of your best zhampagne because Netflix just released Schitt's Creek's final season ahead of schedule. "Surprise! Season 6 & the Best Wishes, Warmest Regards documentary just dropped early on [Netflix and Netflix Canada]. Have a great weekend!" Emmy winner Daniel Levy, who created and also stars as David Rose in the comedy, tweeted on Saturday morning, adding a requisite "*all things considered..." along with a Moira Rose GIF.
Netflix previously announced that Schitt's Creek Season 6, which first aired on CBC in Canada and Pop TV in the United States earlier this year, would become available to stream on their platform on Oct. 7. The hour-long Best Wishes, Warmest Regards: A Schitt's Creek Farewell behind-the-scene special also premiered on April 7, following the series finale.
Schitt's Creek is fresh off some history-making Emmy wins, sweeping all seven comedy categories at this year's mostly virtual ceremony. In addition to becoming the most-awarded comedy in a single year, the sitcom is also the first comedy to win all four major acting awards in one year: Eugene Levy (Johnny Rose) and Catherine O'Hara (Moira Rose) won outstanding lead actor and actress in a comedy series, while Daniel Levy and Annie Murphy (Alexis Rose) took home statuettes for outstanding supporting actor and actress in a comedy series.
Speaking to reporters after the Emmys, Daniel Levy hinted that, although the series has ended, fans could still possibly see the Rose family again in the future. "To be honest this is the best way we could have ever ended the show," he said, before revealing a Schitt's Creek movie isn't entirely out of the realm of possibility, per Variety. "If there is an idea that pops into my head, it has to be really freaking good because this is a nice way to say goodbye. Fingers crossed we get a nice idea popping into our head soon. ... I would love to work with these people again."
Much like the early Netflix release, that might be simply the best news Schitt's Creek fans could wish for right now.