Sean Lowe Is Apparently Boycotting The Bachelor After Chris Harrison's Exit
His wife, Catherine Giudici, just spilled the tea.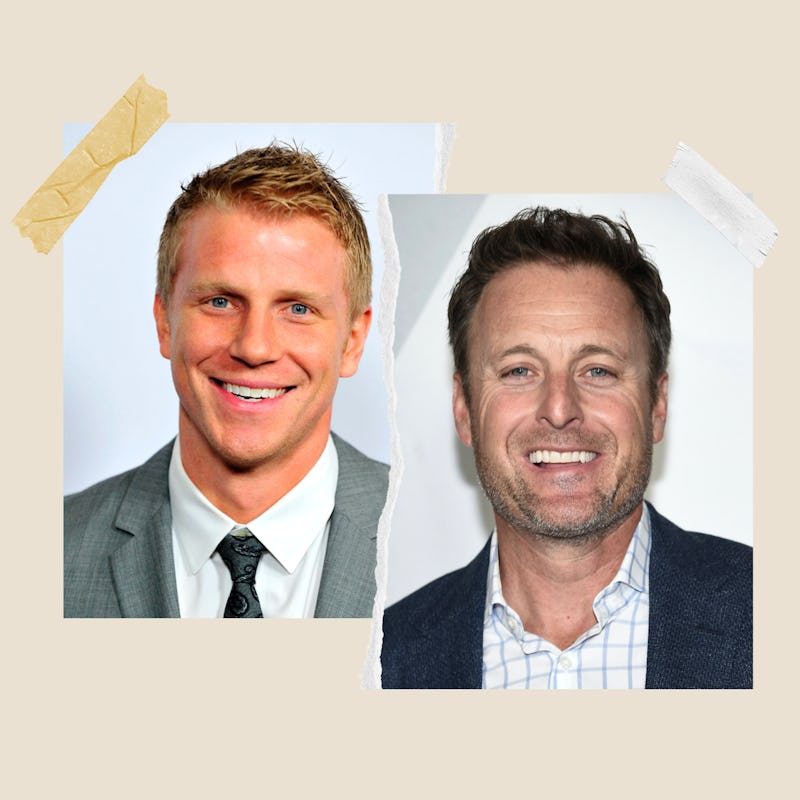 (Jerod Harris/WireImage/Getty Images)/(Steven Ferdman/Getty Images Entertainment/Getty Images)
Former Bachelor Sean Lowe has given up on the franchise cold turkey now that Chris Harrison is no longer the host. Catherine Giudici recently revealed that her husband has decided not to watch Katie's season of The Bachelorette following Harrison's recent racism scandal, according to Us Weekly. "I'm watching it," the former Bachelor contestant said at the launch party for the UnFiltered dating app. "My husband is kind of boycotting it because of the Chris Harrison stuff, but I'm watching it this season to support the girls."
Harrison came under fire in February when he defended contestant Rachael Kirkconnell's past racist behavior in an interview with Rachel Lindsay on ExtraTV. "The woke police is out there," he said at the time. "And this poor girl Rachael, who has just been thrown to the lions, I don't know how you are equipped when you have never done this before, to be woke enough, to be eloquent enough, to be ready to handle this." Shortly after making his controversial comments, longtime viewers called for the host's resignation.
On Feb. 13, Harrison announced that he would be "stepping aside" from the franchise for an unspecified amount of time. In his Instagram post, he explained that Matt James' "historic season of The Bachelor should not be marred or overshadowed by my mistakes or diminished by my actions." His announcement included an apology for the pain that he caused the BIPOC community. "By excusing historical racism, I defended it," he wrote. "I invoked the term 'woke police,' which is unacceptable. I am ashamed over how uninformed I was. I was wrong." he wrote.
The following month, Harrison appeared on Good Morning America. "I plan to be back and I want to be back," he told co-anchor Michael Strahan. "I am saddened and shocked at how insensitive I was in that interview with Rachel Lindsay. ... I stand against all forms of racism, and I am deeply sorry to Rachel Lindsay and to the Black community." Several months later, on June 8, Warner Horizon and ABC Entertainment announced Harrison's departure after Deadline reported that he would be taking an eight-figure payout. "We are thankful for his many contributions over the past 20 years and wish him all the best on his new journey," the statement read.
Following the announcement, Harrison took to Instagram to express gratitude for his time on the show. I've had a truly incredible run as host of The Bachelor franchise and now I'm excited to start a new chapter," he wrote. "I'm so grateful to Bachelor Nation for all of the memories we've made together. While my two-decade journey is wrapping up, the friendships I've made will last a lifetime." And with Lowe's decision to no longer watch The Bachelor at all, it seems Harrison might actually be right.
In the comments of the host's Instagram post, several Bachelor alums thanked him for the years he's put in as host and wished him well in the future, Lowe and Giudici included. "Love you @chrisbharrison. You have a lot to be proud about," Catherine wrote. "Can't wait to support you in your next endeavors." Sean also weighed in on his friend's exit from the franchise. "It will never be the same," he commented. "Love you buddy."
Although Lowe isn't watching this season, it's safe to say Giudici is still loving the show as much as ever. "It's been interesting. It's been an interesting season," she said of Katie's season, per Us Weekly. And even though the process moves quickly, it's only been a few weeks since the premiere and so much of Katie's journey still lies ahead. "It's just the beginning," the former contestant added. "I'm excited for Katie."