Selling Sunset Star Mary's Son Austin "Gets Along Great" With Romain
"I don't see Romain ever stepping in as like a father figure and Austin doesn't need that."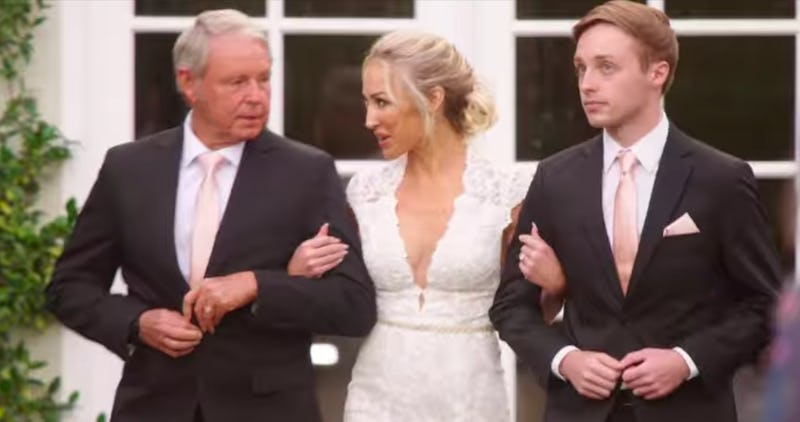 Netflix
Although he'd been mentioned in passing before, it took Selling Sunset almost two full seasons before introducing Mary Fitzgerald's son Austin in the flesh. "So, babe, you're 25, you're not really that much older than my son," Mary told her now-husband Romain Bonnet in an earlier episode, before Austin (joined by his grandfather) walked Mary down the aisle in her wedding in the Season 2 finale. The close age difference doesn't seem to be an issue though, as she explained in another episode: "I don't see Romain ever stepping in as like a father figure and Austin doesn't need that, but they get along great."
Austin seems to shy away from the spotlight in general. According to social media, Austin is from Indiana, but attended schools in both California and Arizona before ultimately studying at the University of Arizona. He also appears to still reside in Arizona, and Mary shared an Instagram photo with her son on May 24 with a Paradise Valley geotag. "Such an amazing day hanging with my son while in Arizona," she captioned the poolside shot. "Missed this guy so much!!" (Austin's Instagram account, which she tagged, is set to private.)
Since Austin seems to keep the rest of his life private as well, fans have had to pick up other various clues about him from Selling Sunset, including the identity of his father. During her bachelorette party episode, Mary mentioned that she'd gotten pregnant the first time she ever had sex, though she didn't mention Austin specifically. She did, however, explain that she'd given birth to Austin when she was 16 and has been a single mom ever since.
As far as her past relationships, Mary has said in the Netflix series that she'd been married twice before she and Romain tied the knot. "My first husband passed away and my second husband, it just didn't work out," she explained, at one point. "It wasn't the right relationship."
Although not much else is known about Mary's son, what seems certain is that the mother-son duo have a close bond.