Sex Education Fans Are Totally Divided Over The Season 4 Finale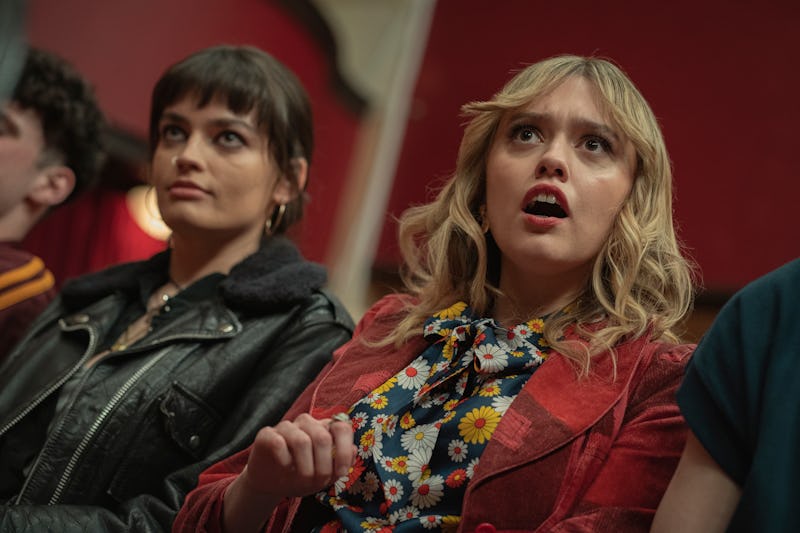 Sam Taylor/Netflix
Warning: Sex Education Season 4 spoilers ahead. The last-ever season of Netflix's Sex Education is finally here — and the reviews are in. With the brand-new setting of Cavendish Sixth Form, the show's final chapter wraps up the stories the favorite former Moordale students, with the usual drama and laughter viewers have come to expect from the series.
Ahead of the new season, show creator Laurie Nunn teased that Season 4 "might not be wrapped up completely perfectly," a statement that certainly came to pass in the final ever episode, during which the will-they-won't-they story of Otis Milburn (Asa Butterfield) and Maeve Wiley (Emma Mackey) came to an emotional end.
At the start of Season 4, the pair are shown trying to make their long-distance relationship work as Maeve continues her studies across the pond. However, following the unexpected death of Maeve's mother later in the series, she is forced to return to the town of Moordale, where she contemplates staying. Following a discussion with Otis's mother Jean (Gillian Anderson) about her future, Maeve decides to continue with her U.S. scholarship, leaving Moordale, and Otis, behind.
In the show's closing moments, Otis is shown reading a farewell letter that Maeve wrote, which reads: "Meeting you cracked my heart open and now it's forever changed. And because of that, I will carry part of you with me wherever I go. I think what I'm trying to say is: Thanks for everything, d***head."
Naturally, fans were quick to offer their takes on the conclusion of Sex Education, which appears to have left many viewers divided.
"The ending of Sex Education really broke my heart I've been crying for so long," one fan wrote of the season finale on X, formerly known as Twitter. "This season final of Sex Education kept me up at 3 a.m. crying like I just lost my husband," another added. "I'm so devastated they didn't stay together."
Although many viewers were saddened by Otis and Maeve's decision to go their separate ways, others credited the latter for choosing her own path.
"The ending with Maeve was good because a person who was struggling all her life should be focusing on her career and personal development," another fan commented. "She deserves to be successful, and I'm really happy she chooses to go back. The relationship with Otis is very special."