Another Sex Education OG Has Revealed They Aren't In S4 "As Consistently"
Here's everything to know about the upcoming series.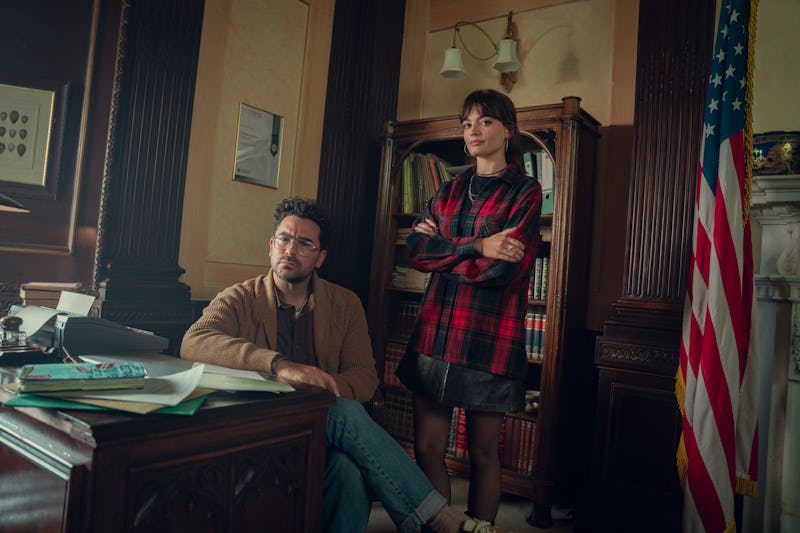 Netflix
As fans may well recall, Sex Education's Season 3 welcomed a new head teacher, Hope, played by Girls star Jemima Kirke, to Moordale Secondary School. And her tenure was anything but smooth. Meanwhile, Otis (Asa Butterfield) and Maeve (portrayed by Barbie actor Emma Mackey) found their friendship on the rocks once more. With plenty more action taking place, and many questions left unanswered, it's no wonder that fans are eager to find out what they can about Season 4.
Unfortunately, three of the show's leading stars have confirmed they will not be returning to the hit Netflix drama. Patricia Allison, who portrays Ola Nyman, made the announcement about her character during an appearance on Capital Xtra's breakfast show. "I'm so sorry to have to break that to you guys... I've been doing it for three years and I've loved it," Allison revealed.
Tanya Reynolds, who portrays alien erotica-enthusiast Lily Iglehart, Ola's love interest, has also announced that she won't be joining the Moordale gang for the next season. "I'm not [returning], actually, which is sad, very sad," the actor told Radio Times. "It's just the natural progression of these shows. When you have such big ensemble casts and so many characters, I think you have to let a few older characters go to make way for newer ones."
More recently, Rakhee Thakra, who played everybody's favourite teacher Emily Sands, revealed that she won't be returning for the show's fourth instalment. "I'm not part of the new series. I can't really talk about why," Thakra told Daily Star Sunday. She added: "I'm so proud of the show and grateful to have been part of something so important."
While Allison, Reynolds, and Thakra won't be appearing in the next instalment of Sex Education, fans will be happy to learn that Schitt's Creek star Dan Levy officially signed on for Season 4 in Aug. And though promo shots feature him with Maeve, Emma Mackey's character, it seems she won't be in Season 4 "as consistently." Speaking to Radio Times, Mackey said filming was familiar but sporadic "because we have more characters. So there's… I'm not in it as consistently... I'm intrigued to know what's going to happen – because I also don't know. I'm also finding out as we go along, so it'll be fun!" Find out everything you need to know, below.
Sex Education Season 4 Cast
Along with the aforementioned Asa Butterfield and Emma Mackey, those confirmed to be returning for Season 4 include Ncuti Gatwa, Aimee Lou Wood, Connor Swindells, Kedar Williams-Stirling, Gillian Anderson, Mimi Keene, George Robinson, Chineye Ezeudu, Dua Saleh, Alistair Petrie, and Samantha Spiro.
The show's fourth chapter will also welcome a string of new faces, including Doctor Who's Thaddea Graham, Marie Reuther, Felix Mufti, Anthony Lexa, Alexandra James, Reda Elazouar, Bella Maclean, Imani Yahshua, and, as mentioned, former Bustle cover star Dan Levy.
In the new season, Levy will take on the role of Thomas Molloy — a famous author, who serves as Maeve's college tutor at the prestigious Ivy League university she attends as an exchange student.
Sex Education Season 4 Plot
On August 19, Netflix shared details of the Season 4 plot, revealing that Otis and Eric will "face a new frontier" as they embark on their first day at Cavendish Sixth Form College following the closure of Moordale Secondary. "Cavendish is a culture shock for all the Moordale students — they thought they were progressive but this new college is another level. There's daily yoga in the communal garden, a strong sustainability vibe, and a group of kids who are popular for being … kind," an official synopsis teases.
Meanwhile, the new series will explore Jackson's attempt at getting over Cal, while Adam must decide whether mainstream education is for him. Fans will also follow Maeve as she lives out her dream at the esteemed Wallace University, where she is taught by the famed author Thomas Molloy (Levy).
Sex Education Season 4 Release Date
In Sept. 2021, Netflix officially announced that Sex Education would be coming back for a fourth season. On August 19, the streaming giant confirmed that filming is now underway in Wales and is scheduled to wrap in 2023. An official release date is yet to be confirmed.
As for whether the show has life beyond Season 4, the cast and crew seem in agreement on that one. Asa Butterfield, who plays Otis, told Digital Spy: "I think it's a relatively simple story this one. Obviously, we're in college, so there's that time constraint. I don't think this show would ever go for 10 seasons... I don't think it needs more than four or five [seasons]."
The sentiment was echoed by casting director Lauren Evans who told Metro back in May that the show creator Laurie Nunn "doesn't want to keep going and put these people through college and university and, you know, into middle age."
Aimee Lou Wood, who plays Aimee in the show, told Radio Times that while there was a part of her "that could just do it forever," there was also a part of her that says: "No. We've all got to go and do different things and play different parts."
Wood continued: "We can't be, like, 50 saying: 'Freshers week!' So it's a weird one. It's a bittersweet thing because it probably is, even if it's not this series, closer now to ending than it is to the start."
This post will be updated with additional plot and cast details as more information on Sex Education Season 4 becomes available.
This article was originally published on