4 Ways Netflix's Shadow And Bone Is Different From The Grishaverse Books
The Crows are only the beginning.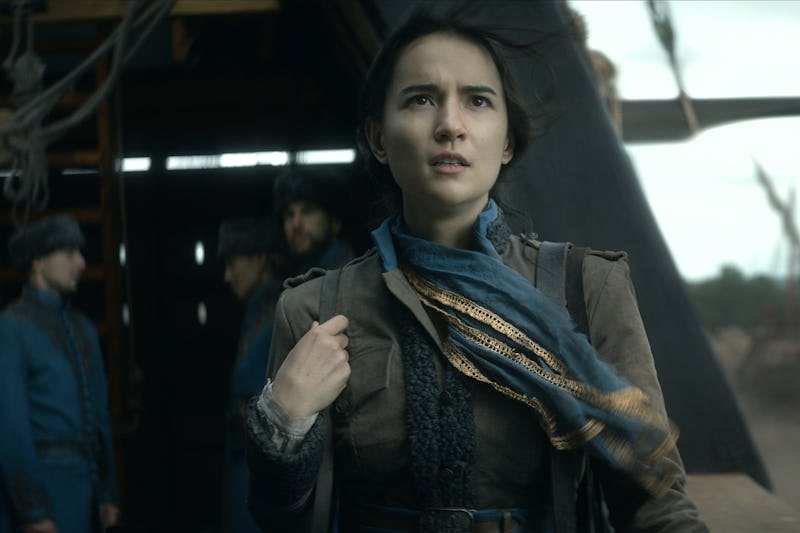 Netflix
Netflix's series adaptation of Leigh Bardugo's Shadow and Bone just hit the streaming platform on April 23, introducing a new generation of fans to the Grishaverse (the shared world of Bardugo's novels). If you aren't familiar with the source material, or if you love the novels but have yet to watch the show, you're probably wondering how Shadow and Bone on Netflix is different from the Grishaverse books. Not to worry, because Bustle has all the answers you're looking for, right here. Spoilers for Shadow and Bone follow.
Based on Bardugo's 2012 novel, Netflix's Shadow and Bone centers on Alina Starkov (Jessie Mei Li), a mixed-race Ravkan girl with Shu Han ancestry, who may be the key to saving her nation. When she and her First Army buddies are attacked while crossing the Fold — a strip of darkness, filled with man-eating volcra, that separates the capital from its trade centers — Alina lets out a burst of magical light, killing the volcra and saving her best friend Mal's (Archie Renaux) life. Realizing that she's a Sun Summoner — a never-before-seen type of Grisha, capable of destroying the Shadow Fold — the Ravkan powers-that-be shuttle Alina away to the Little Palace, where she grows close to the Second Army's General Kirigan (Ben Barnes).
Here are the biggest differences between Netflix's Shadow and Bone and the original novel:
The Crows don't appear in the Shadow and Bone book.
Readers will instantly recognize Kaz Brekker (Freddy Carter), Inej Ghafa (Amita Suman), Jesper Fahey (Kit Young), and Nina Zenik (Danielle Galligan) as four of the six characters at the heart of Six of Crows: the first installment in Bardugo's second Grishaverse series. They're known as the Dregs in the book, but are — fittingly — called the Crows in the Netflix series.
Their name isn't the only thing about Kaz and his gang that's changed for TV. Six of Crows doesn't take place until two years after the events of the final book in the Shadow and Bone trilogy, Ruin and Rising, which means that the Crows' involvement in the series — a separate plot line that revolves around their mission to kidnap Alina and turn her over for a hefty reward — was invented purely for the screen.
Shadow and Bone writer-director-producer Eric Heisserer told Bustle that the decision to combine Bardugo's two series "liberating," noting that the Netflix show "need[ed] to include [the Crows] early and showcase to viewers that this is a big and diverse and dangerous place," in order to "do the Grishaverse justice."
"We weren't anchored by specific story beats for a direct adaptation of Six of Crows," Heisserer adds. "Knowing that what we were doing is building the road that gets us to Six of Crows allowed me to explore questions for all of these characters, like... Are they even part of the Dregs yet? Have they met [the Dregs' leader,] Per Haskell?... How does Inej come about naming one of her knives Sankta Alina?... Those were fun things to explore in the first season, and because we didn't have this text that we... were bound by, it gave us some freedom."
Bardugo told Bustle that when Heisserer pitched the idea, she loved it immediately. "I was on board pretty much right away because I thought it made the world feel bigger and more authentic," she said. "And I think it provided a kind of different access point... it's not just a 'chosen one' story full of people with great magic and royal blood. It's also a story about people who are considered expendable, who are scrappers from the streets and who don't have access to those kinds of power of still trying to survive in this world."
General Kirigan is a (very) old character with a new name.
One of the most enigmatic figures in Bardugo's Shadow and Bone is the Darkling: the Shadow Summoner who calls the shots for Ravka's Second Army. Although Alina rarely sees him, he becomes key to her development as a Sun Summoner at the Little Palace, and orchestrates the killing of a legendary white stag to create Morozova's Collar: an amplifier for her Grisha powers.
Although he mentions that he has been called "Darkling" before, Netflix's version of the character doesn't use that name in the series. Instead, he's known as General Aleksander Kirigan. But don't worry, he's just as, well, dark as you remember him.
Alina isn't mixed-race in the books.
One of the most notable changes to Netflix's Shadow and Bone is the decision to give Alina, if not a specific parentage, then a concrete heritage. In the novels, she's a frail, orphaned girl from a village on the Ravka-Shu Han border, who is never presumed to be anything other than ethnically Ravkan.
In the series, however, Alina is clearly mixed-race, having had one Shu parent and one Ravkan parent. As a result, she's bombarded with microagressions — and even outright hostility — from most people she meets.
Although Heisserer says that "the talks [about making Alina half-Shu] started right away," he and Bardugo didn't make the decision to change their heroine's race lightly. For Bardugo, he says, casting Li as Alina was a way to re-write her first novel and bring it in line with her current values as a writer. "[Bardugo] talked about how, if she were to write Shadow and Bone now, it would look very different, and here was the chance for her to... do that in the show."
Bardugo felt changing Alina's race was a natural way to do that, as the character was raised near the Shu Han border. "To me, that made perfect sense for her to be half Shu," Bardugo said. "Borders are not walls; they're porous. People do business across them and they fall in love across them. They form partnerships across them. And so that seemed like a very natural, organic change to make. And Alina is also an outsider, and we really wanted to explore what it meant to be somebody who could not hide their outsider status, and who had been treated fairly shabbily by a country that she was then going to be asked to save. I think it made for a richer and more poignant story."
For his part, Heisserer tells Bustle that the decision was "a thematic choice."
"I felt that it was more visceral for the audience to see a young woman who's been told that she doesn't matter, and who doesn't feel like she belongs, right up until the time that everyone realizes she can save their country," he says. "I didn't know much about writing to that experience, and so [a mixed-race Asian] writer friend of mine is the first person that I brought onto the team, so that she could champion that and write... a character she would have loved to have seen growing up."
Milo is a lot different in Six Of Crows.
Let's be real: Milo is the best character in Netflix's Shadow and Bone, bar none. If you haven't met him yet, we won't spoil it for you, but trust us — you're going to love him. Another Milo appears in the Six of Crows duology as one of the Dregs, but he can't hold a candle to this scene-stealer.
Shadow and Bone is streaming now on Netflix.