Shameless Will Never Truly Be Over For Showrunner John Wells
"[The Gallaghers] are always going to be together, surviving together."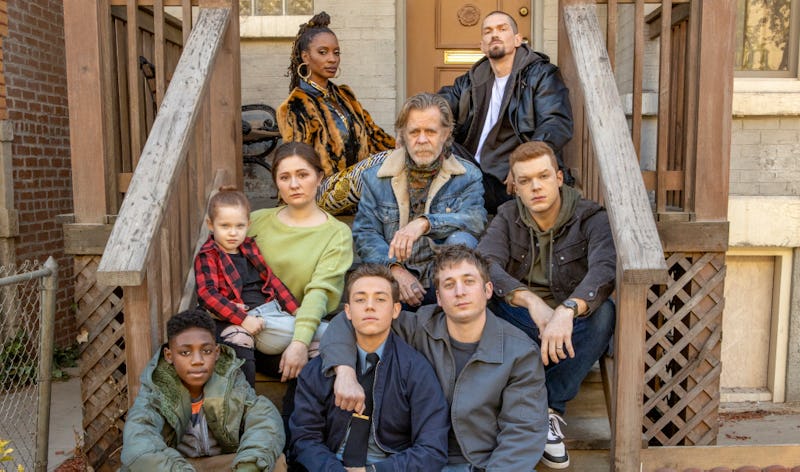 Paul Sarkis/SHOWTIME
It's time to say goodbye to the wild and unruly Gallagher family. After Season 11 wraps up this week, Showtime's Shameless will not return for Season 12. Gary Levine, the network's President of Entertainment, announced the cancellation at the January 2020 Television Critics Association winter press tour. "The characters of Shameless have brought Showtime viewers more laughs and tears and pure enjoyment than any program in our history," he said, per Deadline. "[But] we just felt like, 11 seasons is a big fat number. We just felt it was time, and we also liked the idea of giving John and co. a chance to end it well, to be able to aim for that landing."
Though showrunner John Wells told The Hollywood Reporter that he was "disappointed" about the turn of events, he respects the decision. "As I've always said, I love this show so much I could make it forever," he said. "I'm a little disappointed, but not horribly upset because they have been such wonderful partners all these years."
He added that when he was first developing the series (which took seven years), he never imagined that it would ever find a home at all. "If you had told me at the end of that process that it was going to then be on the air for 11 years, I would have laughed and said, 'I just hope it's on the air for one year,'" he said. "I don't want to sound ungrateful for a great run and tremendous support."
Wells went on to explain that he's approached each Shameless season in a way that would give viewers a sense of closure if the the show was ever canceled early, which he always expected. "I've done a couple series earlier in my career where we ended and we didn't get to wrap up the story," he said, explaining that he regretted not being "more proactive" in creating neater endings for his other projects.
He made up for it on Shameless with the finale of all finales. In the final season, the Gallagher family once again finds themselves at several crossroads. Working through global current events along with issues of neighborhood gentrification and aging, the Gallaghers come together and embrace their redefining roles as parents, spouses, and breadwinners. Fittingly, Wells said the theme for the final season is the dynamics of an intergenerational family. "As you grow up and start to have your own adult lives, do you separate from your family? Do you stay involved with your family? Do you bring your spouses into your family? Where do your loyalties lie?" he explained.
While Wells sounded uninterested in creating any Shameless spinoffs — the series has a "natural ending" which he's not "big on reviving" — fans of his work can check out his other projects. He continues to produce TNT's Animal Kingdom as well as Netflix's upcoming Maid (a dramedy inspired by Stephanie Land's memoir Maid: Hard Work, Low Pay, and a Mother's Will to Survive).
And in his mind, Shameless will never really end, in a way. "It's a family, and the thing that has worked best about the show — beyond being able to satirize things and have some laughs and have some dramatic moments — is that these people care about each other and depend upon each other. And, in some way, the show will end with them still being that family. No matter how screwed up they are, we all wish we had them as a family. They're supportive, care for each other and always ready to punch each other but they are always going to be together, surviving together."