All Stars 5 Winner Shea Couleé Breaks Down Her 5 Most Iconic Drag Race Looks
From her "Love the Skin You're In" bodysuit to her favorite look of all time.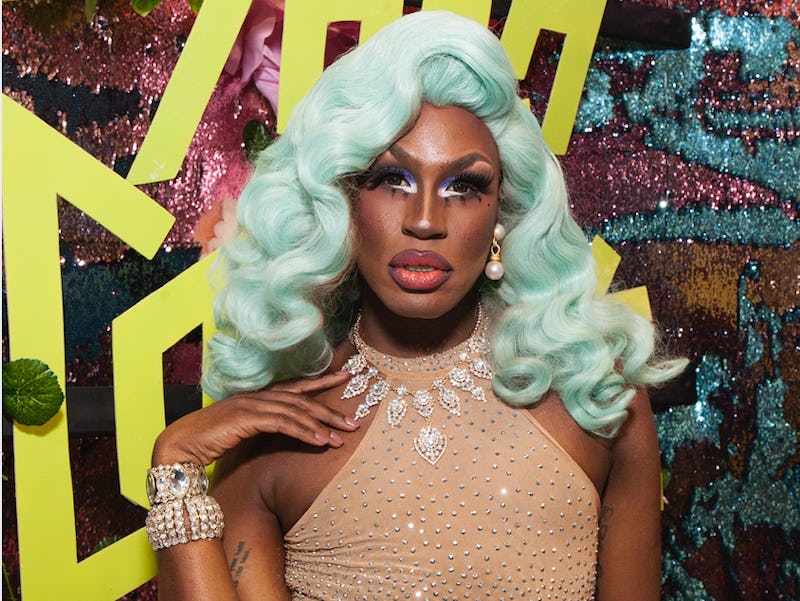 Santiago Felipe/FilmMagic/Getty Images
From the first time she stepped onto the Drag Race Season 9 runway to her recent All Stars 5 win, Shea Coulée has always kept one thing consistent: she knows how to serve a look. Whether clad head to toe in black patent leather, rocking a pink and blue palm print (with a matching bag!), or transforming a gingham tablecloth into couture, she plans every outfit down to the seams. "I always try and think about the details, think about the impact. And the fashion develops a story," she says. "For me, one of the biggest and most important things is the silhouette — what's that shape for when you first come around that corner?"
After Shea's devastating loss to Sasha Velour in Season 9, that attention to detail finally paid off during the All Stars finale. "This journey, the past nine years of me dedicating myself to the dream, the sacrifices, the hard work... the blood, sweat, and tears were all worth it," Shea says of her win.
Now that she's secured the All Stars crown, we asked Shea to look back on her Drag Race journey with five of her most iconic looks, beginning with her most-talked about look this season: the Love The Skin You're In bodysuit.
All Stars 5: Love The Skin You're In
"I've been told that I'm too dark, too nappy, too femme to be considered beautiful. That's why I wanted to fully embrace Black beauty in this runway presentation," Shea wrote on Instagram of the transparent, Swarovski-bejeweled bodysuit. "Little did I know that Jean Paul Gaultier had basically done the same exact [look], I think in '92 or '93," Shea tells Bustle. "And people started putting [my picture] next to a photo of Naomi Campbell wearing it. It was just, like, such a sublime moment .... here it was on someone who is one of my biggest inspirations ... I think that was destiny."
All Stars 5: Prom Queen Fantasy
During the final Season 9 lip sync, Sasha Velour pulled off her wig to reveal a stream of rose petals — ultimately cinching Shea's loss. Since then, rose petals have been a painful symbol for Shea, but she "reclaimed her rose," as she put it, with this floral spin on a Carrie prom queen.
"That was something that developed over a couple of days," Shea says. "I thought of Carrie. And I thought of Raja Gemini from Season 3 and her Carrie reference ... and then somehow — I think I took a nap — and kind of dreamed up the rose petal [crown]." The look then became much bigger than a prom concept. "It really was about the symbolism and me using fashion to communicate a story about my own personal growth from a moment that's been used to taunt me. I wanted to take that as an opportunity to say, 'Hey, I've grown from that. And I want to make something beautiful out of it.'"
Drag Race Season 9: Village People
In Season 9, Episode 11, the queens were tasked with creating a Village People-inspired runway look using specific materials. Shea was given construction worker textiles and ran with it, ultimately winning the challenge. "When you think construction, you think utilitarian. You think, 'It has to have a sense of function.' And so I took that function and [made it] fashion," Shea says. "I did some really cool patchwork [that was] very like Tommy Hilfiger, Marc Jacobs, '90s grunge mixed with my own kind of Black point of view, with an Erykah Badu headwrap [and] a construction hat placed atop. It's still one of my favorite looks."
All Stars 5: All Star Eleganza & The Final Lip Sync
Shea's look for the final, All Star Eleganza-themed runway was an ode to her mom's senior prom dress: a bubblegum pink, '60s-inspired gown complemented by towering beehive hair. "I wanted to pay homage to my mom because she was my first introduction to fashion," Shea says. "I used to watch her get dressed and do her hair and do her face in front of the vanity. And that was the time that I loved to spend with her the most when I was little. So for me, it was a chance to combine all of my favorite imagery of my mom and to elaborate on it in a fashion way."
For the final lip sync between Shea and her fellow finalists — Miz Cracker and Jujubee — she changed into a royal blue gown with matching elbow-length gloves and a bright blue wig. However, Shea reveals that the wig was actually kind of an afterthought. "[The look] was based off of a dress that Bob Mackie had created for Cher," she explains. "There was supposed to be a headpiece that went with it. But unfortunately, they weren't able to finish it in time before I left for filming. So I was just like, 'OK, let's just do the blue wig and feel the fantasy.'"
All Stars 5: Shea's Favorite Look of All Time
"I know it was more on the simple side, but I feel like that look specifically calls back to my original vision of Shea Couleé," Shea says of her Camo Couture runway look from All Stars 5, Episode 4. "I remember when Beyoncé released her "Why Don't You Love Me" video, which has this very vintage, '60s, kind of Black Hollywood glamour housewife quality to it. And I remember when I saw that video, I was like, that's what I want my drag aesthetic to be like. And I felt that, of all the looks this season, that one really had that."