How Shon Faye Is Creating An Oral Queer History For The Ages
"Learning from older members of the community can give younger LGBTQ+ people a sense of their own identity," says the Call Me Mother podcast host.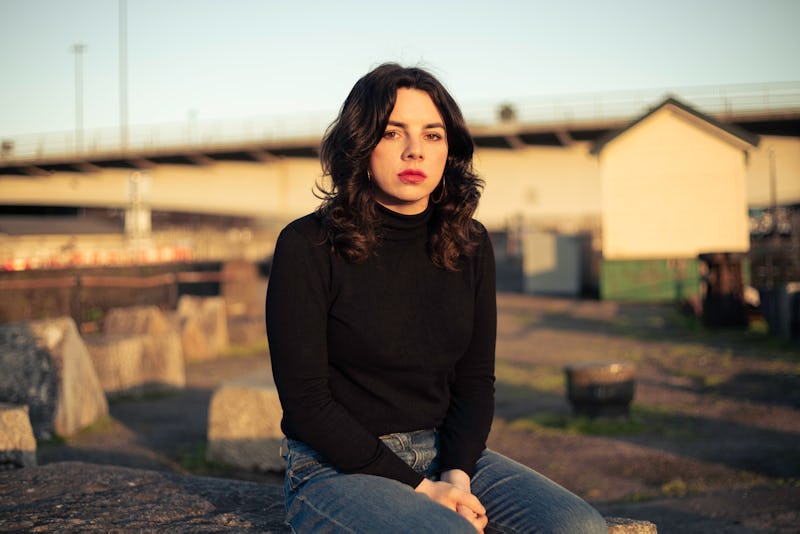 Paul Samuel White
"Growing up, LGBTQ+ people are often surrounded by heterosexual cisgender families. The opportunity to learn from older members of the LGBTQ+ community just isn't there," writer, presenter, and comedian Shon Faye tells me over the phone, outlining some of the inspirations behind her podcast, Call Me Mother.
It seems a simple concept – delving into the inspiring stories of older members of the LGBTQ+ community — but therein lies its beauty and power. By giving those who might otherwise be overlooked in an oftentimes youth-obsessed society, Faye is not only highlighting the tireless work and valuable life experiences of previous generations, like that of HIV activist Marc Thompson and Stonewall co-founder Michael Cashman. In the process, Faye is also touching upon many different issues faced by LGBTQ+ people today, while providing younger listeners with an oral queer history they'd struggle to find anywhere else.
It is part and parcel of Faye's work. The journalist is recognised as a leading voice on topics including gender, sexuality, feminism, and beyond, having written for the likes of Vogue, Attitude, and The Independent. In 2017, the Guardian named Faye among the "brilliant trans emerging voices" along with the likes of Paris Lees and Munroe Bergdorf. The Bristolian has since used her influence to spotlight crucial trans issues.
Here, Faye and I discuss her podcast, the importance of learning from our elders, and the queer pioneers who continue to inspire her today.
What was the inspiration behind the Call Me Mother podcast?
The production company Novel and I wanted to make a podcast for young LGBTQ+ people who might have struggled during the pandemic, to help them feel connected to their own community during a time when we couldn't mingle at bars and nightclubs. We also wanted the podcast to cross generational lines. I saw the success of Channel 4's It's a Sin with younger audiences responding to the stories of older LGBTQ+ people who had lived through the HIV and AIDS crisis of the 1980s. We wanted the podcast to be another platform for younger members of the community to listen to and learn from older LGBTQ+ people about their experiences.
Why is it important to celebrate and learn from older members of the LGBTQ+ community?
I think in terms of history it's really important. We're not taught LGBTQ+ history in school and a lot of it is passed down from person to person because there hasn't really been an archiving of LGBTQ+ history. So learning from older members of the community can give younger LGBTQ+ people a sense of their own identity, and it can be comforting to know that you're not the first person to experience whatever it is you may be dealing with.
What have been some of your favourite topics featured on the podcast so far?
I really enjoyed talking to the Stonewall co-founder Michael Cashman about the passing of Section 28. It was so interesting because he was an actor, not an activist, but got together with the likes of Ian McKellen to start this organisation. I also loved discussing the New York gay switchboard with Brad Becker, who was running that advice help line during the HIV and AIDS crisis of the 1980s. It's always so interesting to hear about people continuing to live their lives, whether that be going to clubs or having sex, during a period of history that is often depicted as being quite dark.
What topics would you like to explore on the podcast next?
I'm very interested in discovering what it's really like to grow old as an LGBTQ+ person. We know that LGBTQ+ people are less likely to have children, and, when we think about getting older, society kind of assumes that our kids will look after us, which is very heteronormative. I'd also like to explore the issues — including homophobia and transphobia — faced by older LGBTQ+ people entering the care system.
Tell me about your favourite LGBTQ+ trailblazers.
When we first started the podcast I immediately suggested we try and book Kate Bornstein. She is one of the first people who ever wrote about being nonbinary, and it's thanks to people like Kate that there's been a huge explosion in awareness surrounding nonbinary gender identities.
I'd also name Sandra Caldwell as another standout guest. She's a transgender actor who concealed her trans identity for much of her film career because she transitioned so young. She's also a Black trans woman, and we often hear terrible stories about the violence faced by Black transgender women, particularly in the United States. It can be very dispiriting, and I think it's important to spotlight someone like Sandra, who is in her late 60s and enjoying a nice life.
Who would you like to appear on the podcast next?
Beverly Glenn-Copeland, the transgender musician. I really hope he will do the second series. Also, Caroline Cossey would be amazing. She was a Bond girl in the 1980s and outed as trans by the press. She would definitely be someone I'd be keen to have on.
The Call Me Mother podcast is available to stream and you can preorder Faye's book, The Transgender Issue: An Argument for Justice, now.