Sloane Crosley wrote her "Funny" Book. Next Comes The "Depressed" One.
The author is releasing a pair of very different tomes.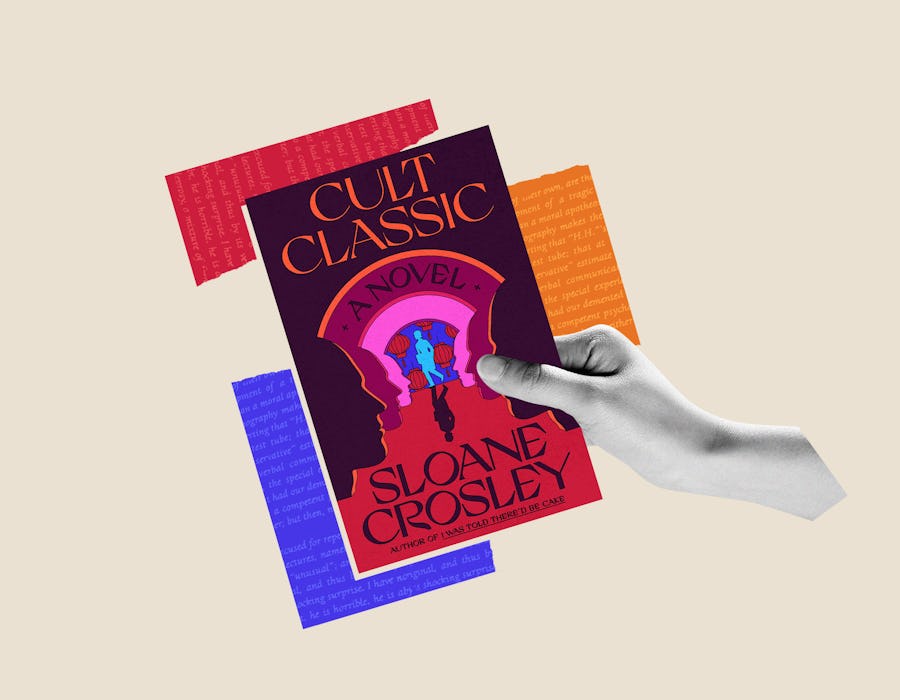 Sloane Crosley has two babies on the way. Not human beings, but rather a pair of book sisters — the novel Cult Classic (out June 7) and Grief Is for People (coming in 2023). They'll join an already substantial family of Crosley's works. "I privately talk about them as, 'I have these two children that are very close in age. One is the funny one, and one is the depressed one,'" the humorist and author of bestselling essay collections like I Was Told There'd Be Cake tells Bustle. "One's like Shirley Temple with curls and sunshine, and then the other one is a portrait of Wednesday Addams."
Cult Classic is decidedly Crosley's Shirley Temple. The book is a caper of a romance novel: the story of a New York woman haunted by the ghosts of heartbreaks past, who must also grapple with a former boss turned mystical guru, and a potential cult. "Creating a really specific, weird, and shiny container for what is otherwise a sort of comedy of manners, and a rom-com, was important to me," she says of the colorful conceit.
But just as Crosley was fine-tuning the first draft of the book in early 2020, a confluence of tragedies occurred in her life. Crosley's home was burgled, a close friend died by suicide, and then the world went into lockdown. She turned to the written word for comfort, but found a shortage of books on bereavement. "I couldn't really find anything to read about grief that wasn't Joan Didion, or when it came to suicide, Kay Jameson, or straight up self-help," she recalls. While she was still knee-deep in editing Cult Classic, the outlines of her next book began to take shape: a wry work of nonfiction exploring five stages of grief.
While working on such disparate books at once was never part of Crosley's plan, the experience has had its merits. "I really mean it in the sense that [the books] have different DNA that overlaps. But it's so subtle that if you saw them at a party, you'd never recognize them as sisters."
Below, Crosley reflects on her love of Balzac, dried mango, and Gilda Radner.
On Russian Doll's literary merits:
What I'm reading now is Lost Illusion by Balzac. But I just finished reading Diary of a Void, which isn't coming out until August. It's [about] a woman who fakes a pregnancy. What I like about it is that it takes place in Tokyo, but you're really watching quite a closed world [within] Tokyo, a massive city. It doesn't feel narrow [or] solipsistic, but you just have her bouncing basically between work and home for a lot of the novel. And I like that sort of tight shot on the characters. I tried to do that with Cult Classic, too. To give you a cinematic comp, I would say Russian Doll does that very well.
On the snack banned from her pantry:
I am not allowed to have dried mango [in my house], because it won't last. I'll eat something that's supposed to be 10 servings of dried mango. It's an animalistic thing, and it should not be filmed. A friend of mine told me that he ate a bunch of dry mango and became allergic to it, so now I'm extra scared because I love it so much.
On how she avoids her cell phone:
[I have a] big one-hour stand timer. It looks very cute but it's actually quite useful. Sometimes I will tell myself that either I'm allowed to work, or not allowed to work, once I turn over the timer. And it's a way of avoiding both the clock and the phone. It's just this physical view of time passing, that is actually incredibly motivating.
On the power of small victories:
The same muscle I use to punish myself is the same muscle I use to reward myself. So if I've had a bad day of writing, I try to finish a book. I try to finish whatever I'm reading so I can feel some sense of accomplishment, even if it's someone else's sense of accomplishment.
On unwinding with Gilda Radner:
I'll procrastinate by reading magazines, and I'll get sucked down rabbit holes of old comedy clips, things like that. I'll look at someone like Gilda Radner, and then just go back through [their material]. Or even more recently, specific Key & Peele sketches than I'm in the mood for.
This interview has been edited and condensed for clarity.