Pete Davidson & Kate McKinnon Are Part Of A Reported Major SNL Cast Shakeup
Naturally, Twitter is in an uproar.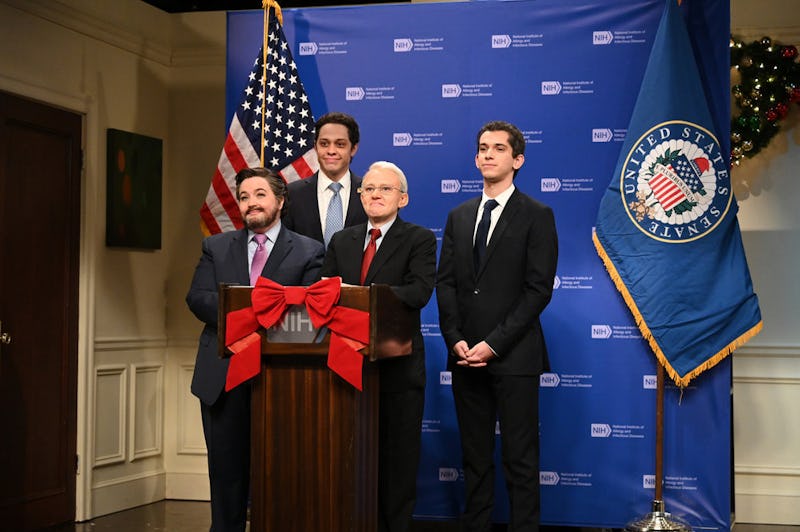 Will Heath/NBC
Live from New York, the Saturday Night Live Season 47 finale will be bittersweet for at least four longtime cast members reportedly taking their final bows at Studio 8H. Following reports that Pete Davidson is leaving SNL, various media outlets later learned via sources that Kate McKinnon, Aidy Bryant, and Kyle Mooney will also exit the NBC sketch comedy series after the May 21 finale. All four are expected to be part of the Natasha Lyonne-hosted broadcast to say their goodbyes.
Davidson, who joined SNL in 2014, only appeared in a handful of Season 47 episodes amid his highly publicized relationship with Kim Kardashian and filming several outside projects, including horror thriller The Home. After both debuting in 2012, McKinnon and Bryant have, so far, earned a combined 12 Emmy nominations for their work on SNL, with McKinnon winning two of them. Meanwhile, Mooney added his own brand of offbeat humor when he came aboard in 2013.
Naturally, fans on Twitter weren't too pleased when the news broke, with many noting the end of another SNL era. "Pete, Kyle, Aidy and Kate leaving SNL is like when a dying mall loses the last installment in its food court. It's over," one user wrote in a tweet that racked up more than 12,000 likes within 12 hours. Because Davidson's exit was the first to be revealed, several others were incensed and "deeply saddened" by the "absolutely travesty" of McKinnon and Bryant's departures not receiving top billing after their critically acclaimed runs on the show. Another fan tweeted that leaving SNL is "Pete Davidson's version of deleting Tinder," as his personal and professional life take flight.
While it's currently unclear what everyone has planned next, Davidson created and will soon star alongside Edie Falco in Peacock's Bupkis. "I can't believe we are going to be on Peacock, the streamer that is responsible for so many great shows like MacGruber and the reruns of The Office," he joked on May 16 of the upcoming comedy based on his life in Staten Island. "So look out for our new show streaming on the 'Cock."
Falco, for her part, added at NBCUniversal's upfront presentation that she was "excited" to portray Davidson's mother in the streaming series, referencing her Emmy-winning role on HBO's The Sopranos: "Finally, I get to play an overwhelmed mother of two living in a world of corruption. Except this time, it's Staten Island."
Meanwhile, McKinnon and Bryant have also taken time off from SNL in recent years to film such projects as Peacock's Joe vs. Carole and Hulu's Shrill, respectively. In February, McKinnon, whose departure had been predicted for years, also signed on for the upcoming Margot Robbie-led Barbie movie alongside Ryan Gosling, America Ferrera, and Simu Liu.
Despite the sad goodbyes on SNL, fans clearly haven't seen the last of any of these actors and comedians.