A Snowfall Spinoff Is Reportedly In The Works Following The Series Finale
The FX crime drama won't return for Season 7.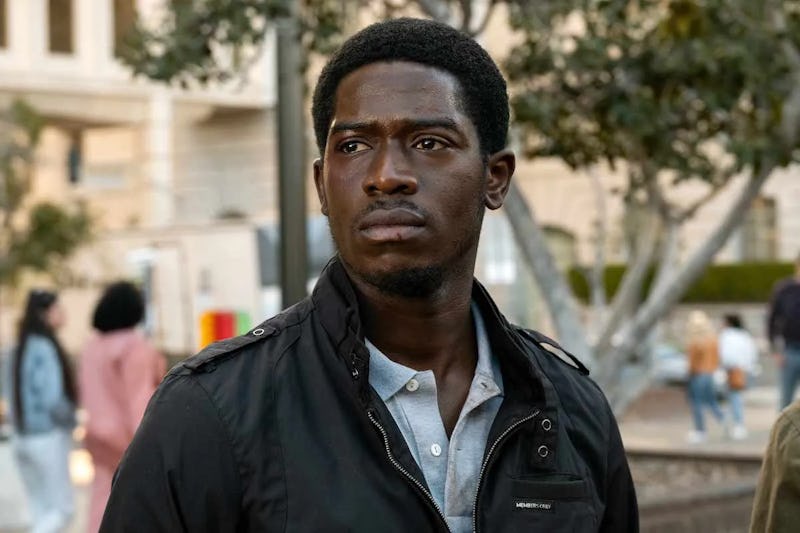 Ray Micksaw/FX
After six suspenseful seasons, FX's Snowfall has come to an end. The network renewed the highly rated crime drama for a sixth and final season a year ago, but nothing could have prepared fans for the emotional conclusion of 1980s drug kingpin Franklin Saint's (Damson Idris) story in the South-Central Los Angeles-set crime drama. The finale storyline had been in the works for years, though: Showrunner Dave Andron pitched Seasons 5 and 6 to FX in 2021.
"We wanted to have an endgame in mind, so we sat down and had some creative conversations with some folks on our side, and we decided six seasons would do it and was what we needed to finish telling the story," he explained to The Hollywood Reporter in April 2022. "So we've known for a little while."
He might not be saying goodbye to the series completely, though. Deadline reported on March 29 that a Snowfall spinoff series centered on fan-favorite character Wanda (Gail Bean) is in the early development stages at FX. The offshoot is reportedly a continuation of the original story and will take place in the 1990s as South-Central transitions out of the crack era into the gangster rap business, with areas heavily infested by gangs led by the Bloods and Crips. Per the outlet, the series will introduce other main characters, but it's unclear if any other original Snowfall characters will appear in the show.
Sitting down with the Los Angeles Times roughly 24 hours after shooting his final scene, Idris shared his initial feelings about saying goodbye to Snowfall. "It was a whirlwind of emotions. Bittersweet and sad. There was also bewilderment. I couldn't believe we had done it," he told the newspaper. "I was on the verge of tears, but I had to stay strong. Everyone probably wanted me to cry. The show is really the foundation of my career. I'm always going to have it as a touchstone no matter what. Nothing's going to beat that feeling. It's like when a musician has his first hit song that introduces him to the world."
Idris also thought a lot about the legacy of FX's third-most-watched series in history (behind The Old Man and Sons of Anarchy). "We've always been chasing The Wire. I love that show," the Swarm actor added. "When the conclusion of Snowfall comes, I think there will be a conversation about whether this show or The Wire was the greatest crime show. I'm excited to hear that conversation."
Though he later joked to Deadline about leaving Franklin on vacation in Trinidad and Tobago, Idris admitted that the character he began playing in his early twenties will always be a part of him. "I'll never really say goodbye to him," he said in February. "People on the street call me Franklin and I still spin my head around out of respect for him. The character isn't really ending, he's going to live on forever."