Get A First Look At Stephan Lee's K-Pop Confidential Sequel, K-Pop Revolution
Candace Park's idol career is back on track — at least for a time.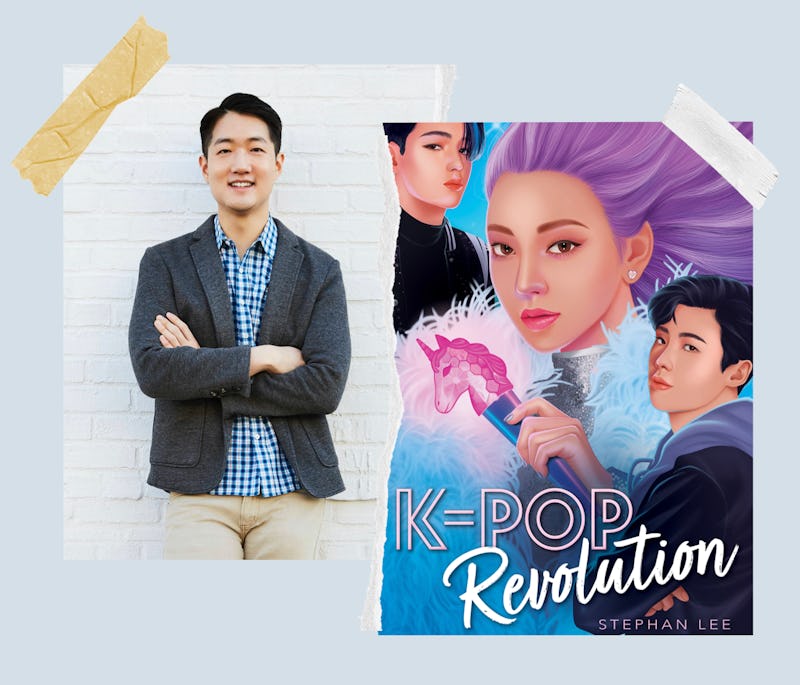 Lauren Perlstein/Erick Dávila
Heads up, YA fans and K-pop stans: Stephan Lee's K-Pop Confidential sequel is coming to a bookstore near you. K-Pop Revolution is out on Apr. 5, 2022 and available for pre-order today — and we're beyond thrilled to give you your first look at its candy-colored cover, below. Spoilers for K-Pop Confidential, available now, follow.
Lee introduced the memorable Candace Park in his 2020 novel, K-Pop Confidential. (Editor's note: Lee is the Associate Director of Branded Content at Bustle's parent company, BDG Media) Candace is a Korean American teenager who unexpectedly becomes a K-pop trainee after she auditions for S.A.Y. — the record label behind her favorite idol group, SLK — on a dare. But life in Seoul isn't a walk in Namsan Park. When lifelong good girl Candace starts to break under the pressure of her brutal S.A.Y. training, she finds herself advocating for major changes in idol culture.
K-Pop Revolution picks up with Candace in the days leading up to her debut with S.A.Y.'s newest girl group, known simply as THE GIRLS. She and her boyfriend, YoungBae, are now a K-pop power couple, being shipped by the world; and now that she shares a label with her beloved idol group, SLK, she can get to know the performers as colleagues, rather than just worshipping them from afar. Most importantly, S.A.Y. has promised to make the changes Candace demanded, which means things should be on the up and up... right?
Wrong. As THE GIRLS prepare to debut, a rival girl group emerges to steal the spotlight, and the online bullying aimed at Candace and her bandmates reaches an all-time high. THE GIRLS go from top of the world to the brink of disaster, and S.A.Y. doesn't seem very keen on helping them out. Candace needs to escalate — but will standing up for her beliefs cost her everything she's worked so hard to achieve?
Stephan Lee's K-Pop Revolution is out on Apr. 5, 2022 and is available for pre-order today. His first book, K-Pop Confidential, is available now.