Stephen "tWitch" Boss Dead At 40: Ellen DeGeneres & Jennifer Hudson Pay Tribute
"Everyone here is going through a lot because of his loss on the Warner Bros. lot."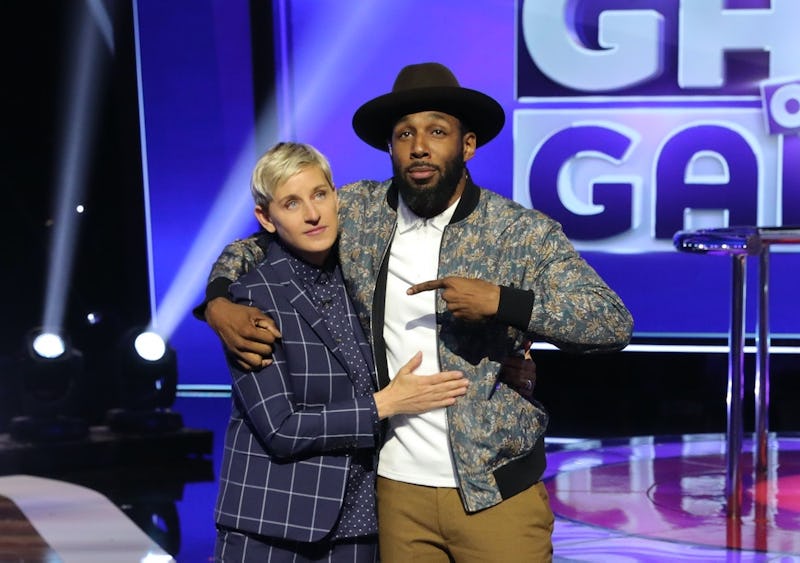 Mike Rozman/NBCU Photo Bank/NBCUniversal via Getty Images via Getty Images
Trigger Warning: This piece contains mentions of suicide.
On Wednesday morning, Dec. 14, longtime The Ellen Degeneres Show DJ Stephen "Twitch" Boss died by suicide. His wife, Alison Holker Boss, confirmed the news of his passing to People. "It is with the heaviest of hearts that I have to share my husband Stephen has left us," Alison told the outlet. "Stephen lit up every room he stepped into. He valued family, friends and community above all else and leading with love and light was everything to him.
"He was the backbone of our family, the best husband and father, and an inspiration to his fans. To say he left a legacy would be an understatement, and his positive impact will continue to be felt. I am certain there won't be a day that goes by that we won't honor his memory," she continued, before asking for privacy. "Stephen, we love you, we miss you, and I will always save the last dance for you."
His colleagues were gutted by the news and took to social media to express their condolences. Among the celebrities who mourned the loss of the 40-year-old artist was his friend and former colleague, Ellen DeGeneres. On Twitter, DeGeneres wrote, "I'm heartbroken. tWitch was pure love and light. He was my family, and I loved him with all my heart. I will miss him. Please send your love and support to Allison and his beautiful children - Weslie, Maddox, and Zaia."
Boss served as DJ, co-host, and co-executive producer on Ellen for several years, though he first shared the stage with DeGeneres when she filled in as his dance partner on So You Think You Can Dance in 2012, where Boss was a contestant. He competed for several seasons, then eventually became a judge on the show.
Jennifer Hudson, whose talk show has a lot of the same production team as DeGeneres, paid tribute to him as well on her Dec. 14 episode. "Everyone here is going through a lot because of his loss on the Warner Bros. lot," she said, adding that the majority of producers on The Jennifer Hudson Show were from Ellen's show, and are mourning him.
"It hit us all very hard," Hudson said. She and her audience took a moment of silence for him, asking her guests to bow their heads in his honor. "No matter what you're going through, you can make it," she concluded. tWitch and his wife had been on her talk show the previous month, talking about expanding his family.
Leah Remini, Boss' co-judge on SYTYCD, also posted a "heartbroken" tribute on Instagram. "tWitch was always so kind to me and everyone who worked so hard behind the scenes. tWitch was the guy who played and interacted with his fans in the audience during commercial breaks, and he encouraged all the contestants when the cameras weren't rolling," she wrote. "He had such a passion and love for dance and guiding artists and the contestants on the show. tWitch adored his wife, Allison, and their three kids more than anything. He would talk about them all the time with such pride. He had a laugh and smile that lit up the whole room."
Paula Abdul, another former judge on SYTYCD, took to Twitter to mourn her friend. "tWitch greeted the world every day with a beautiful smile that was a direct reflection of his beautiful heart. He was a beacon of light & a true talent whose legacy & impact will live on in the dance community," she wrote.
Below, more tributes to the artist:
Boss is survived by his wife, Alison, and their three children, Weslie Renae, 14, Maddox Laurel, 6, and Zaia, 3.
If you or someone you know is experiencing suicidal thoughts, call the National Suicide Prevention Hotline at 1-800-273-8255 or text HOME to the Crisis Text Line at 741741. You can also reach out to the Trans Lifeline at 877-565-8860 or the Trevor Lifeline at 1-866-488-7386, or to your local suicide crisis center.