Twitter Can't Handle Stormzy's Guest Appearance At A Random House Party
The rapper kept his promise to party with fans if England won the Germany Euros game.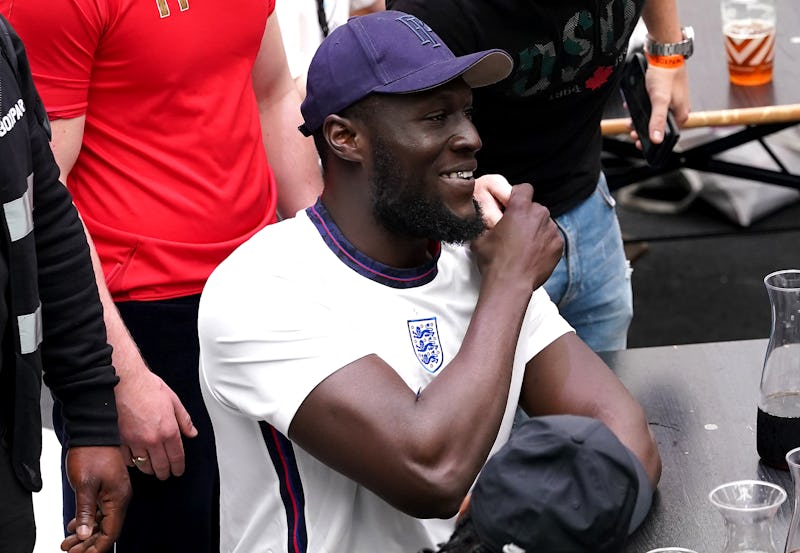 Tess Derry - PA Images/PA Images/Getty Images
It was a joyous night for football fans as they celebrated England's historic win over Germany. But no one was having as much fun celebrating the Euro 2020 victory as the fans who partied it up with Stormzy. The rapper was watching the match at Croydon's Boxpark where he promised a group of England supporters to go round their house if England beat Germany.
In a video that has since gone viral, we can see the "Vossi Bop" singer kept true to his word. Stormzy can be seen enjoying a beer with fans and chanting the football classic "Three Lions" at the top of their lungs.
Reacting to the video, one fan tweeted, "Stormzy is the ideal famous person. Remains low key and casual for 95% of the time and then pops up in random places and makes people's day. Iconic. Nothing but good vibes."
Another said, "Seeing Stormzy going to someone's gaff after the football if England won is the best thing that's happened this week."
Photos and videos from earlier that evening show the 27-year-old watching the game at Boxpark, showing his support wearing a Jack Grealish #7 England home shirt. Along with the rest of the nation, Stormzy cheered wildly as Raheem Sterling scored the first goal of the match, which ended in a 2-0 win for England.
Per the Guardian, it's the first time in 55 years the England team has beaten Germany in the knockout stage of a major tournament. England's next match will be against Ukraine on Saturday, June 3. in the quarter-finals of Euro 2020.
Since the start of the pandemic, Stormzy has kept a relatively low profile after cancelling his tour last spring. More recently, it was announced that his publishing imprint, #Merky Books is set to publish its first children's book. Superheroes: Inspiring Stories of Secret Strength will focus on 50 different figures from communities that are underrepresented in children's literature.