The Stranger Things 4 Filming Locations Are As Far-Flung As Lithuania
We're not in Hawkins anymore.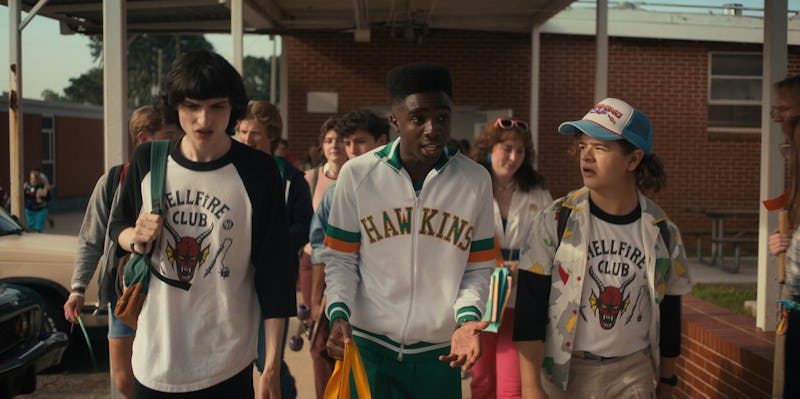 Courtesy of Netflix
After three long years of waiting, fans can finally rejoice; Stranger Things returns for Season 4 on May 27. Despite the long waiting period between seasons, fans will likely remember the heroic sacrifice made by Hopper (David Harbour) that somehow landed him in a Russian work camp. Audiences will also likely recall the Byers family, along with Eleven (Millie Bobby Brown) finally absconding from Hawkins, Indiana, after several seasons worth of paranormal torture. With the show finally ready to step foot outside of its Midwestern suburb, it's time to take a look at where its new settings were filmed.
Atlanta, Georgia
The most famous city in the Peach State has always served as a stand-in for Hawkins. Even though Eleven and the Byers family have finally left small town Indiana, the rest of our Stranger Things contingency is still nestled in Hawkins, and Atlanta once again stands in for the Indiana suburb in Season 4. Stranger Things superfans can even purchase a three-hour tour of the series' filming locations on Viator titled "The Upside Down."
Some locations included on the tour include the Wheeler house at 2530 Piney Wood Lane, the Sinclair house at 2550 Piney Wood Lane, and the Henderson House at 2886 Piney Wood Drive, as well as the famed Hawkins Middle and High Schools in Stockbridge, Georgia, located at 109 S Lee Street. Other notable spots include the Hawkins Community Pool on 2171 Lakewood Avenue, the arcade at 6501 Church Street, the rotten pumpkin patch on 628 Sleepy Hollow Road, and the infamous Starcourt Mall found on 2100 Pleasant Hill Road.
Albuquerque, New Mexico
According to KRWG, a sizable portion of Season 4 was shot in Albuquerque, New Mexico. "Not only are we excited to see New Mexico locations and talent on full display in this series, but we are interested in the film tourism that could potentially follow as well," said New Mexico Economic Development Department Cabinet Secretary, Alicia J. Keyes, per KRWG. "We enthusiastically welcome the entire team with open arms." The New Mexico location may serve as the stand-in for the Byers' and Eleven's new whereabouts: According to Fan Sided, it's speculated that after leaving Hawkins, Jonathan (Charlie Heaton), Will (Noah Schnapp), Joyce (Winona Ryder), and Eleven settled somewhere in California. There were also reports that the production filmed at a New Mexico roller rink, which back up that theory.
Vilnius, Lithuania
Viewers of Season 3 will remember the Cold War plot that pitted Hawkins' favorite heroes against the most infamous villains '80s culture has to offer: Russians. The aftermath of the conflict landed Chief Hopper at a snowy prison camp somewhere in a remote part of Russia — however, Lithuania is standing in for the country in Season 4. According to the Official Development Agency of the city of Vilnius, filming for Season 4 began in November and wrapped in February. One of the main locations utilized by Season 4's crew was the century-old Lukiškes Prison, which was built in the early 1900s. The prison was utilized under the regimes of Imperial Russia, the Soviet Union, Nazi Germany and in modern Lithuania.
"From the start, Stranger Things has been inspiring to all of us lucky enough to work on it. My adventure here in Lithuania in bringing the reveal of the 'American' to life has been a huge challenge but an even bigger inspiration," Stranger Things director Shawn Levy said, according to the ODA of Vilnius. "We are so thankful to the city of Vilnius and the beautiful country of Lithuania for their hospitality." He continued, "All the hard work was worth it, however, to bring our fans — the greatest fans in the world — this epic reveal they've been hoping and waiting for. And this is only the beginning…"