Everything To Know About Stranger Things Season 4
The two-volume season will premiere its first part in May.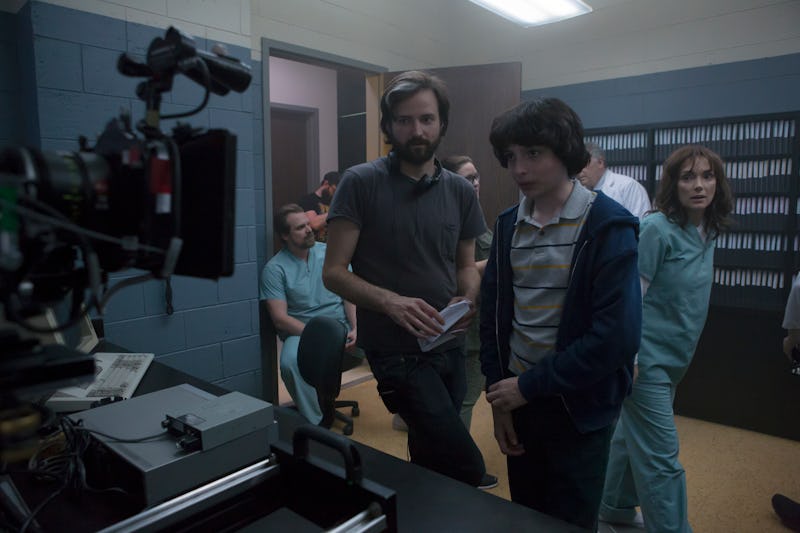 Netflix
Stranger Things 3 drastically shook up the paranormally plagued town of Hawkins, India. There were Soviet spies, multiple deaths (albeit one that actually wasn't), and a big move — all of which have set the hit Netflix series on an intriguing course for the upcoming fourth season. But it's been a long wait: Season 3 premiered nearly three years ago, on July 4, 2019.
Throughout the extended break, both Netflix and the Stranger Things cast have helped to tide fans over with plot teases and early looks at Season 4. Notably, the streamer released a teaser in 2020 that alleviated a big concern fans had been speculating on: Set in a frosty Russian tundra, it slowly revealed that Jim Hopper is still indeed alive, despite nearly dying while closing the rift between The Upside Down and the real world. "We're excited to officially confirm that production on Stranger Things 4 is now underway — and even more excited to announce the return of Hopper!" Netflix wrote in the accompanying press release.
But that's only one small piece of the puzzle. Here's everything we know about Stranger Things Season 4.
When Is The Stranger Things Season 4 Premiere Date?
Netflix announced on Feb. 17 that Stranger Things Season 4 will be split into two volumes. Volume 1 will premiere on May 27, while Volume 2 will debut on July 1.
The lengthy gap between seasons is understandable considering production was delayed last year amid the pandemic, just a few weeks after the cast reunited for a table read on March 3, 2020. Thankfully, filming resumed in October 2020. Speaking on Fanmio, Noah Schnapp (Will Byers) revealed they wrapped in early September 2021.
The delay in production also might prove valuable, as star Gaten Matarazzo, who plays Dustin Henderson, told Collider that it gave series creators the Duffer brothers more time to work on the story. The first three seasons were written as the show was filming, but the pause in production allowed them to complete writing on Season 4 before cameras rolled. "I think they've been able to relish in directing in their day-to-day. There's nothing else distracting them other than what we're gonna do today while we're directing," Matarazzo said.
He continued, "I think it's a good thing because now they can take their focus off of what the show is going to be about, and now that they know it, they can focus on how they're going to deliver. And I think it shows."
So although it remains to be seen when Season 4 will air on our screens, it sounds like an epic season is forthcoming.
Who Is In The Cast Of Stranger Things Season 4?
The usual host of familiar faces will grace our screens once again, including David Harbour as Jim Hopper, Millie Bobby Brown as Eleven/Jane Hopper, Finn Wolfhard as Mike Wheeler, Caleb McLaughlin as Lucas Sinclair, Gaten Matarazzo as Dustin, Noah Schnapp as Will, Sadie Sink as Max Mayfield, Joe Keery as Steve Harrington, Natalia Dyer as Nancy Wheeler, Charlie Heaton as Jonathan Byers, Maya Hawke as Robin Buckley, and Winona Ryder as Joyce Byers.
On April 8, Harbour recorded an Instagram Live from set, giving fans the opportunity to try and pick up clues about his character's fate. Disheveled and scarred, and donning a sturdy and muddied outdoor jacket, the actor (who also roped in fellow castmate Brown to his Instagram Live) commented that he was "exhausted" and that he's had "a very tough day" of filming. Mysterious — we still don't know exactly what lies ahead for Hopper.
Jamie Campbell Bower, Joseph Quinn, and Eduardo Franco are set to join as series regulars in Season 4, according to Deadline. And based on a teaser released May 6 (more on that later), it looks like the dangerous Dr. Martin Brenner, played by Matthew Modine, will also be returning in some capacity. Meanwhile, Season 4 will also see the introduction of many new recurring cast members. Deadline announced in November 2020 that Robert Englund of Nightmare on Elm Street fame, Tom Wlaschiha, Nikola Djuricko, Mason Dye, and Sherman Augustus will appear in the new season.
On June 9, Netflix announced four more actors will join Stranger Things as recurring characters: Amybeth McNulty (Anne with an E), Myles Truitt, Regina Ting Chen (Queen of the South), and Grace Van Dien. McNulty will portray a "cool, fast-talking" band geek named Vickie, who will spark a connection with one of the series' "beloved heroes," per Netflix. Truitt will step into the role of popular Hawkins basketball star Patrick, who lives a comfortable existence until "shocking events send his life spiraling out of control." Chen plays Ms. Kelly, a favorable guidance counselor who devotes a lot of time and care to her students, especially those dealing with personal struggles. Van Dien's character is Chrissy, the head cheerleader at Hawkins and the most popular girl in school — who is hiding a dark secret under her seemingly perfect exterior.
Dacre Montgomery is unlikely to return with the killing of his character in the battle of Starcourt at the end of Season 3.
Rumors that the brother of Stranger Things star Maya Hawke, Levon Thurman-Hawke, was set to join the cast of Season 4 began to circulate among fans after he was photographed by paparazzi on the set of the Netflix hit. However, speaking to Radio Times, Hawke shut down the speculation, confirming that her brother is "not in the show" and was simply visiting her while filming.
"That was a day that the paparazzi were there, so they got a picture of him, and it was all: 'Nepotism strikes again!' Guys, no! He's not in the show, but you may potentially see him once, in one shot. So, calm down, internet!" she told the outlet.
What Is The Stranger Things Season 4 Plot?
The finale of Season 3 saw Joyce, Will, and Jonathan, along with Eleven, packing up and moving away from Hawkins, Indiana, following Hopper's death — a loss that we now know to be false.
Netflix's official synopsis, released alongside the teaser trailer, also reveals what happens to Hopper: "Although it's not all good news for our 'American'; he is imprisoned far from home in the snowy wasteland of Kamchatka, where he will face dangers both human... and other."
Speaking to the Independent, Natalia Dyer remarked, "Honestly, the scripts are great." Without revealing specific details, she added, "Every time we end a season, we all think, 'Where is this going to go? Where can this possibly go?' Then we get the scripts for the next season and we're like, 'Oh my god, wow, like, wow!'"
During press for Ghostbusters: Afterlife, Finn Wolfhard warned fans that season four will definitely "freak people out". Talking on Apple Music's Matt Wilkinson Show, the actor explained that "this seasons like truly messed up, and it's going to freak people out a lot." He added that the Duffer Brothers "are doing things that people haven't seen before in the show" which is sure to make this the scariest season yet.
Stranger Things Season 4 Trailer & Teasers
In addition to the tundra teaser from last year, Netflix released new footage on May 6. In the ominous clip, titled Eleven, Are You Listening?, we see what appears to be a flashback to Eleven's time at the lab. She is in her cell, very scared of something, while other children can be seen in the facility before being approached by Brenner. They're playing chess, blocks, and Magic 8-Ball, and it all looks so spooky, naturally. If that teaser is any indication, it looks like Season 4 could explore Eleven's backstory in more disturbing detail than ever before.
Another teaser came on Aug 6. along with the 2022 announcement, and it teased, "Something is coming. It is almost here." Let's just hope this ominous warning also means a specific release date is around the corner.
There were rumors that a full trailer (and therefore the release date) would be shown at Netflix's virtual fan event Tudum on Sept. 25, seeing as Brown, Wolfhard, Matarazzo, and McLaughlin appeared in the event's trailer. However, Matarazzo, Keery, and the Duffer brothers revealed yet another teaser, sadly without a specific release date. Still, it introduced Creel House — a "very, very strange" new location, according to Matarazzo — where the gang is seen looking for clues.
Speaking of new locations, Netflix celebrated Stranger Things Day on Nov. 6 with a look at Eleven and the Beyers family's new life on the West Coast. The teaser, titled "Welcome to California," describes how they've adapted in a voiceover that comes from a letter written by Eleven to Mike. However, the footage shows that she might be painting a rosier picture — and is likely just plain wrong when she says, "We will have the best spring break ever."
Finally, on April 12, the official Stranger Things Season 4 trailer was released by the streamer, and it introduces a horrifying new monster who says the town's "suffering is almost at an end." Keyword being almost, because this new creature seems to be extremely dangerous — and the trailer teases an all-hands-on-deck showdown to deal with it.
Stranger Things Season 4 Episode Titles
Stranger Things Day also brought the titles of the upcoming season's episodes in yet another teaser. They are: "The Hellfire Club," "Vecna's Curse," "The Monster and the Superhero," "Dear Billy," "The Nina Project," "The Dive," "The Massacre at Hawkins Lab," "Papa," and "The Piggyback." Many caught fans' attention, but especially "Dear Billy," which began trending on Twitter after the reveal. "NOOOO ONE OF THE ST4 EP TITLES IS DEAR BILLY WHAT THE HELL IS MAX GONNA GO THROUGH IM GONNA CRY," one person tweeted.
This post will be updated with additional plot and cast details as more information on Stranger Things Season 4 becomes available.
Reporting by Kay Leong, Jack Irvin, and Stephanie Topacio Long.
This article was originally published on