Twitter Is Reeling Over Succession's Shocking Finale Twist
The new CEO has finally been revealed — and fans have thoughts.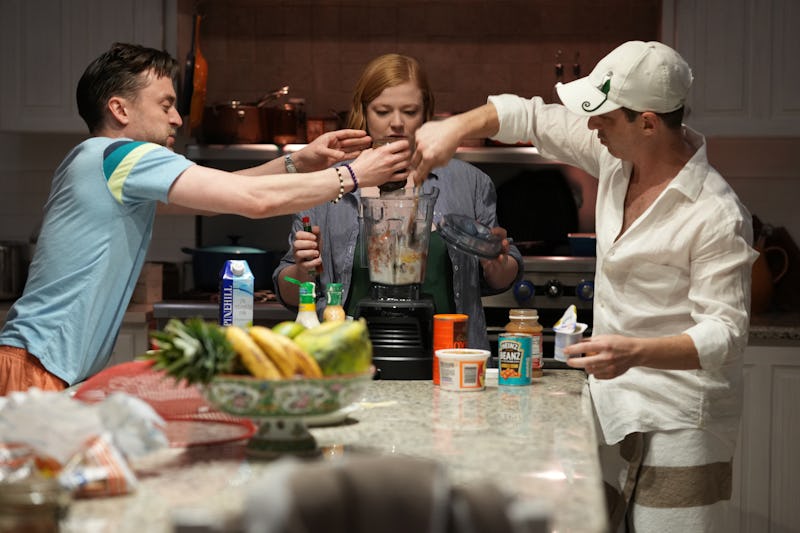 Sarah Shatz/HBO
Spoilers ahead for the Succession series finale. The Succession series finale on May 28 marked the end of an era, following months of speculation about what the Roy saga's conclusion might look like. So, what went down? During the first half of the 90-minute episode, it seemed that the siblings might finally band together ahead of the board vote on whether or not to sell Waystar to GoJo. Shiv had just learned Matsson was eyeing someone else for the CEO role, so she decided to blow up the deal with Kendall and Roman. The trio opted to vote "no," and to have Kendall step up as the sole CEO.
However, there was something Shiv didn't know: Tom was the person Matsson tapped to be CEO. Though she initially felt betrayed by Tom, the development seemed to add uncertainty to her decision to back her brother. When it came time for the actual vote, Shiv excused herself — and Kendall and Roman followed, leading to the siblings' most heartbreaking fight yet. Shiv told Kendall he couldn't be CEO because he killed someone (referencing the accident at her wedding), to which Kendall responded with a truly perplexing defense: He wasn't serious when he admitted to that, calling it a "false memory." Viewers, of course, know it was very much a real memory.
Regardless, Shiv told her brother she "cannot f*cking stomach" the idea of him as CEO. Roman, meanwhile, aligned himself with Shiv, telling Kendall that her child would continue the Roy bloodline because Kendall's kids were "a pair of randos" and not really his at all — which escalated their fight to a physical level.
After the devastating fight, Shiv ultimately voted "yes" to the deal. By the end of the Succession series finale, Waystar belongs to GoJo, Tom is CEO-bound, and the siblings seem to have burned their last bridges with each other.
Naturally, viewers took to Twitter to react to every moment on the emotional rollercoaster — especially that climactic final fight.
Several viewers were shocked by Shiv's last-minute switch in the finale.
Other fans were simply excited to see Tom take the throne.
Kendall fans, of course, were heartbroken to see their Number One Boy end the show in such a low place.
The Succession Ending, Explained
Those last 15 minutes were a lot to process — so if you need a recap of the finer play-by-play details, you're not alone! If the siblings stuck together, they would have enough votes to stop the GoJo sale and keep ownership of Waystar. However, Shiv's final decision swayed the vote in Matsson and GoJo's favor, 7-6. It also ensured that Tom had a chance to become CEO under Matsson's new regime, as the tech mogul promised Tom earlier in the episode.
If Shiv voted with Kendall, she wouldn't be CEO. But since she voted in Matsson and Tom's favor, she would at least be closer to the coveted top spot — which explains why Shiv and Tom, despite their rocky relationship, are holding hands in the car at the very end of the episode. In a featurette after the episode, Succession creator Jesse Armstrong described Shiv's fate as a "non-victory, non-defeat." As for her personal relationship? Armstrong said she's in a "terrifying, frozen, emotionally barren place" with Tom.
The creator also said that Kendall (who ends the series sitting on a bench by the water, heartbroken) could still go on to start another company or project. "But the chances of him achieving the sort of corporate status that his dad achieved are very low, and I think that will mark his whole life," Armstrong said.