Succession Is Ending With Season 4 & Twitter Is Not OK
Fans are already talking spinoff ideas.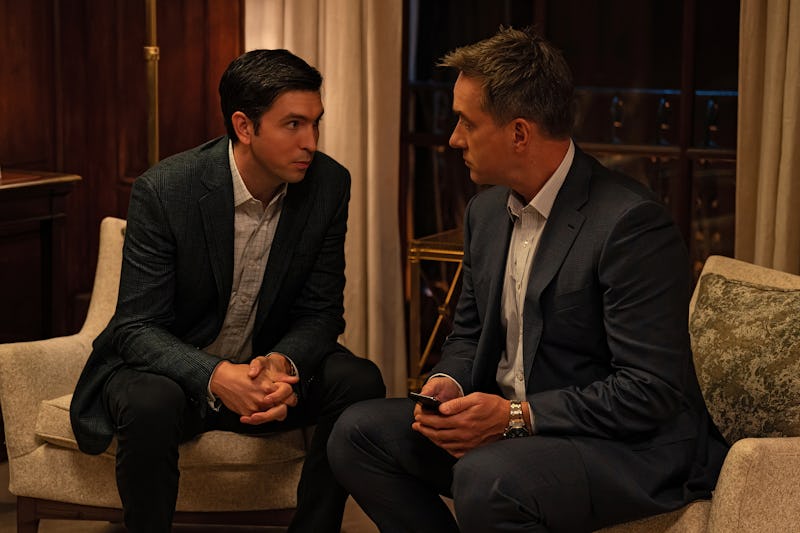 Macall B. Polay/HBO
It's hard to imagine a world without Greg sprinkles or our Number One Boy — but alas, it's coming sooner than you think. Succession is ending with Season 4, creator Jesse Armstrong announced in a Feb. 23 New Yorker interview.
While Armstrong contemplated keeping his decision to end the show a secret until after Season 4 aired, he ultimately decided that he had a "responsibility to the viewership" to inform them ahead of time. "I personally wouldn't like the feeling of, 'Oh, that's it, guys. That was the end,'" he said. "I wouldn't like that in a show. I think I would like to know it is coming to an end."
Indeed, finding out that there's no more Succession after the show has aired its series finale would be heartbreaking. But the announcement is pretty sad as it is, too! The Emmy darling will begin its final ten-episode run on March 26, which means fans have the next month to theorize about how Succession will end — and, of course, to get their feelings in order.
For many Twitter users, the best way to do that was by connecting with emotional moments from the show, like the heartbreaking betrayal at the end of Season 3.
Or Tom and Greg's Season 2 breakup.
Or Tom telling Shiv how unhappy he is.
Other fans were feeling like Number One (sad) Boy, Kendall himself.
Some users started brainstorming ideas for Succession spinoffs — and Armstrong isn't necessarily opposed to that. "I do think that this succession story that we were telling is complete ... but the feeling that there could be something else in an allied world, or allied characters, or some of the same characters — that's also strong in me," he told The New Yorker, adding that he's even talked to collaborators about whether "there's another part of this world we could come back to, if there was an appetite."
As user @aguirreryan pointed out, at least one group out there will benefit from Succession ending: its drama rivals at future Emmys. In case you were wondering, 2023 Emmy eligibility ends in May — so we still have one more ceremony with the Roys!
Several fans pointed out that there's merit to Succession ending on a high — which Armstrong seems to agree with, too. "We played out various scenarios," he told The New Yorker. "We could do a couple of short seasons, or two more seasons. Or we could go on for ages and turn the show into something rather different, and be a more rangy, freewheeling kind of fun show, where there would be good weeks and bad weeks. Or we could do something a bit more muscular and complete, and go out sort of strong. And that was definitely always my preference."
While a valid point, of course, it doesn't quite soften the blow of Succession ending.