Symone's Knockout Advice To Herself Is Perfect For All Of Us
"Pick your head up! Ain't nothing down there worth looking at! ... Be more trusting with people. Allow people in, allow people to love and to see you."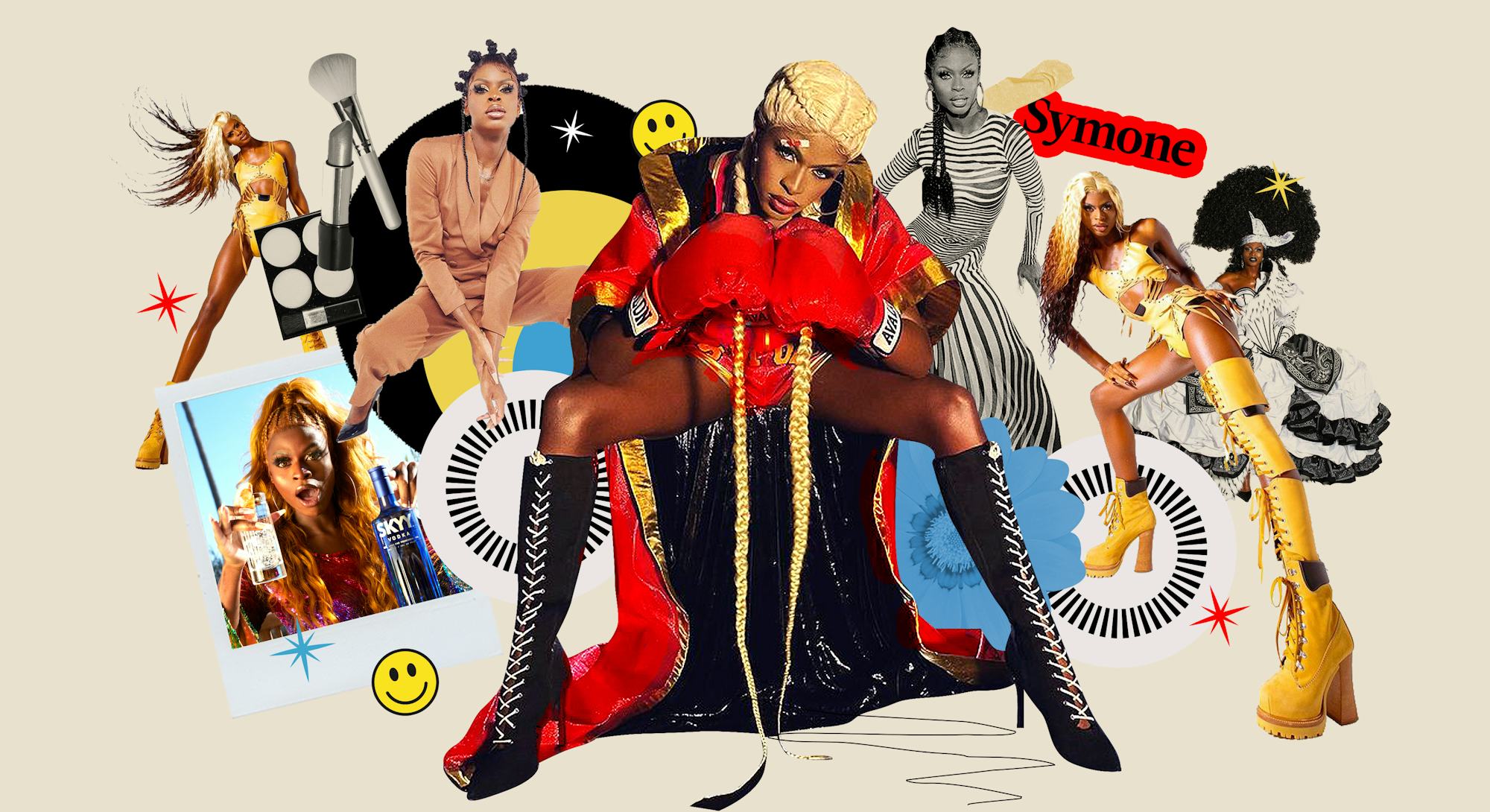 One of Symone's favorite moments from her winning stint on RuPaul's Drag Race was not entirely shown on TV. "When I went around the corner with the little black dress, did you know the hair was a RuPaul reference?" The reigning champion is referring to when she took inspiration from RuPaul's 1993 music video for "Back to My Roots." While Symone mentioned the hair inspo in her televised confessional, the audience didn't get to see RuPaul's full reaction. "I walked the runway and all of them, but particularly RuPaul, were hollering the entire time," Symone tells Bustle. "I knew he would get it, but he was like, just living. It was a great moment."
Yes, Drag Race Season 13 winner Symone was the contestant who could do it all, as evidenced by RuPaul's uncontrollable reaction. Symone slayed every runway, and now Symone stands out as one of the most beloved queens in Drag Race herstory. But perhaps most importantly, Symone used her time on the show to artfully address social issues.
"It's important when you have a platform to use it to say something, whatever issue it is," Symone says. "I know who watches the show. I know where it airs. I know the audience."
Viewers collectively gasped when Symone turned around on the runway in an all-white outfit to reveal a fascinator hat emblazoned with the rallying cry "Say Their Names," while she recited the names of Black Americans who have been victims of systemic racism and police brutality. It was a poignant moment in an often silly show, and it not only elevated the entire season, but it proved that Symone is really in a league of her own.
Below, Symone opens up about the advice he'd give to his younger self, his post-Drag Race dreams, and his busy Pride month, which includes "coming out" again.
Symone Q&A
What advice would you give to your 16-year-old self?
Pick your head up! Ain't nothing down there worth looking at! I'd tell myself not to be so hard on myself. You know, you're 16 years old. It's OK. It's going to be alright. And be more open. Be more trusting with people. Allow people in, allow people to love and to see you. That's what I would tell myself.
Where do you see yourself 16 years from now?
I see myself doing drag. Being a star. Still doing the work I want to do. I see myself having done movies and touring, and then being in campaigns still. I really want to act, so I see myself in a movie and doing something major in that realm. And I would love to be on TV hosting talk shows like red carpets, all that stuff.
What are your proudest moments as a member of the LGBTQ+ community?
One, I have to say, being on the show and showing my art on RuPaul's Drag Race. Going through that entire journey and opening up to a lot of people to see me in my art and what I stand for, that was a really proud moment for me. Winning the show was a really proud moment for me. But also, learning to accept myself and love myself so other people could do that. I think those are my proudest moments for sure.
Where and how are you celebrating Pride this year?
I plan on seeing the fans of New York for Pride. I plan on celebrating with everyone, the people everywhere, anywhere that will have me. You know, celebrating with my house [The House of Avalon]. It's been crazy, but so nice to be able to go out and actually be able to celebrate. And it's important, especially now. We need it. We need each other. We need the community.
Who inspires you in the LGBTQ+ community?
RuPaul Charles, the drag queen of the world. That's all we hope as queens to aspire to, you know, so that one of my biggest inspirations and yeah, that number one for me.
Well, she's going to love that answer.
It's true! I can't lie. It's true.
RuPaul and Zendaya.
Gottmik, Symone, RuPaul, and Michelle Visage.Amy Sussman/Emmys/MTV/Getty Images
Which LGBTQ+ charity do you love and why?
Absolutely. Lucie's Place. It's for homeless LGBTQ youth there and they feed them, clothe them and whatnot. They do great work.
Tell us about your Pride campaign with Skyy Vodka.
It was so much fun to do. Um, we were over in Venice and they were so kind, and it was one of the easiest, most fun shoots I've had. It was all about getting back out there and being proud of yourself. We've been locked away, so it's like, we're coming out! All of us are coming out again! And then bringing everyone together, as lovely drinks do. It's about coming together and being a community. Again, not that we lost it, [but we're] coming back stronger than ever, you know?