Tayce Wants To Be In Your Face & In Your Dreams
"I've always had that confidence in me. I was the same old Tasmanian devil back then as I am now. I just have better eyebrows."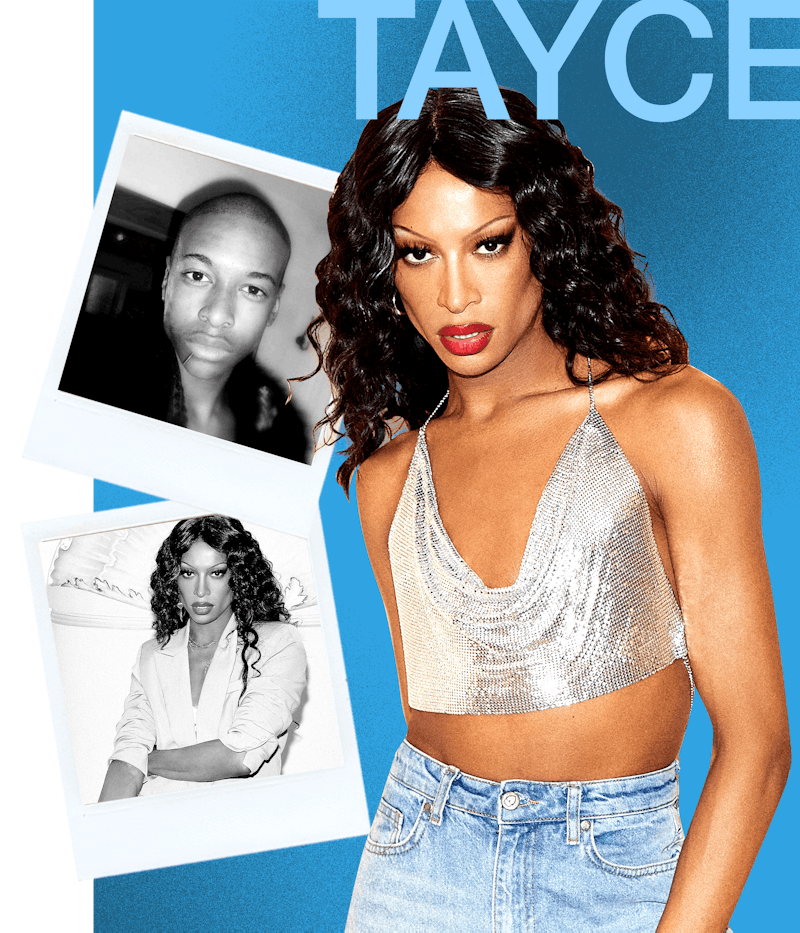 Ask model and RuPaul's Drag Race UK star Tayce what the driving force behind her cheek, nerve, gall, audacity, and gumption is and she won't hesitate in her reply: "Bad b*tches! I'm inspired by pop stars, powerful women, supermodels. That's what I love, and that's what I'm serving, mama," the 27-year-old tells Bustle.
The Newport-born performer strutted into the mainstream in the midst of an otherwise bleak winter lockdown. The second season of BBC Three's Drag Race UK — and Tayce in her own right — became an instant hit with viewers and critics alike, lauded by The Guardian as "bold, brash, and brilliant." Tayce's appeal on the show could be attributed to her lovable Welsh charm, dazzling runway looks, and an impressive string of lip-sync assassinations like her show-stopping rendition of Elaine Paige's "Memory."
After shimmying away from the competition as runner-up, Tayce has zero intention of slowing down. In recent months, she has collaborated with the likes of Heinz Beanz (naturally), Coca-Cola, King Kong Magazine, and transitioned seamlessly into the sphere of high fashion with a modeling campaign for John Paul Gaultier's Le Belle Le Parfum.
Now, Tayce has teamed up with clothing brand Nasty Gal for what can only be described as the epitome of glam rock rebel chic. Think glitzy metallics, sickening detailing, and look-away-if-you-dare lingerie. "The collection [fittingly launched during Pride Month] is my vibes through and through," says Tayce. "You know, punky, edgy, and stretches right across the gender spectrum. Anyone can wear it."
Although booked and busy as she conquers the fashion world and takes the UK drag scene in her Naomi Campbell-like stride, Tayce found some time to chat about the origins of her iconic Drag Race catchphrases and the advice she'd give to her younger self.
Tayce Q&A
What advice would you give to your 16-year-old self?
The advice I'd give to my 16-year-old self is to invest more time perfecting my makeup and my overall look, maybe by watching more Youtube tutorials and stuff like that. Looking back, I always had the sluggiest eyebrows. I was confident, though, and never had to teach myself to come out of my shell at that age. Honestly, I've always had that confidence in me. I was the same old Tasmanian devil back then as I am now. I just have better eyebrows.
Where do you see yourself 16 years from now?
Sitting on a massive pile of money. I've always been very into music, so that's something I'll definitely venture into. I'd also love to be in the movies, maybe a femme fatale in a James Bond film someday? I also see myself on runways, making music, acting, performing. Basically, I want to be everywhere — all over billboards, in your face, and in your dreams.
How has your family influenced your career?
My family instilled a lot of confidence in me and allowed me to do whatever the f*ck I wanted to do. I think that's helped me a lot in my career, and made me more fearless. Since I was a child I've always gone out and dressed exactly how I wanted to and never worried about being judged. So, I think I owe a lot of my confidence to my upbringing. They're all still down there in Wales supporting me, and that support is what really inspired me to get out there and do what I wanted to do, and I really appreciate it.
What are your proudest moments as a member of the LGBTQ+ community?
I live out my proudest moment every day, just being able to be myself and never wavering from that. I don't give a f*ck what anybody thinks, I have to be myself at the end of the day and I don't sway for other people's benefit. I'd also say getting on Drag Race UK has to be one of my proudest moments of all time, and just working hard and continuing to work hard as a member of the LGBTQ+ community.
Where and how are you celebrating Pride this year?
Because of the pandemic, I haven't really been able to go out and celebrate in the bars and clubs. So, I'm celebrating Pride this year by just being me and being proud of that. Pride is all about being proud of who you are no matter what. I've also managed to spend a lot of time with my close friends during Pride month. We've all enjoyed just being together.
Who inspires you in the LGBTQ+ community?
It's always powerful people who inspire me, especially powerful women on stage. I love Beyoncé, Grace Jones, and David Bowie. They are some of my biggest inspirations.
Which LGBTQ+ charity do you love and why?
It has to be the LGBT+ Switchboard. I've had the pleasure of working with them and I'm familiar with the important work that they do. They're constantly championing the community and helping others. So, I'm very happy to have worked with them.
What is the origin of your "the cheek, the nerve, the gall, the audacity & the gumption" catchphrase?
I don't know! People have asked me before, "How did you come up with these phrases?" But they're totally organic. My mind is a crazy place, and these things just roll off my tongue like water off a duck's back. I don't know where they come from, the rhyme or reason, but they do. It's funny how that one caught on so much, and you might be seeing that catchphrase around again very shortly. Maybe in a collection, who knows? You'll have to wait and see.