Taylor From Love Is Blind Breaks Down Her & JP's Unexpected Split
"I did not want to go through with it unless I was 100% in it," she tells Bustle.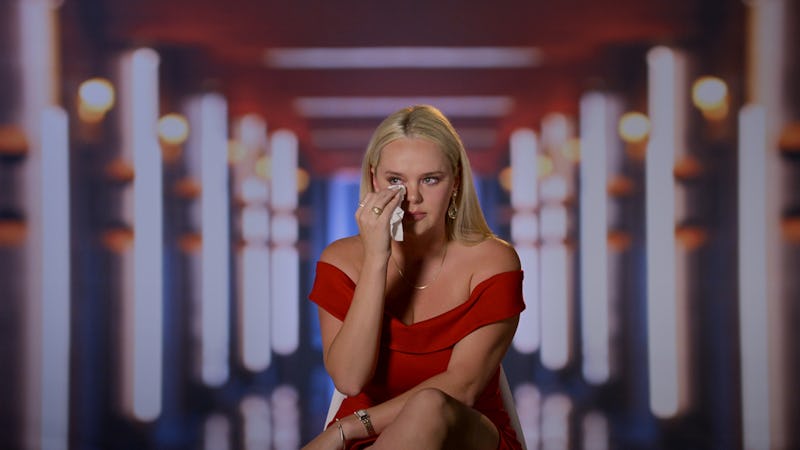 Courtesy of Netflix
Spoilers ahead for Love Is Blind Season 5. Before she joined Love Is Blind Season 5, Taylor Rue had gone about finding love in all the wrong ways. "I was on the dating apps, Bumble, Tinder, Hinge, whatever, and I was looking at their height and the way they looked. That's literally what I based everything off of," the 26-year-old kindergarten teacher tells Bustle. "So when this opportunity came up, I thought it was just the neatest thing to fall in love with someone based on who they are."
Taylor thought she'd done just that when she fell for Jared "JP" Pierce, a 32-year-old firefighter, during the first phase of the reality TV show (when singles must date, and get engaged, before learning what their potential matches look like). The couple's connection seemed strong in the beginning, and they become the first of three Season 5 couples to get engaged.
But Taylor and JP's relationship soon began to sour. The first time they met face-to-face, JP accused his new fiancée of seeming "fake" because she wore makeup and false eyelashes. And without a wall separating them, he struggled to make conversation.
Their conflict came to a head in Episode 6, when Taylor called off the engagement during their "honeymoon" trip to Mexico. "You're not the person I fell in love with," she told him.
Taylor knew their love wasn't meant to be after their interactions became "so uncomfortable, so forced." Rather than trying to see it through to the end, she chose to break things off and leave the show early. "I had this gut feeling, like I just knew in my heart something was off, and I did not want to go through with it unless I was 100% in it," she says.
"All the things that go into an engagement and marriage — even if that's just living with somebody or the dress shopping — it's so sacred. I only want to do that with one person, and I want to do it with the right person," Taylor adds. "And when I'm done, I'm done."
Since filming wrapped around March 2022, Taylor says she's "talked to JP a few times," but hasn't seen him in person. "He reached out to me right after, but I was not ready at all. I need[ed] to heal myself, so I took time to do that," she says. "Then I reached out to him, but our timing never worked out to meet up."
Even though she didn't end up finding The One, Taylor has "no regrets" about her Love Is Blind journey — well, except one. "I made a decision to be with JP and kind of shut the other guys out maybe a little bit too early," she admits.
Now, Taylor says she's dating again, though she's keeping the details of her love life private for now. But regardless of her relationship status, it seems she's doing well: She recently wrote on Instagram that her "serotonin levels are off the chart."