Taylor Swift Just Gave So Many Easter Eggs About 1989 (Taylor's Version)
Stephen Colbert to Swifties: "I don't think you're overanalyzing this at all!"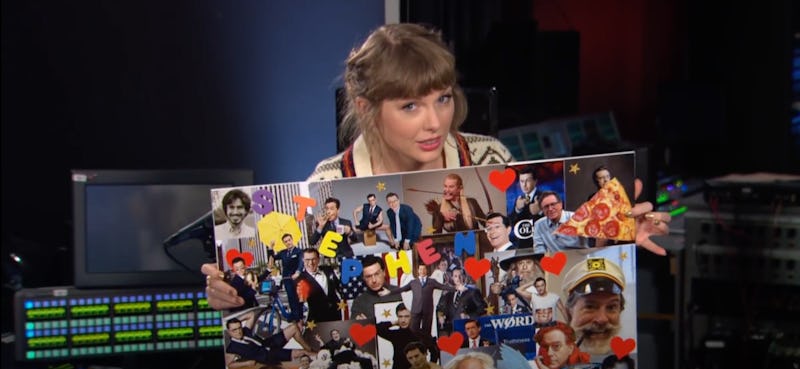 YouTube / The Late Show With Stephen Colbert
Taylor Swift just released Fearless (Taylor's Version), but if her latest interview is anything to go by, she's already moved on to her next re-recording endeavor. During an appearance on The Late Show With Stephen Colbert on April 13 (her lucky number), Swift gave many hints about re-recording 1989, indicating that she'll be releasing "Taylor's Version" of her fifth album from 2014, which marked her first pop album and went on to win Album of the Year at the Grammys, in the near future.
During the interview, Swift spent the whole time telling Colbert that her Fearless track "Hey Stephen" wasn't written about him — despite evidence pointing to the contrary. Colbert showed a clip of him receiving an autographed Fearless CD back in 2008, but to combat his theory, Swift showed off the mood board she used while writing the song — which was filled with photos of Colbert. "No," she said, pointing to one photo: "This is a pizza." She went on to reveal that "Hey Stephen" was truly inspired by famed author Stephen King, but Colbert still wasn't convinced.
However, true Swifties know there are always hidden meanings in nearly everything the singer says and does, meaning that fans immediately investigated Swift's surroundings. It turns out that she inserted clues about 1989 on the hilarious mood board, and even within the scarily detailed facts she gave about Colbert's life. In fact, she gave so many hints that a roundup is required. Put on your Sherlock Holmes coats — or a cardigan.
Colbert's Vintage Photos
One Swiftie quickly discovered that the top left photo on Swift's mood board pops up when you Google "Stephen Colbert 1989," meaning the black-and-white snapshot was taken that year. Why would Swift specifically use a photo of Colbert from 1989 unless she was teasing her famous album named after the year she was born?
The Seagull
Eagle-eyed fans also spotted a seagull as one of the few non-Colbert photos on the mood board. The seagull was a common motif used throughout the 1989 era, including on the album cover. No, this is not a coincidence.
The Stephen King Books
After making the big (joking) reveal that "Hey Stephen" is actually about the horror novelist, not the late night host, Swift name-dropped several King books that she loves. It turns out that one book from The Dark Tower series just happened to be released in 1989. How specific. Another story she named, The Stand, was released on May 8, making fans thing that could be a potential release date.
Mathematics
Swift is big on numbers, meaning Swifties often need mathematical skills they use nowhere else to decipher her clues. The mood board had so many hearts, stars, and pepperoni that apparently all hint at 1989 in some way, using equations that even a college professor wouldn't think of. Basically, all roads lead back to 1989.
Swift Explicitly Mentions 1989
Perhaps the most obvious hint of all was when Swift literally nodded to 1989 when trying to defend herself. "'Hey Stephen' is not about you any more than my album 1989 is about that year you spent waiting tables on the lunch shift at Scoozi," she explained, "an Italian restaurant in the River North area of Chicago that, by the way, serves a really incredible slice of pizza." Yeah, that's a convincing argument.
The Social Security Number
When Swift started to give Colbert's social security number as (terrible) proof that "Hey Stephen" wasn't about him, she didn't just list random numbers. The number (33035) add up to 14, possibly nodding to the fact that 1989 was released in 2014. Fans also pointed out that May 14 is a Friday, meaning 1989 (Taylor's Version) or its first single could drop that day.
"Shake It Off"
Right before signing off, Swift told Colbert to just "shake it off," before joking that the 1989 lead single was about him. Could this be a hint that "Shake It Off (Taylor's Version)" will be the first single from the new 1989? It's very possible.
If these theories are correct, we could be hearing 1989 (Taylor's Version) right in time for summer. And no, Colbert doesn't think Swifties are overthinking everything. He said so himself on Twitter.
Personally, we predict that the first single from 1989 (Taylor's Version) will be released on May 14, as there's too many 14's to be ignored, while the album itself will drop on June 4, 2021, because the numbers add up to Swift's lucky number 13. I also am a firm believer that Speak Now (Taylor's Version) will be released on Friday, July 9, the date Swift sings in "Last Kiss," based on no other evidence, and I refuse to hear otherwise.