Taylor Swift's Fans Celebrate Her New Fearless Album By Posting Memories From 2008
"Being gay listening to Fearless for the first time is so much better than when I was closeted listening to Fearless for the first time."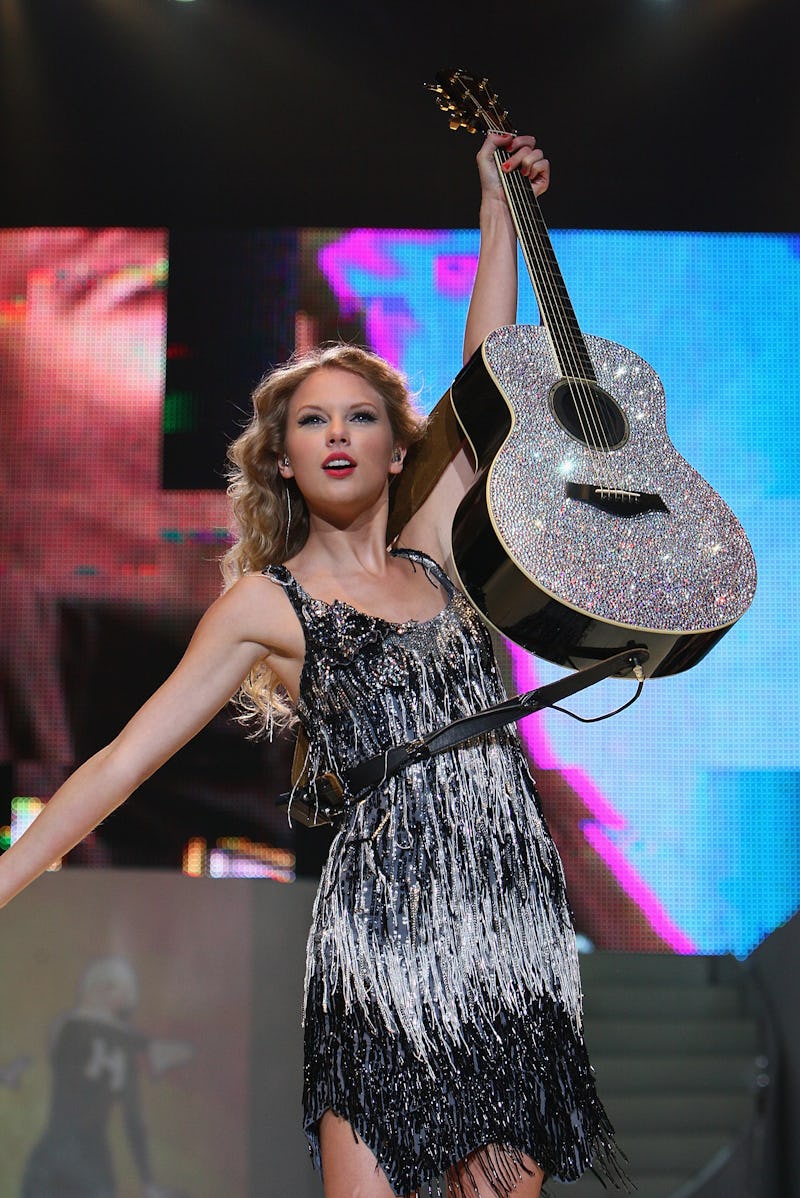 Theo Wargo/WireImage/Getty Images
Following Big Machine Records' sale of Taylor Swift's master recordings to Scooter Braun in July 2019, the singer announced plans to rerecord her first six studio albums, from Taylor Swift (2006) to Reputation (2017). On April 9, the singer released the first rerecorded album, Fearless (Taylor's Version), an updated and expanded version of the 2008 work that spawned hits including "You Belong With Me" and "Love Story." While each album track is fully reconstructed, Swift invited back many of her original Fearless collaborators to be a part of the album's new version, from instrumentalists to duet partner Colbie Caillat. And as if it couldn't get any more nostalgic, Swift's fans celebrated the release on social media by recalling memories from the initial album release 13 years ago.
With production by Swift, Christopher Rowe, and her Folklore and Evermore collaborators Jack Antonoff and Aaron Dessner, each track on Fearless (Taylor's Version) sounds nearly identical to its original version. The key difference between the two versions is Swift's voice, which has matured quite a bit since she recorded the 2008 version at around 18 years old. A major similarity between the two is that the singer invited many of the original instrumentalists and backing vocalists to return and rerecord their parts for Fearless (Taylor's Version). Caitlin Evanson, who sang backup on the original album and performed on the Fearless Tour, posted a throwback photo of her and Swift in celebration of the new release. "What a milestone," she wrote on Twitter. "I am honored once again, to be a part of this beautiful body of work as it was meant to be, after all these years."
Other players who returned for the rerecording include guitarist and mandolin player Bryan Sutton, string player Jonathan Yudkin, and singer Colbie Caillat, Swift's duet partner on the album's seventh track, "Breathe." Caillat took to Instagram to express her excitement about returning for the new version. "Taylor Swift and I wrote "Breathe" 13 years ago in Nashville," wrote the "Bubbly" recalled. "So happy to be a part of Fearless again, (Taylor's Version)."
In another nod to the original Fearless era, Swift had country musician Keith Urban contribute to two new tracks, "We Were Happy" and "That's When," which he's officially featured on. On April 3, Swift explained the decision to feature Urban. "I'm really honored that Keith Urban is a part of this project," she tweeted. "I was his opening act during the Fearless album era and his music has inspired me endlessly."
Upon the release of Fearless (Taylor's Version), Urban also posted a tweet in celebration, sharing a photo of the pair onstage in 2015. "I hadn't heard our voices together since sitting in with you on the 1989 tour in Toronto," wrote Urban, describing the performance as "magic." "Congrats Taylor Swift - you've got some gems in that vault!!! Thanks for having me join you on a couple of them."
In addition to the musicians themselves reminiscing on the original release, many Swift fans took to Twitter to post throwback photos and memories from over a decade ago.
The fans noted not only Swift's personal and artistic growth but the major changes they've gone through in their own lives since they first heard the 2008 album. "I must admit this album still holds up after all these years," one fan tweeted. "Especially since my young closeted gay self didn't allow himself to enjoy Taylor Swift, since it was 'too gay.'"
Other fans shared similar sentiments, with one writing, "Being gay listening to Fearless for the first time is so much better than when I was closeted listening to Fearless for the first time."
Below, more Swift fans share memories, praise for the singer, and memes about Fearless (Taylor's Version).