Everything To Know About Ted Lasso Season 3
The rumored final season premieres in March.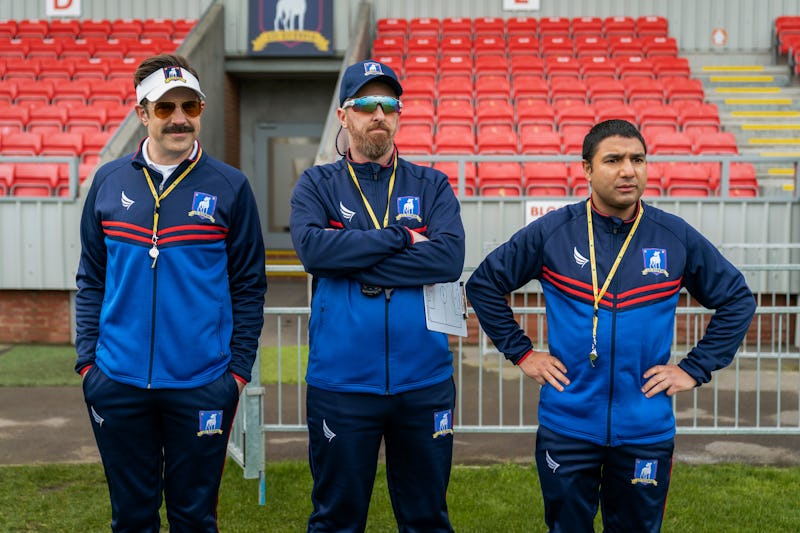 Apple TV+
The beloved protagonists of AFC Richmond certainly had their ups and downs in Season 2, leaving fans excited for the next installment of the Apple TV+ series. After the show won four more Emmys in 2022, Ted Lasso Season 2 reached a new high, and Season 3 is likely to be just as good — or even better.
BTW, when will Ted Lasso return? Here's everything we know about Ted Lasso Season 3 so far.
The Ted Lasso Season 3 Premiere Date
Apple TV+ confirmed at Television Critics Association's winter 2023 press tour that Ted Lasso will return for Season 3 in spring 2023. On Feb. 14, the streamer confirmed that the new 12-episode season will premiere its first episode on Wednesday, March 15, and it will release new episodes weekly on Wednesdays, making it the first AppleTV+ series to launch mid-week.
You would think that because the first two seasons of Ted Lasso premiered in summer, Season 3 would follow suit — but no such luck. According to Deadline, filming for the next installment was only halfway done in July 2022. (For reference, filming on Season 2 wrapped last June in time for a July premiere.)
The Ted Lasso Season 3 Trailer
Along with announcing its release date, AppleTV+ also unveiled the first teaser trailer for Ted Lasso Season 3.
The Ted Lasso Season 3 Cast
In addition to Fernández's Dani, you can expect most of the team to be back in one way or another. While Season 1 saw them dealing with scheming from within, Season 2 widened the scope, giving more of an ensemble feel to the show. We saw Ted (Jason Sudeikis) wrestling with how to bring the team together and log some wins; Rebecca (Hannah Waddingham) diving into the dating pool; Keeley (Juno Temple) and Roy (Brett Goldstein) figuring out the next stage of their relationship; and Sam (Toheeb Jimoh) finding his footing as a public figure.
Given that Season 2 finds a place for pretty much all the fan favorites, it's safe to assume that Nathan (Nick Mohammed), Leslie (Jeremy Swift), and Jamie (Phil Dunster) will be back for Season 3 as well. Sharon (Sarah Niles) and Trent (James Lance) will "have significant roles," co-creator Bill Lawrence told Deadline.
The Ted Lasso Season 3 Plot
There are few details so far, though Sudeikis did announce at the 2021 Emmys that Season 3 will have 12 episodes.
Will Season 3 Be the Last Season of Ted Lasso?
Sudeikis has repeatedly said that he envisioned the show with a three-season arc, and other members of the cast and crew have backed that up. "We've always seen it as a three-season situation, and we still have a three-season story arc in mind," co-creator and Coach Beard actor Brendan Hunt told Comicbook.com. "But the thing we weren't prepared for when we were thinking three seasons was the degree to which people would take to the show. So perhaps that intention will be challenged a little bit, but that's still where our head's at right now."
Sudeikis has mostly held firm, though he hasn't entirely shut the door on the possibility of more seasons. "The story that's being told — that three-season arc — is one that I see, know, and understood," he told Entertainment Weekly. "I'm glad that they are willing to pay for those three seasons. As far as what happens after that, who knows? I don't know."
On an episode of Fake Doctors, Real Friends, Lawrence said that Ted Lasso is a three-season show, and started to say that after the third season he would "desperately try to get Mr. Sudeikis to do a —" before stopping and reframing. "The only way I think a fourth season of Ted Lasso exists would be if Ted Lasso went and coached a soccer team that played about a block from Jason's house in real life, you know what I mean? He's got young kids."
According to The Hollywood Reporter, Lawrence, Apple, and Warner Bros. (who co-produces the Ted Lasso with Apple) are very interested in continuing the show and have included options for subsequent seasons in the renegotiated contracts for the actors. Sudeikis seems to be the holdout, so if his stance changes, the series is all but sure to return for Season 4.
Even if this is the end of Ted Lasso proper, though, spinoffs aren't out of the question. "Yeah, I think that we've set the table for all sorts of folks… to get to watch the further telling of these stories," Sudeikis told Deadline in a new interview. "Again, I can't help but take the question as flattery for what all of us that were working on the show has tried to do. It's really kind of folks to even consider that because you never know what's gonna happen when you make things. The fact that people want more, even if it's a different avenue is lovely."
This article was originally published on