Um, Is Terilisha Also Lying To *Us* On The Circle?
Her job on the show doesn't seem to be what it is in real life.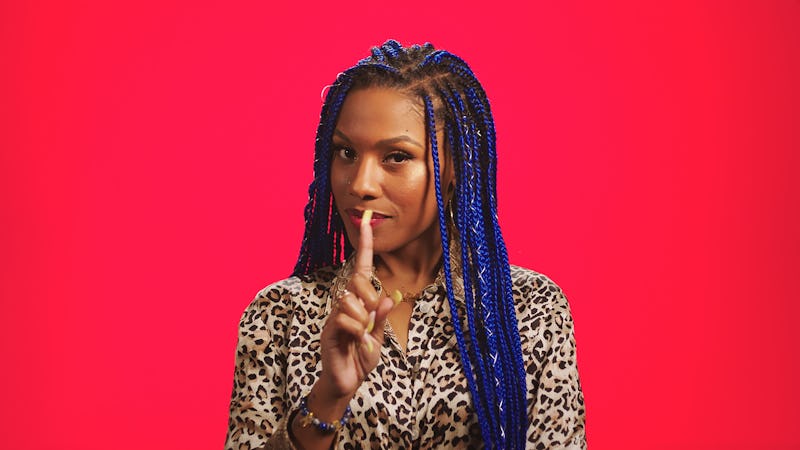 Netflix
We expect some of The Circle cast members to catfish each other, but there seems to be a little catfishing going on for the audience when it comes to The Circle competitor Terilisha. She introduced herself to viewers as a full-time substitute teacher from Dallas, Texas. She's a Leo, a vegan, and as she said, "I sing a little."
But the real Terilisha's life doesn't quite line up with what she's saying on the show. Here's what you need to know about the contestant in real life.
Terilisha's Job is Singing and Acting
When Terilisha said on The Circle that she sang "a little," she really undersold herself. According to her website, Terilisha is actually a full-time actor and singer. She started singing as a child in church choir before pursuing a solo career at 17. In 2019, she dropped her EP The Blue Heart, which now has been streamed more than 300,000 times, per her website bio.
On the acting side of things, she starred as Khloe in the TV show #Washed, about a group of millennials trying to hack it as adults; the two seasons are available to watch on Amazon Prime Video. Clearly, Terilisha is more than your average substitute teacher. In fact, she doesn't seem to be a teacher at all. Perhaps that was her job in the past, but she's been pretty focused on the entertainment industry for the last few years, telling Buzz magazine, "My business is music. I am a recording artist, songwriter and actress. I specialize in the art of entertainment: music and television."
Her Instagram Is All About Building Her Brand
Terilisha also told Buzz that she's hyper-focused on growing her brand. "My goal is to create music that I love and that will resonate and touch the mind, body & spirit of everyone who listens and watches me perform."
A huge part of building that Terilisha brand is through Instagram, where the singer posts a lot of selfies, #outfitoftheday shots, and lots about her music.
She also wasn't lying about one thing in her Circle bio — she is a vegan, according to her IG.
Given that she's trying to grow her career, it's slightly surprising that Terilisha didn't explicitly introduce herself as a musician on The Circle. Perhaps that will come later, or maybe she just knows that interest in her will lead people to her Instagram, where they can check out her songs for themselves. It's an interesting strategy, and perhaps it's all a part of her gameplay on The Circle.