Meet The Season 2 Cast Of Below Deck Sailing Yacht
Prepare for messy romances and a lot of tension.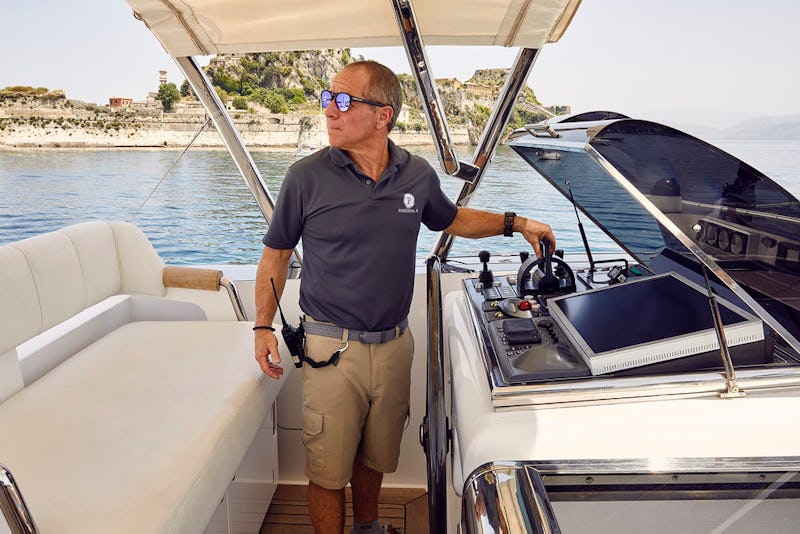 Karolina Wojtasik/Bravo
Season 2 of Below Deck Sailing Yacht features almost an entirely new cast. The only person fans will recognize is Captain Glenn Shephard, the leader fo the Parsifal III yacht who also captained the ship in Season 1. But with so many new crew members comes the potential for a ton of new drama.
Already, the Bravo website is teasing that the chief stew will butt heads with the chef, complicated romances will emerge, and tensions will be high due to pandemic protocols that required the crew to stay on board at all times. Captain Glenn is usually able to stay pretty cool in tough situations, he has his limits. If his staff isn't living up to his expectations, things could get rough. But as the captain teased to E! News, he tried his best to let the cast relax while also pushing them to stay on task. "Working on a yacht in a busy charter season is a bit of a pressure cooker," he said. "So, when there are not guests around, I will let them blow off a little steam — but I want to keep my eye on it, so it doesn't get out of hand." Of course, the trailer hints that things did exactly that.
Before all the drama unfolds, get to know the yacht's new cast.
Captain Glenn Shephard
Instagram: @bigsailboats
According to his Bravo bio, Captain Glenn got his start in the sailing industry as a deckhand and worked his way up to captain over the course of two decades. His full-time job for the last 11 years has been as captain of the Parsifal III, the yacht featured in the show.
Natasha De Bourg
Instagram: @living_vicariously_through_me
The Season 2 chef is Natasha De Bourg, who was trained in Europe and worked as an executive chef in France at L'Ardoise prior to diving into the yachting world. She's been working as a yacht chef for three years now. And when she's not cooking, she's making all her Instagram followers jealous with her glamorous travel photos.
Daisy Kelliher
Instagram: @daisykelliher87
Sailing is in Daisy's blood: her grandfather Eddie Kelliher was one of Ireland's Olympic sailors in 1964. She joins the Bravo cast as the yacht's Chief Stew, but she's been in yachting for years. Her Instagram shows that she's almost always on a boat, including during the 2018 St. Barths Bucket Regatta race.
Colin Macrae
Instagram: @parlayrevival
Prior to joining Below Deck Sailing Yacht, Colin spent eight years as a yacht engineer on various other vessels. These days, he's also a YouTuber and vlogs about his various sailing adventures for his nearly 100,000 subscribers.
Gary King
Instagram: @king_gk
This First Mate has 12 years of experience in yachting, but he's not all business and no play. His Bravo bio says he's "never the type to leave a party first" and a flirtationship on the show could quickly lead to drama for him and the rest of the crew.
Dani Soares
Instagram: @iamdanisoares
Dani is the Second Stew aboard the yacht, and she has eight years of experience in the field. Those eight years have helped her visit 69 countries, according to her Instagram. Now, Below Deck Sailing Yacht will further her travels.
Alli Dore
Instagram: @allidoreporfavor
Third Stew Alli is from Australia and previously had experience working as a divemaster. She has a secondary Instagram for her diving, including some pretty amazing up-close photos of sharks. Now she's stepping into interior yacht work, so it'll be interesting to see how the change of pace goes for her.
Sydney Zaruba
Instagram: @sydney_zaruba
New deckhand Sydney knows her way around a sailboat. Her Bravo bio says that her parents lived on one when she was born and now they run their own boating business, which Sydney helps with. Sydney is also a travel agent, per her IG bio, and a blogger for her site The Boho Traveller.
Jean-Luc Cerza Lanaux
Instagram: @jeanluc_cerza_lanaux
The other deckhand is Jean-Luc, the youngest member of the crew. Before he joined the sailing world, he played college football for the Charlotte 49ers in North Carolina. But he's spent a lot of his life around water and on boats, fishing with his dad, so he's not starting in the sailing world with no sea knowledge at all.
Get to know the whole crew when Below Deck Sailing Yacht Season 2 premieres on March 1.